Congresswoman Gabbard Who Visited Artsakh In 2017 Is Running for President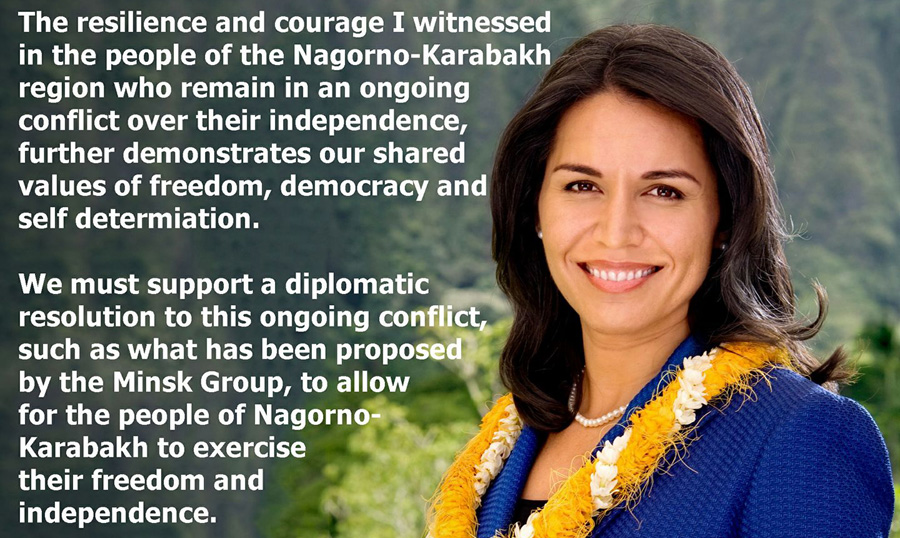 "I have decided to run for US president and will be making a formal announcement within the next week," Rep. Tulsi Gabbard (D-Hawaii) told CNN in an interview. The 37-year-old Gabbard was elected to congress in 2012. She is an Iraq War veteran as well as the first American Samoan and the first Hindu to hold a congressional seat.
Gabbard has been opposed to foreign military intervention and even appeared on Fox News to critique the Obama administration's approach to foreign policy and praise Russian leader Vladimir Putin. "Al-Qaeda attacked us on 9/11 and must be defeated," she tweeted at the time. "Obama won't bomb them in Syria. Putin did. #neverforget911".
In 2017, she also took some heat for for meeting with Syrian dictator Bashar Assad, and one Washington Post columnist called her "Assad's mouthpiece in Washington."
Gabbard joins a growing field of Democratic candidates for the 2020 presidential race, including Sens. Elizabeth Warren (D-Mass.) and Kamala Harris (D-Calif.) and former Obama administration cabinet member and San Antonio mayor Julián Castro, who announced his candidacy Saturday morning.
U.S. House of Representatives Frank Pallone, David Valadao, and Tulsi Gabbard visited Armenia and made a side trip to Artsakh in Nagorno-Karabakh on September 20, 2017.
While in Artsakh, the U.S. legislators, who are members of the U.S. Congressional Armenian Caucus, met with Nagorno-Karabakh legislators and visited the Shushi Arts College and a cathedral.
Commenting on her visit to Artsakh at a San Francisco – Bay Area ANCA gathering in 2017, Gabbard noted: "it was great to see, everywhere that we went, how focused people are – and they literally are… it's not a figure of speech to say that – on building a bright future. Literally, that is what is happening, with their hands, and with their feet, and with their hearts." At that same event, the Congresswoman noted Azerbaijan's destabilizing role in the region, sharing that Aliyev's "continuous acts of aggression along the border have undermined the whole [peace] process and all the work that has gone on for decades to be able to try to reach this agreement."