Canadian MP Harold Albrecht Highlights Situation in Artsakh. Calls on Government to Stand UP for Artsakh's Right to Self Determination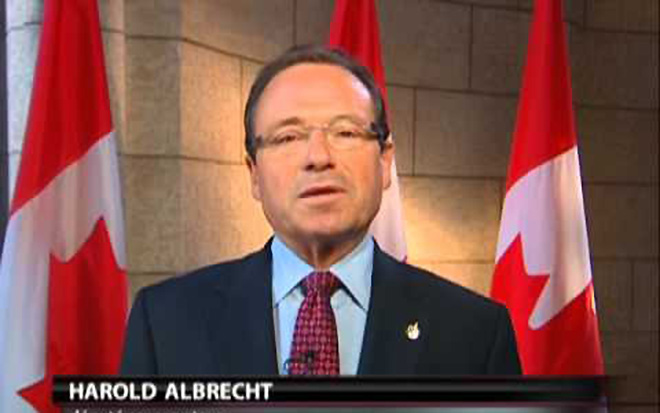 On Thursday, May 24th, 2018, Member of Parliament for Kitchener-Conestoga and current vice-chair of the Canada-Armenia Parliamentary Friendship Group, Dr. Harold Albrecht of the Conservative Party of Canada read a powerful statement in the House of Commons, highlighting the current situation in Artsakh and calling on the government to uphold its people's right to self-determination.
Albrecht started his statement by saying "While we celebrate great strides taken by Armenia, concerns remain surrounding the conflict in the Artsakh region. With over 80% of Artsakh's population voting in a referendum and 99% of those supporting independence, it was unfortunate that Azerbaijan ignored the results and responded aggressively. The conflict resulted in tens of thousands of victims and hundreds of thousands of refugees. In 1994, the conflict ended with a ceasefire agreement."
He then went on to highlight the reoccurring ceasefire violations by Baku, that especially since April 2016, have taken place on almost daily basis, claiming the lives of innocent Armenian servicemen.
"While there have been signs of progress in peace negotiations, there have been several instances of ceasefire violations, most notably in 2016, when dozens of soldiers lost their lives, and since then deaths of innocent civilians have happened far too often." said Albrecht.
He concluded his statement by delivering a very strong message by calling upon the Canadian government to "stand up for the right to self-determination of the people of the Republic of Artsakh and to work alongside the global community in seeking peace for this region."
Immediately after the statement was read, the Armenian National Committee of Canada (ANCC) welcomed MP Albrecht's statement and expressed its great appreciation for his long-standing commitment to issues of international human rights and his exemplary leadership on various matters concerning the Armenian-Canadian community. Prior to the 2015 General Elections, Dr. Albrecht was the longest-serving chair of the Canada-Armenia Parliamentary Friendship Group.
Reacting to the statement, Shahen Mirakian, President of the ANCC said "We are very pleased to see that our representatives have joined the international community in recognizing that the right of the people to Artsakh to self-determination must be upheld. Therefore, we would like to specifically thank Dr. Albrecht for voicing such a strong and principled position on this important matter"
"We believe that the Republic of Artsakh, which declared its independence following both the requirements of Soviet and international law, is the legitimate expression of the will of the people of Arsakh and we believe that it is inevitable that Canada will soon extend to it diplomatic recognition." concluded Mirakian.