Stay with the light, we will meet soon: 12-year-old Alex Gevorgyan presents his Lus A debut album and gives concert for audience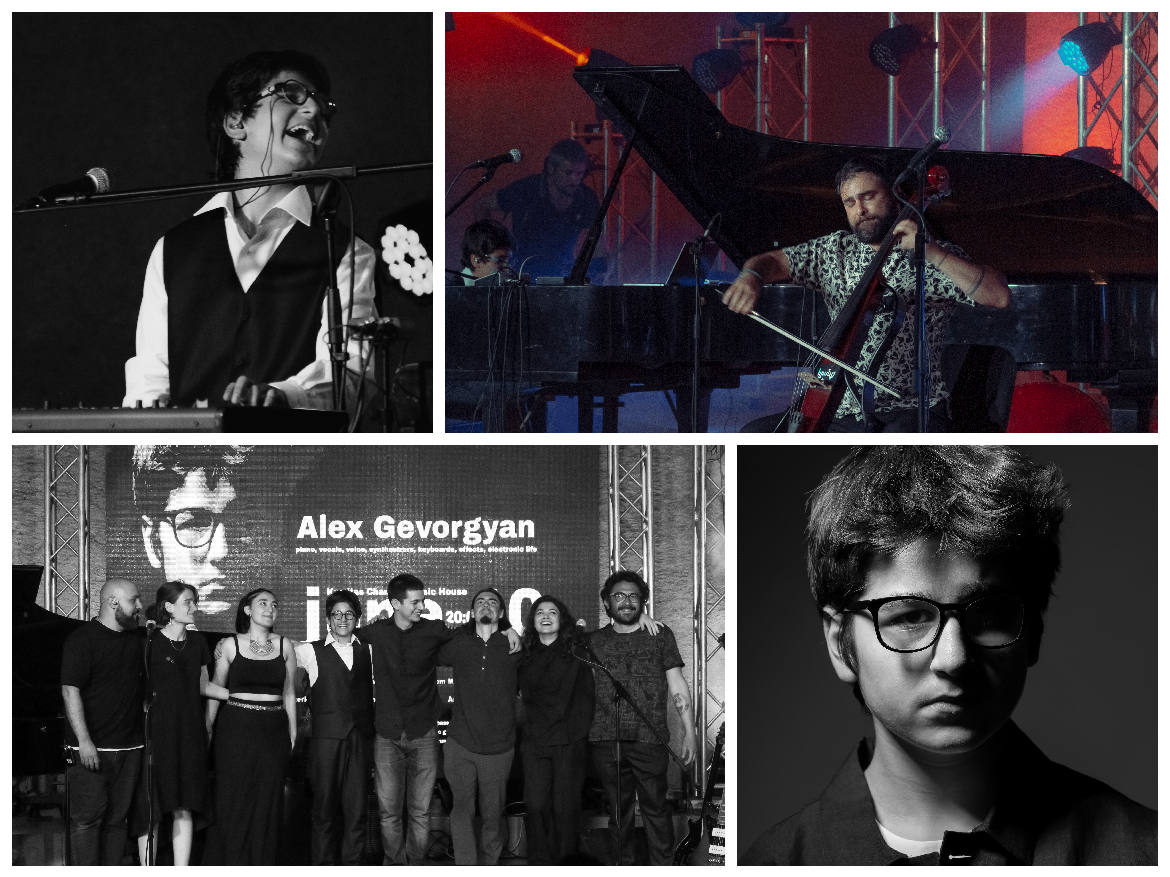 Stay with the light, we will meet soon: 12-year-old Alex Gevorgyan presents his Lus A debut album and gives concert for audience
On June 10, 12-year-old pianist, composer Alex Gevorgyan gave a concert at Komitas Chamber Music House in Yerevan. During the concert-presentation, Alex performed his musical renditions of the works of Komitas and presented his debut album entitled Lus A, which he has dedicated to his grandmother, Zina Baghdasaryan.
It took the young musician nearly four years to release this album. The idea was completely born by Alex, starting from the selection of the works of Komitas and ending with the selection of the artists with whom he recorded his musical renditions, and some of those musical renditions were presented during the concert.
"I came up with the idea of this project in a period when I was composing melodies – everywhere and constantly. However, I felt that the project needed to become complete. During those years, I was also working on a number of musical compositions of Komitas. I came up with the idea of combining my melodies with the works of Komitas, and this music was created as a result of that. It is beyond almost all the standards of musical renditions. I attach great importance to the classic art of composing and the classic art of performance. They help me a lot in my work," Alex said as he talked about the project.
Lus A is a new musical style through which 12-year-old Alex presents his perception of Komitas by mixing various musical styles. Each of the seven songs featured on the Lus A album is original. There is electronic music, as in "Mokats Mirza" and "Saren Kugayi", but there is also jazz, elements of ethno music, and in some cases, all these musical styles are combined.
Alex recorded the Lus A album with renowned Armenian musicians. The song "Sona Yar" is presented by Alex and Arto Tunçboyacıyan, Gevorgyan performs the song "Kele Kele" with Artyom Manukyan, Miqayel Voskanyan plays the tar musical instrument in the song "Yes Siretsi", Alex performs the song "Yerkinkn Ampel a" with Tiezerk Band, and Armenian American singer Sam Babayan from the band The Dirty Diamond sings the song "Garoon Ah".
The album features Alex's two solo performances, including "Mokats Mirza", which is completely electronic music, and "Yes Saren Kugayi", which is a combination of electronic music and classical music.
The album also features performances by famous musicians, including Nikoghayos Vardanyan (contrabass), Arman Mnatsakanyan (percussions) and Vardan Araqelyan (bass guitar).
All eight songs off the Lus A album were performed during the concert held on June 10.
However, not all the musicians featured on the album performed during the concert. As Alex Gevorgyan mentioned during the concert, Arto Tunçboyacıyan was not participating in the concert due to sudden health problems (he had to undergo a difficult surgery). Nevertheless, Arto's attendance at the concert was ensured since footage of him and Alex during a recording session were shown on the screen in the hall while Alex was performing the song "Sona Yar" on the piano, providing the audience with the opportunity to see Arto Tunçboyacıyan in the process.
Due to circumstances that had emerged before the concert, Miqayel Voskanyan was also not participating in the concert, and his performance was also shown on the screen.
As for the song "Garoon Ah", talented singer Mane Minasyan performed with Alex instead of Sam Babayan.
Lus A is an original project not only in terms of the idea and the uniqueness of creation, but also in terms of the team of young musicians who were on stage, including Artyom Manukyan (cello), Sergey Balashov and Armen Shaverdian (percussions), Arsen Zhamagortsyan (bass guitar, contrabass), Hector Cardoso Ltacirot (electric guitar) and Tiezerk Band.
The concert represented the dialogue between Alex and the audience, and, as Alex said, through this dialogue, he conveyed to the audience the feelings he had had over the past four years.
"When I was creating the Lus A project, I didn't think it would work out. For me, it is an unknown character, a state of mind that is quite complicated. Perhaps it is someone whom I don't even know yet. It is someone who is spinning in my head. It is constantly in my soul, and it is in my mind non-stop. It is a unique and exceptional character," Alex said as he talked about his album and went on to say the following to the audience: "I would like for all of you to have a little of this Lus A within you, and I believe it spread here today. It is already within you. Have your own light…Stay with the light."
Alex Gevorgyan studies in the Piano Department of P. I. Tchaikovsky Music School.
"It was a rather difficult task for me, and I felt very responsible. The first reason why it was difficult and why I felt very responsible was because I had to unite these wonderful musicians around one project and present the works of Komitas with them. Of course, I had explored Komitas for quite a long time before working on my musical renditions. Some of the works featured on the album are the melodies of Komitas that he had compiled when he was collecting folklore, and we have the versions of Komitas at our disposal. However, the album also features the works that Komitas composed himself. During this period, I was introduced to the Divine Liturgy of Komitas, which I often listen to. I have an idea to perform the Armenian Holy Mass with a choir because I have my own renditions of certain parts of the Divine Liturgy that are for the piano and a choir. I am proud and grateful that I am a student of my piano teacher Hasmik Ancharakyan, composer Vache Sharafyan and pianist Armen Babakhanyan. I am discovering classical music through their great assistance. Jazz sparked my interest a few years ago, and after exploring various sub-genres of jazz, especially bebop, Armenian music sparked my interest more. We need to talk about Armenian national music constantly and everywhere. We need to perform, disseminate and propagandize Armenian national music," 12-year-old Alex told reporters. During the concert, Alex not only played the piano, but also performed vocals.
Photos by TINA GEVORGYAN and HAYKO VOSKANYAN