Shots fired at US embassy in Ankara amid deepening row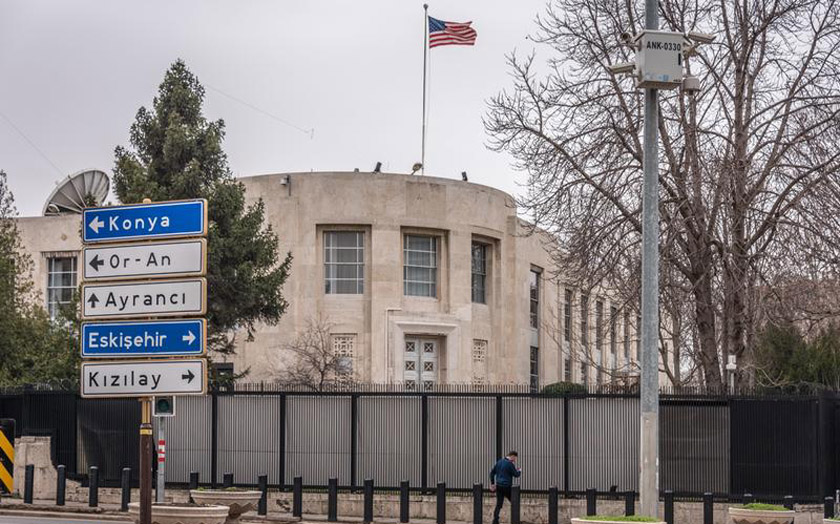 Gunshots were fired early on Monday at the United States embassy in Ankara but caused no casualties, Turkish and American officials said, amid escalating tensions between the two North Atlantic Treaty Organisation (Nato) allies.
Six shots were fired at the US embassy, the Ankara governor's office said, adding that three bullets hit the iron gate and window wall. "There are no casualties," it said.
US embassy spokesman David Gainer confirmed to AFP that a "security incident" had taken place.
"We have no reports of any injuries and we are investigating the details. We thank the Turkish National Police for their rapid response," he said.
A bullet mark was clearly visible on a security booth at the embassy, an AFP journalist at the scene reported. Omer Celik, a spokesman for the ruling Justice and Development Party (AKP), called the incident an "open provocation," without elaborating further.
The incident comes as Ankara and Washington are locked in a bitter dispute over Turkey's detention of an American pastor on terror-related charges.
US President Donald Trump has doubled the tariffs on aluminium and steel tariffs from Turkey, prompting Ankara to sharply hike tariffs on several US products.
On Friday, Turkey threatened to respond in kind if Washington imposed further sanctions, while a court rejected last week another appeal to free pastor Andrew Brunson.
The diplomatic stand-off has sent the Turkish currency into free fall against dollar, with President Recep Tayyip Erdogan vowing to emerge victorious out of the crisis.
In a written statement ahead of the Muslim feast of Eidul Azha, Erdogan remained defiant. "The attack aimed at our economy has no difference from an attack aimed at our call to prayer or flag," he said.
The president said those who believe they will bring Turkey to its knees through the foreign currency exchange rate "will soon see they are mistaken".