Serving With Honor, A Wounded Soldier's Story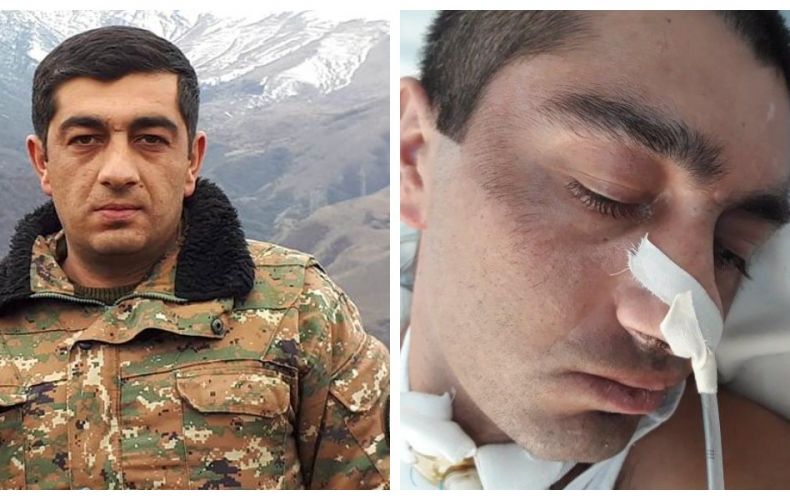 Major Lendrush Norayr Khachatryan is a dedicated father of three for whom serving is an honor. He carries that honor in all aspects of his life. He has dedicated himself to his job, his soldiers, and military ideology.
On September 28th, while on the frontline, Lendrush was ensuring the safety of his comrades-in-arms when he received a severe brain injury.
Lendrush was born in the Ashan village of the Martuni region of Artsakh on September 16, 1989. At a young age, he decided that he would receive a military education and realized his dreams by attending the Military Institute named after Vazgen Sargsyan in Yerevan. He subsequently joined the officer staff of "Yeghnikner", the seventh Military Unit of the Artsakh Defense Army, as a Battalion commander.
He was a soldier equal to soldiers and a Commander equal to Commanders, fearless and confident in his decisions. He believed that the future of a nation is determined in the trench and for that reason he carried out his responsibilities to the best of his ability. He is married with three children. The oldest is 7 years old and the youngest is 10 months old.
Since September 29th, Lendrush has been in an unconscious state in Yerevan Erebuni Medical Center in the Intensive Care Unit. Shortly after seeing his son in an unconscious state, Major Lendrush's father had a stroke and passed away.
At this time, Major Lendrush is in need of neuro-rehabilitative care that is not available in Armenia. Fortunately, Medical Park Berlin in Germany has responded that they are able to provide three months of treatment for the cost of €160,000 equaling about $200,000 American dollars.
Kindness is the only thing that the war couldn't destroy. We are appealing to generous people to support Major Lendrush's return to his family. Because of your kindness, we will be able to grant Lendrush a chance to carry on his vision and the opportunity for his children to grow up with a father. With your support, his children can not only be proud of their heroic father, but also receive lessons in patriotism and become productive members of the next generation of Artsakhtsis.
We are waiting, and we believe you will return, Commander.
Donations for Lendrush's recovery accepted by ARMECONOMBANK OJSC at the following accounts:
163318020977 USD
163318020969 AMD
Via Gofundme at: https://www.gofundme.com/f/healing-lendrush-father-armenian-hero