Erdogan to visit India with guilt of genocide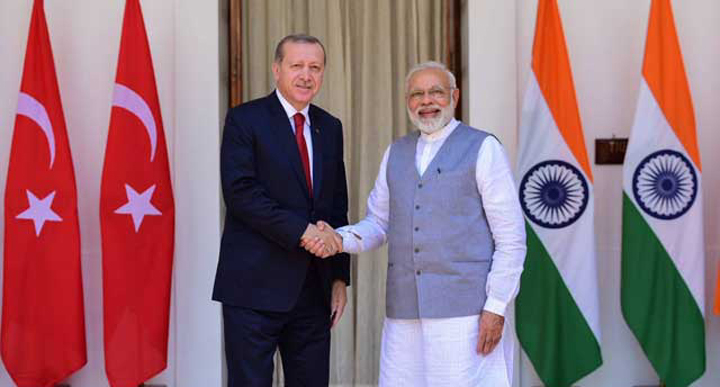 (The New Indian Express) – In another demonstration of India's masculine foreign policy, it subtly sent a message to Turkey over its support to Pakistan's position on Kashmir. Just before the Turkish President arrives in Delhi; Indian Vice President paid tribute to victims of Armenian genocide—a sore point for Turkey—and less than 24 hours before his visit India will be hosting the President of Cyprus.
Turkey President Recep Tayyip Erdogan would be arriving in India on April 30, his first visit since a coup threat reckoned Bosphorous last year. But India has shown confidence to make distinction between "good" friends that has stood by it and the message is for Turkey to heed.
Apart from being vocal about supporting Pakistan on the Kashmir imbroglio, Turkey has also been undertaking infrastructure development in PoK and India would convey its protest, sources said.
The Turkish President, too late to call of his visit, has got a taste of the changed template of Indian Foreign Policy, where the South Block would not shy away from pursuing its national interests more assertively.The first move from India came when Vice President Hamid Ansari visited the Tsitsernakaberd Memorial in Armenia to pay tribute to Armenian Genocide victims on April 25. After paying tribute, Ansari said: "This is a tragedy, indescribable things done to humans by humans."
'Armenian Genocide' is often termed as the first genocide of the 20th century by Armenian historians, a contention countered by Turks by calling it inter-communal warfare and wartime relocation.
By acknowledging Armenian genocide, New Delhi is provoking Ankara that has often threatened retaliation against Armenians diaspora pushing for recognition of the killings as a Genocide in their respective parliaments. The second message is to visiting Cyprus President Nicos Anastasiades for whom India rolled out the red carpet and it would be hard for President Erdogan to ignore. PM Narendra Modi reiterated India's support for the sovereignty of Cyprus.