Defense and Peacekeeping discussed with the Canadian Minister of National Defense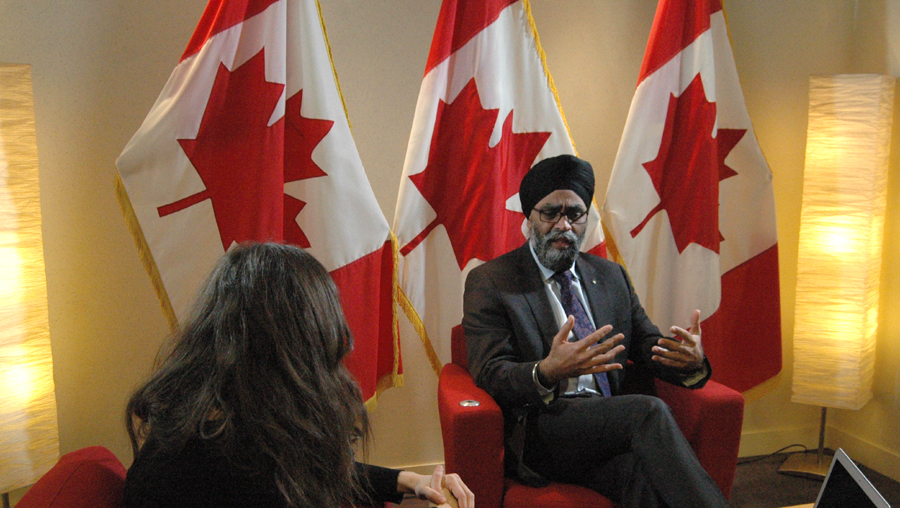 The Canada-Armenia Relationship: Perspectives on Defence and Security
By Lelag Vosguian
Canada's Minister of National Defense, the Honourable Harjit Singh Sajjan, has used different means to reach a same goal: making a difference in his country and his community. A police officer with the Vancouver Police Department for eleven years, Sajjan went on to become a member of the Canadian Armed Forces. He was deployed in Bosnia-Herzegovina and served three deployments in Afghanistan. A retired Lieutenant-Colonel, a combat veteran, and the recipient of one of the military's highest recognitions, the Order of Military Merit, Harjit Singh Sajjan continues to serve his country as the Member of Parliament for Vancouver South and as a Minister of National Defense.
On December 1, 2017, I had the privilege to sit down with the Minister of National Defense to discuss the relationship between Canada and Armenia, as well as Canada's involvement in UN Peacekeeping operations.
When asked if, arriving to Canada as a young boy from India, Harjit Singh Sajjan could imagine his future as one of the most prominent politicians in the country, he laughs, "No", and adds, "and that's the beauty of Canada: we all come from different nations; unless you are indigenous, we are all immigrants". He observes that the strength of the country is that all of its citizens bring the uniqueness of their nation and are bound by being Canadian, by having a genuine interest in learning from one another, and by inspiring the younger generation to, regardless of their background, get involved and make a difference.
These aren't just empty words. Since the beginning of its mandate in 2015, the Liberal government has been working to increase its engagement with the world including its support work with NATO and the UN, to reactualize some of the commitments that Canada had shied away from in the previous years, and to solidify the country's relationship with "likeminded nations". "We've said it from day one: no one nation can have an impact", says the Minister as he comments on the importance of multilateralism. He recognizes that "each nation has different experiences that can bring different solutions to different challenges" and that "nations build relationships through people".
In this spirit of open dialogue, the Canadian representation in Armenia, His Excellency John Kur, met with Armenia's Minister of Defense Vigen Sargsyan in Yerevan on October 18, 2017, to discuss the potentials of a bilateral defense cooperation between Canada and Armenia. Sargsyan himself visited Canada the following month to take part in the 2017 United Nations Peacekeeping Defense Ministerial held in Vancouver on November 14 and 15. In this context, Canada announced in August that it could provide 600 military troops to a future UN peacekeeping mission. For Sajjan, the idea is no longer to simply select a mission and send in troops: "We've seen how that's been done in the past [but] peacekeeping is very different from what it was before". According to him, today's "very complex environment" calls for a "whole government approach to peacekeeping", where Canada could "contribute in a way that has an impact to the entire mission". Under these conditions, therefore, "what we announced was a very innovative way of trying to support the United Nations reforms [:] what we announced is what the United Nations was looking for".
One of the concrete ways in which Canada is supporting the United Nations is in the latter's efforts to have more women on peace support operations. Having noted the causality between women's involvement in peace operations and their long-term success, the UN Security Council adopted, in 2015, Resolution 2242, which aimed to double the rate of women's participation in these operations by 2020. At the time, 3.7% of military peacekeepers and 9.5% of police peacekeepers were women. However, since the adoption of this resolution two years ago, the overall percentage of women deployed in uniform increased only by 0.2%. Committed to overcoming the obstacles to the increase of women's participation in peace operations and bettering these ratios, Canada just launched the Elsie Initiative which will support the development of systematic approaches to the deployment of women and the adequate training of women, which will also effectively incentivize other nations to have more women on peace operations. Announced during the 2017 United Nations Peacekeeping Defense Ministerial, this feminist foreign policy, combined with pledges to add in capability and elaborate innovative training, will certainly contribute to the improvement of the UN peacekeeping system.
In June 2017, the federal government of Canada promised an increase of $62 billion over the course of the next two decades to fund its new defense policy "Strong, Secure, Engaged". The elaboration of this policy, like the approach to peacekeeping, was to be thorough and innovative. "We didn't want to just put a budget, or money, and then try to get a policy around it; we actually wanted to do a very credible consultation", says the Minister. Thus followed "substantial consultations around the country", discussions with citizens, experts and allies, forums for youth, women and indigenous communities, to understand what it is that Canadians want and need to be and feel "strong at home, secure in North America and engaged in the world". Instead of developing a list of equipment or material that is to be purchased with a budget made available by the country, National Defense costed all the capabilities that are necessary to be strong, secure and engaged in the world today, which include response to domestic operations, search and rescue, NORAD, evacuation and international disaster response. This policy is a "credible document" because it was based on "what the real needs were". For the Minister, this increase in budget is "not just a number"; it's "the investment that was needed for the next twenty years to make sure that we can live up to our commitments".
"Innovation", "engagement" and "multilateralism" seem to be fundamental notions for Harjit Singh Sajjan and his department. To the question "What does Canada see as a potential value in a cooperation with Armenia?", the Defense Minister answers: "For us it's very important […] to be able to work with likeminded nations, look at the challenges, but more importantly, to have that dialogue". At a time when defense and peacekeeping appear to be more complex than ever, Canadian and Armenian politicians are reaching out to each other to envisage the future together.