Canadian composer Ronald Hannah's Opera about the life of St. Gregory of Armenia to premiere in Yerevan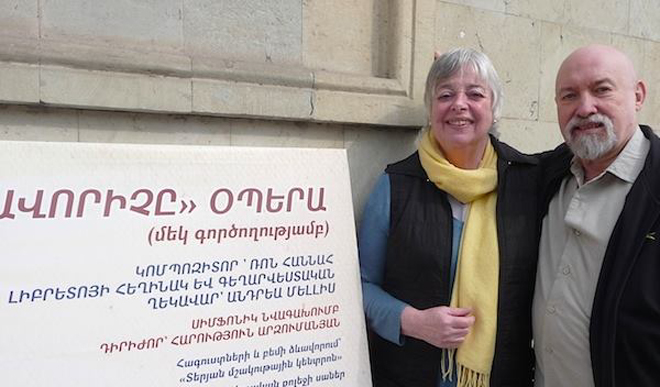 The Illuminator an Opera based on the life of St. Gregory of Armenia composed by Ron Hannah and directed by Andrea Mellis will premiere in Yerevan on April 3 with the participation of State Chamber Orchestra of Armenia (conducted by Harutyun Arzoumanyan), Young chorus from the Alexander Spendyarian Music School and Yerevan Dancers from Yerevan State Choreographic College.
Canadian composer Ron Hannah's works have been performed in Canada and internationally. His 2-piano suite, "Dances for Camille", was performed in Vienna, in June and December of 2015. In addition, his "Two Songs after Christine de Pisan" has recently been premiered, also in Vienna, by Andrea Mellis and Zsuzsa Aba-Nagy, harpist; as have his "Suite of Antique Dances", for flute, harp and viola; "Primavera II", for 2 violins; and "Three Inevitable Songs", for soprano, harp, flute and viola. In June of 2016, his "5-Part re-Invention" for recorder quartet and harpsichord, was premiered in Colchester, England, and he has just completed a second Piano Trio and a Sonata for Violin and Piano. Many of his works appear on CDs available through the Canadian Music Centre. He is also a reviewer, essayist and travel writer.
His catalogue contains over one hundred compositions: choral, chamber, song cycles, orchestral works, ballets, and several operas and theatre pieces, the most recent being a musical version of the life of St. Gregory of Armenia, entitled "The Illuminator".