Canadian-Armenian Philanthropists featured in US Magazine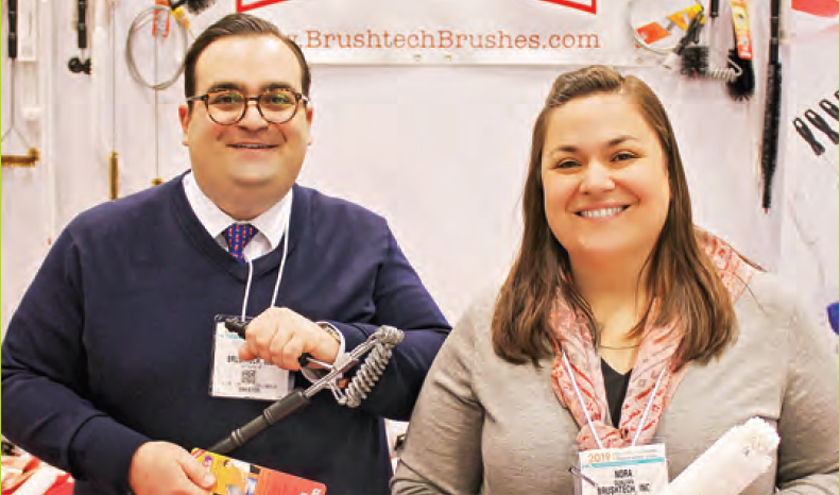 Armen Garo Gunjian's American Dream started its journey at a hardware store with his first job in sales. Always the student and eager to learn everything about everything, he made it his priority to study the products he was selling in order to place the right ones into the hands of the right customers.
Armen Garo was born on January 5th, 1936 in Alexandria, Egypt. In 1957, he immigrated to Canada where he began his life as an entrepreneur. In 1976, he founded Brushtech, a manufacturing company. His unique and unusual brush designs propelled him to success. He married Chake Benohanian in 1980 and was blessed with two children, Nora and Zaven. Armen Garo was one of the founding members of Sourp Hagop Armenian Apostolic Church of Montreal. Armen Garo Gunjian passed away on September 1st, 2012.
Brushtech is located in Plattsburgh, New York. The company primarily operates in the Brushes, Household or Industrial business / industry within the Miscellaneous Manufacturing Industries sector. The company has been operating for more than 40 years.
Illinois based Broom, Brush & Mop Magazine, one of the oldest magazines serving the brush, broom and mop industry worldwide has interviewed Brushtech President Nora Gunjian and Brushtech Vice President Zaven Gunjian. The article was published in the June issue of the magazine.
Nora, Zaven and Mrs. Chake Gunjian continue to sponsor Armenian community initiatives in Canada and are recognized as one of Montreal's most respected philanthropist families.
***
PAST EXHIBITORS OF THE INSPIRED HOME SHOW DISCUSS BUSINESS DURING "NEW NORMAL"
By Harrell Kerkhoff | Broom, Brush & Mop Editor
Typically scheduled each March at Chicago's McCormick Place, exhibitors and buyers of housewares from around the world were not able to converge in 2020 for The Inspired Home Show, International Housewares Association's Global Home + Housewares Market, due to the COVID-19 pandemic. Nonetheless, people still need housewares such as brushes, mops, dusters, squeegeess, scrubbers, brooms and sponges; and there remain plenty of companies in North America, and globally, manufacturing and/or selling such items. Broom, Brush & Mop Magazine recently interviewed companies with a long history of exhibiting at The Inspired Home Show. They were each asked how their businesses have handled not only the absence of this year's show, but the current global pandemic. Participants also discussed their company's new products and innovations, designed to meet today's demands placed by retail customers and end-use consumers.
Specially designed brushes have long served as important tools to helping people properly maintain areas of the home and beyond. Keeping such brush-related products "fresh" for consumers remains a key objective for domestic manufacturer Brushtech Inc., located in Plattsburgh, NY.
Founded in 1976, Brushtech's products are produced at the company's upstate New York facility. According to Brushtech Vice President of Sales Zaven Gunjian, a key objective to the company's long participation at The Inspired Home Show has always been to showcase new innovations and gain a better understanding of customer needs.
"The show has long served as a cornerstone to our business, allowing us to meet and catch up with existing customers, present new products and strengthen relationships," Zaven Gunjian said. "Meeting new prospects has also been a major objective as an exhibitor at The Inspired Home Show. Therefore, it was a huge blow to us when the trade show was canceled for 2020."
Gunjian's sister, Brushtech President Nora Gunjian, added: "As much as the internet and the way of the modern world would like to convince us that we don't absolutely need to meet in person; handshakes, body language, eye contact and human-tohuman in-person interaction will never go out of style. That is paramount when it comes to doing business.
" Brushtech was founded 44 years ago by Nora and Zaven Gunjian's father, the late Armen Gunjian, and the company remains very much a family business.
"My sister and I have been thinking about brushes pretty much our entire lives" Zaven Gunjian said. Today, the company specializes in producing twisted-in-wire brushes for a wide variety of tasks, such as BBQ grill cleaning, bottle washing, the cleaning of lab equipment and uses related to plumbing.
"Customers have responded well to such new Brushtech product designs of our Safety Double-Helix Bristle-Free BBQ Grill Brushes," Zaven Gunjian said. "It helps us that many hardware stores and garden centers have remained open during the pandemic. Also, people are still cooking out in their backyards."
Nora Gunjian noted that overall business at Brushtech has slowed a bit during the COVID-19 outbreak, while steps have been taken to protect the company's employees from the virus. "We have installed cleaning stations and require social distancing among our employees. Personal protective equipment and hand sanitizers have also been provided. The safety of our workers is of top priority at all times," she said. "Some of our customers did shut down their operations and canceled orders. We had to let go of some staff due to reduced demand, but are hopeful to resume normal business in the near future as more places reopen."
Brushtech itself shut down for a week until receiving an exemption from the state of New York to open again as an essential business. The company provides brushes for laboratories, lab suppliers and food suppliers.
"We are living in strange times. The virus has made many people realize what is truly important in life — health, family, friends and work," Nora Gunjian said. "This great big world is really a small place, and we need to take care (of the planet). We, at Brushtech, are working hard to help make that happen.
"We also believe that many products produced in the United States will be in bigger demand during the coming years, as more people realize that they cannot solely rely on foreign supplies when it comes to essential items"
Website: www.brushtechbrushes.com
BBM Broom, Brush & Mop Magazine – May/June 2020