CABC Members Talk Business With High-Level Armenian Government Delegation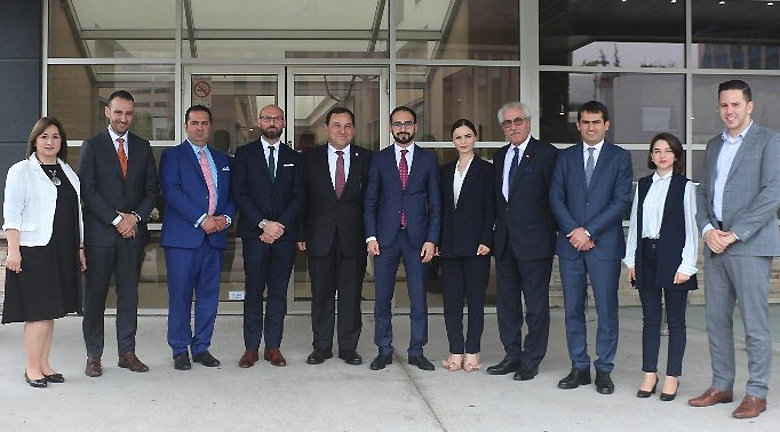 NEW ARMENIA, NEW OPPORTUNITIES
The Canada Armenia Business Council (CABC), in collaboration with the ATN Global Armenian Trade Network, formally hosted the first business outreach visit to Toronto by the new Armenian government from June 16 to 28, 2018. The visit was organized by the Business Armenia agency within the framework of a North American tour headed by Deputy Prime Minister His Excellency Tigran Avinyan. The high-level delegation included Mr. Serge Varak Sisserian, Head of the Deputy Prime Minister's Office, Ms. Mane Adamian, Deputy Minister of Economic Development and Investments, Mr. Hakob Arshakyan, Deputy Minister of Transport, Communication and Information Technologies, Mr. Babken Der Grigorian, Deputy Minister of Diaspora, Ms. Alina Yeghiazaryan, Manager of International Cooperation at Business Armenia, Mr. Narek Aleksanyan, Team Leader of International Commerce at Business Armenia and Ms. Viktorya Aydinyan, Assistant to the Deputy Prime Minister.
The visit was coordinated and joined by Mr. Edgar Manukyan together with CABC and Business Armenia representatives. It aimed at presenting the new Armenian government's economic development plan and business opportunities to Canadian business leaders, the Armenian community, Canadian officials and experts. Following the visit, the delegation announced new investment decisions amounting to US $10.5 million by Canadian entities.
On June 27, CABC organized several individual meetings with Canadian executives and firms, including Mr. Andre Nazarian, president of Magnum Integrated Technologies, Mr. Alfred Baghouzian, VP of TELUS and Mr. Vartkes Melkonian, president of Allagma Technologies. A joint meeting was also held with the executive boards of ATN and CABC to explore ways and means for effective long-term cooperation with Diasporan business organizations. Attending were ATN President Hrach Kaspar and Treasurer Vahram Pirjanian, CABC Board President Hovsep Seraydarian (VC), VP Vatche Pirjanian, Advisory member and the event's MC Ara Hasserjian, Treasurer Razmig Boghossian, Secretary Tamar Asailian and Advisory member Patrick Bakos.
A CABC members' exclusive luncheon was also organized with the participation of close to 70 Canadian entrepreneurs who showed interest in learning about business opportunities in Armenia. The event dedicated to New Armenia: Revival Plans and New Opportunities was moderated by Ara Hasserjian and featured welcoming speeches by Hrach Kaspar and special guest Arsinee Khanjian – an active participant of the peaceful revolution in Armenia – who called on all present to contribute towards making New Armenia a growing and powerful economy. HE Tigran Avinyan presented the new economic drive of the government and assured that the rules of the game have changed and, above all, an independent judiciary system and anti-corruption measures are the new norm in the country.
Special presentations on Armenia's investment environment and the IT and Innovation sector were made by deputy ministers Ms. Mane Adamyan and Mr. Hakop Arshakyan respectively. A conversation ensued on development paths and the viability of a technology venture fund as a key vehicle for promoting employment and economic growth in the country. Among the participants were one of Canada's most renowned economists, policy adviser to the Government and Atkinson Fellow Armine Yalnizian, president of Groveware Technologies Hrair Achkarian and a delegation from the Armenian Jewellers Association — Sergio Chamahyan (President), Haigo Derian, Manas Titizian, Aram Isnar and Alex Artinian.
ATN and CABC presented the Deputy Prime Minister with special mementos, portraits of Prime Minister Nikol Pashinyan and Ms. Anna Hakobyan by Italian Armenian artist and architect Harry Mardirossian. Following targeted discussions on manufacturing and trade opportunities, the AJA of Ontario also presented Ms. Mane Adamyan with a special gift. On its part, the delegation presented symbolic gifts from Armenia.
A public gathering at the Armenian Community Center was also formally hosted by CABC with the participation of about 150 community members where HE Tigran Avinyan made a keynote speech on the country's economic revival plans and answered key questions.
CABC was founded in 1986 to become the voice of the Canadian Armenian business community. Drawing on the Armenian entrepreneurial heritage, it aims to strengthen ties within the Armenian business community and foster economic relations between Canada and Armenia. Since Armenia's Independence in 1991, CABC has implemented numerous initiatives and organized events, such as business missions, Made in Armenia exhibits, special forums, participation in Canadian pavilions at international shows. CABC is also a founding member of the Armenian Trade Network – Global Armenian Chamber of Commerce.