Azerbaijan blocking access to Dadivank Armenian monastery since May 2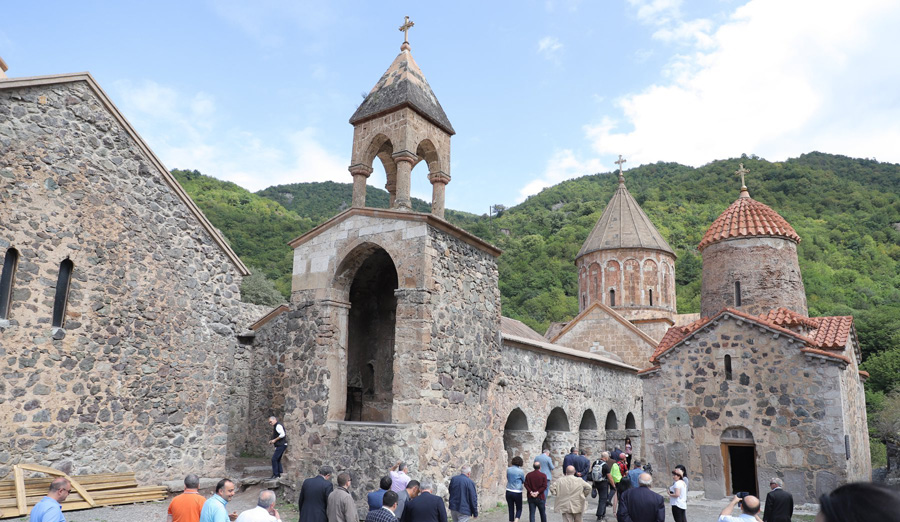 Since early May, Azerbaijani military forces have blocked Armenian Apostolic Church pilgrims' access to Sunday worship services at Dadivank Monastery, according to Forum 18, a Norwegian human rights organization that promotes religious freedom.
The 9th century Dadivank Monastery – located just west of Nagorno-Karabakh's Soviet-era borders – was in territory handed back to Azerbaijan in late November 2020. The Armenian monastic community chose to remain in the Monastery after the handover. A Russian peacekeeping post is located outside the entrance to the monastery, to protect it and the six monks who continue to live and serve there.
Each week, the Armenian Apostolic Church prepares lists of up to 10 people who wish to travel to Dadivank Monastery for Sunday worship. It hands the lists to the Russian peacekeeping forces, which hand them to the Azerbaijani military. "The Russian peacekeepers pass back to us the rejection," Nagorno-Karabakh's Bishop, Vrtanes Abrahamian, told Forum 18. "Sometimes the Azerbaijanis cite the coronavirus, other times they said the road was still blocked because of a landslip".
The three monks and three deacons who currently live at Dadivank Monastery "hold services and pray there, but without a congregation", Bishop Vrtanes told Forum 18. He added that the Church is able to send food via the Russian peacekeepers (see below).
Azerbaijan's Defence Ministry has not replied to Forum 18's question about why it is blocking the pilgrims' access to Dadivank Monastery.
Armenians complain that the Azerbaijani military's action is contrary to the November 2020 verbal agreement between Russian President Vladimir Putin and Azerbaijani President Ilham Aliyev that access to Christian sites would be guaranteed.
The verbal agreement followed the 9 November 2020 tripartite agreement that ended a bitter 44-day war between Armenian and Azerbaijani forces over control of Nagorno-Karabakh and surrounding territories.
There have also been concerns about destruction by Azerbaijan of historic Armenian places of worship and other monuments. Azerbaijani human rights defenders have noted that this may be aimed at cementing the regime's grip on power. One Azerbaijani historian, who wished to remain anonymous, stated that Azerbaijanis who object to the destruction of Armenian heritage "prefer silent rage over jail time".
Sunday 2 May was the last time the Azerbaijani military allowed Armenian Apostolic pilgrims to travel to Dadivank Monastery from Nagorno-Karabakh, the Russian peacekeeping forces noted on their website the following day. In sharp contrast, on Tuesday 4 May there was a visit to Dadivank from Azerbaijan's capital Baku by 30 Udis, Protestants, journalists and Azerbaijani officials, two days after Russian Orthodox Easter. The visit was – like all visits – accompanied by Russian peacekeepers, the Russian peacekeeping forces website noted.
Bishop Vrtanes said that he has no direct contact with the Azerbaijani military. However, he said he meets the commanders of the Russian peacekeeping forces and the Russian Orthodox military chaplain Fr Boris Grishin regularly. Fr Grishin – who is currently based in Nagorno-Karabakh – has himself also visited the Monastery.
"We're told everything will soon be OK and the road will be open," Bishop Vrtanes told Forum 18. The Russians point to "political questions" which are currently obstructing Armenian pilgrims' access to Dadivank Monastery, he added. "But politics and pilgrimage are different issues."