Armenian Community to PM Trudeau: Name the Aggressors, Stop Canadian Complicity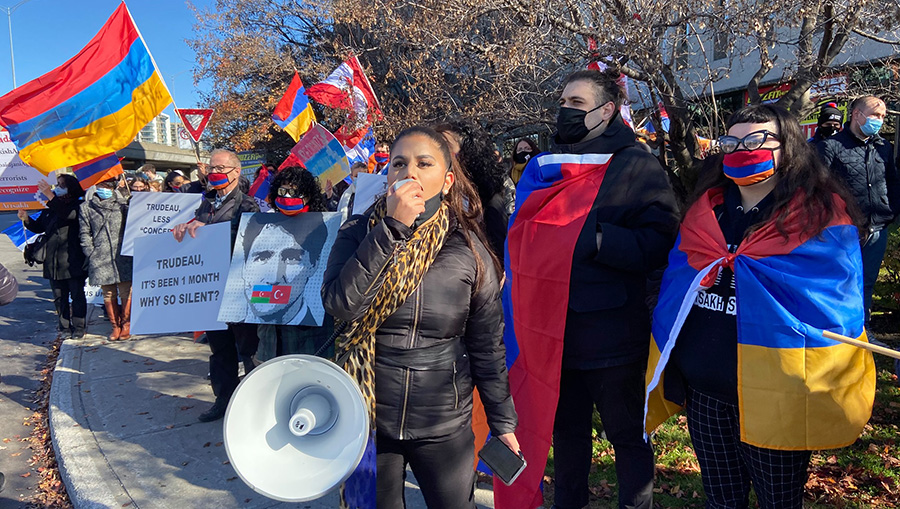 By Goryoun Koyounian
Horizon Weekly – Hundreds gathered today in front of Prime Minister Justin Trudeau's constituency building in Papineau, Montreal. Organized by the Union of Quebec Armenian Communities/Union Des Communautés Arméniennes du Québec, the demonstration was meant to demand Trudeau recognize Artsakh and condemn Azeri and Turkish aggression.
One month into the deadliest war between Armenia and Azerbaijan since the 1990s, Canadian Armenians are extremely concerned that Mr. Trudeau has yet to substantively address the issue.
https://www.facebook.com/120633978044872/videos/345677976517375/
So far, the government has temporarily suspended weapons exports to Turkey, pending a full investigation, and it has called upon "external parties" to stay out of the conflict. However, with Azerbaijan showing no signs of relenting, the Armenian community is demanding a clearer stance from the Prime Minister himself.
In Parliament earlier today, Stéphane Bergeron, Bloc Québecois MP for Montarville, decried the "radio silence" of the government on this issue. Asked about what they're doing to promote a peaceful resolution, Foreign Affairs Minister said "We will continue to help bring about a de-escalation, to have a durable ceasefire, and yesterday we announced emergency humanitarian aid worth $325 000."
As fighting resumed following a third failed ceasefire in two weeks, the Armenian community intends to keep up the pressure on government officials. A demonstration is expected to take place soon in front of the National Assembly of Quebec. Details will be forthcoming.