Armenian Community Celebrates Heritage on Centennial of First Armenian Republic at Canadian History Museum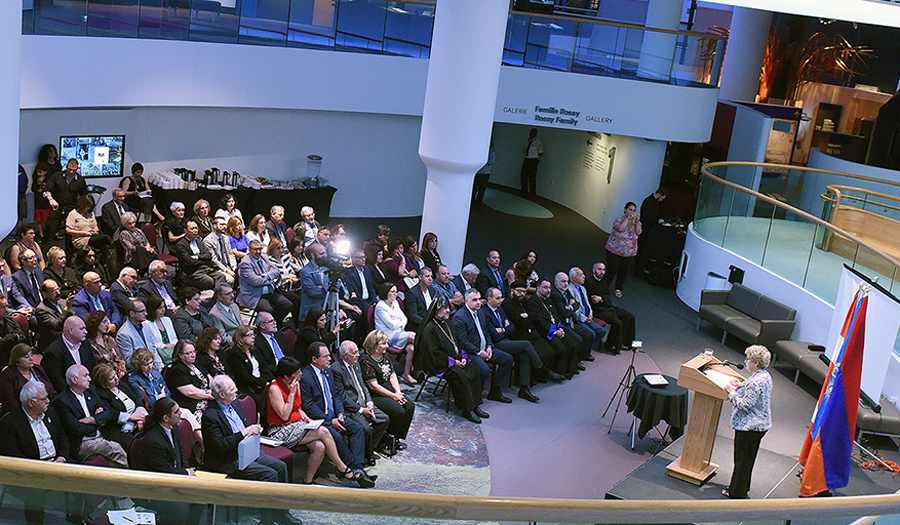 OTTAWA — On Wednesday June 13, 2018, Armenian Canadian heritage was celebrated on the occasion of the centennial of the Republic of Armenia of 1918-2018. The event was held under the auspices of His Eminence Archbishop Papken Tcharian, Prelate of Canada who led a memorial service at the St. Onuphrius Ukrainian Church located in the History Museum's Canada Hall.
Close to 120 special guests, representatives of the Government of Canada and the diplomatic corps participated in the event. "Celebrating this important chapter in our community's and Armenia's history following the tragic 1915 Genocide at the Canadian Museum of History emphasises our strong collective commitment to remembrance, human rights promotion and condemnation of genocide," remarked the MC, Nora Arouchian, from the Armenian Prelacy's National Education Council.
Welcoming dignitaries following grace, Archbishop Tcharian stated that independence from oppression is a sacred value, "Armenia's first independence thus remains, above all, ideological in nature." The Prelate thanked Canadians and our successive governments for opening their hearts and receiving Armenian Genocide survivors and dislocated refugees and blessed both Canada and Armenia.
A message for this occasion from The Right Honourable Justin Trudeau was read: "It was 100 years ago this May that Armenians declared independence and established the First Republic of Armenia. Only by overcoming many obstacles and enduring the hardships of the time that an independent Armenian state was able to re-emerge. It was a truly significant achievement and one that heled the foundation for the modern-day Armenian Republic. Canada's cultural diversity is one of our greatest strength and sources of pride. Canadians of Armenian descent have made and continue to make important contributions to our national fabric."
Ambassador Extraordinary and Plenipotentiary of the Republic of Armenia to Canada, H.E. Mr. Levon Martirosyan, also addressed the crowd recognizing the role Canadians played after the Genocide and the significance of the first Armenian Independence.
Two presentations on the historical context ensued. The first on Armenians in the Canadian Expeditionary Force: Volunteers and Draftees, was delivered by Fresno State University Emeritus Professor Isabel Kaprielian-Churchill. The speaker, who is a well-known researcher on Armenian immigration and culture in the Diaspora, is also the author of Like Our Mountains: A History of Armenians in Canada, and, Sisters of Mercy: Armenian Nurses, 1900-1930.
The second presentation dealt with Canada's substantial interest in the fate of the Armenian people one hundred years ago. It was delivered by Aram Adjemian, author of The Call from Armenia: Canada's Response to the Armenian Genocide. The speaker talked about deliberations in Canada for assuming a mandate for Armenia and overall support provided to the "junior ally".
The special event was concluded with an exhibition and a reception at the Museum Hub, celebrating this historic milestone.