ANCC Western-Region Representatives at S.U.C. C. S. E. S. S. Annual Gala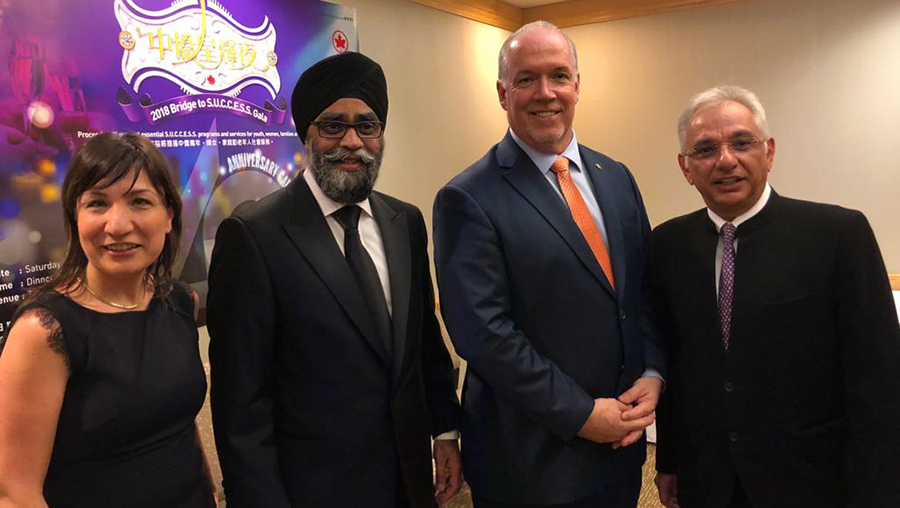 Armenian National Committee of Canada (ANCC) Western Region representatives Vahe Agopian and Meghrig Sulahian attended the annual S.U. C. C. E. S. S. Gala On Saturday March 10th 2018 at Vancouver's Westin Bayshore Hotel.
During the Gala the ANCC representatives met with the Premier of British Columbia Hon. John Horgan and Canada's Minister of Defense Hon. Harjit Sajjan to discuss issues that concern Armenian Canadians including Canada – Armenia relations, Artsakh and the settlement of Syrian Armenian Refugees in Canada.
With the St. Gregory Armenian Church community being the largest private sponsor of Syrian refugees in BC, the ANCC members shared the success stories of newcomers and thanked the Government of Canada for expanding and expediting the refugee program.
ANCC representatives had the chance to meet with Hon. Mike Farnworth, longtime provincial MLA and current Solicitor General & Public Safety Minister.  He talked about his upcoming plans for tourism and bicycle tours in Egypt, China and Armenia. ANCC members informed him about the hidden beauty of Armenia and its unexplored hiking trails, and proposed he participate in the "Savage of Sevan", a grueling 212 km bike tour around Lake Sevan which will take place on May 28, 2018.
Long time Richmond MP Hon. Alice Wong demonstrated to ANCC representatives her willingness to help the growing Armenian community in Vancouver to prosper in any possible way.
Vahe and Meghrig also had the pleasure to meet with the Consul General of France in Vancouver Philippe Sudder, discussing Prime Minister Justin Trudeau's upcoming visit to Armenia in October to attend theInternational Organization of La Francophonie summit.
Mr. Sudder was invited to this year's local April 24 Armenian Genocide Commemoration event, and in turn he extended an invitation to ANCC to attend the French National Bastille Day on July 14th.
During the Gala, the founder of S.U.C.C.E.S.S. Mrs. Margaret Yap had the opportunity to talk to Mr. Ara Setrakian, a Syrian Armenian newcomer who shared his emotional settlement experience in Vancouver.
Throughout the night, ANCC's representatives shared a wealth of information about the Armenian National Committee's missions with Government and NGO representatives.