Ambassador Martirosyan meets with the Speaker of the House of Commons of Canada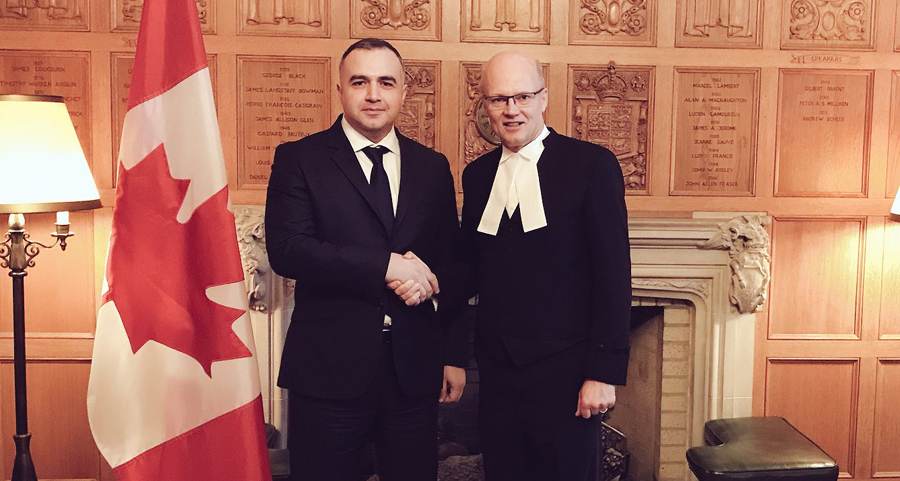 On November 22nd, Levon Martirosyan, the Ambassador of the Republic of Armenia to Canada, had a meeting with Honourable Geoff Regan, the Speaker of the House of Commons of Canada.
During the meeting, a wide range of issues related to Armenian-Canadian relations was discussed.
The Speaker of the House of Commons of Canada expressed confidence that due to the efforts of Ambassador Martirosyan the Armenian-Canadian relations will further develop in all the fields of mutual cooperation.
At the request of Mr. Regan, Ambassador Martirosyan spoke about the latest developments in bilateral relations along with future plans. The sides expressed views about the projects of mutual cooperation between the two respective Parliaments. The importance of the cooperation between the Parliamentary Friendship groups in the Parliaments of the two countries was acknowledged.
Levon Martirosyan and Geoff Regan touched upon the cooperation between Armenia and Canada in the frameworks of various international organisations and in particular within the International Organization of La Francophonie. Ambassador Martirosyan informed Mr. Regan about the preparatory works on the occasion of the Summit of La Francophonie, to be held in Yerevan in 2018.
During the meeting, a number of regional and global issues were discussed as well.