Yerevan welcomes its first solar-powered bus stops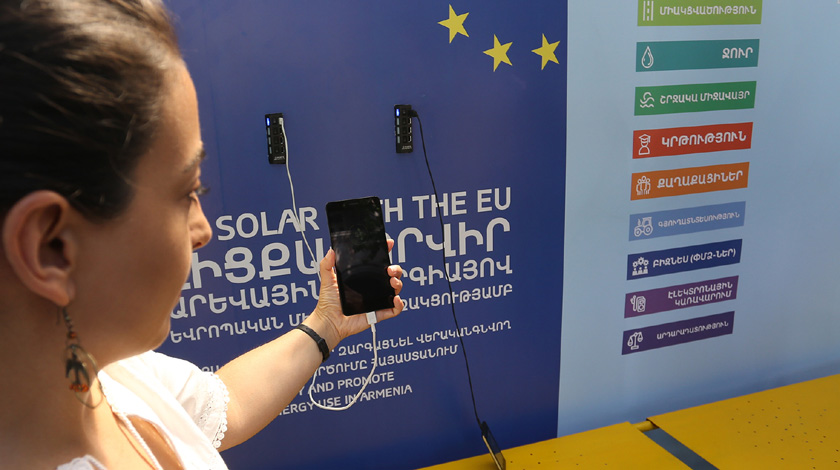 The first solar powered bus stops were opened in Yerevan, reports Armenpress.
The Delegation of the European Union to Armenia has initiated the installation of solar panels at two public transport bus stops of Yerevan to promote the use of renewable energy in the country. Situated on Moskovyan and Baghramyan streets, the bus stops will enable residents and visitors of Yerevan to charge their cellphones and other digital gadgets with free solar energy. Each solar powered bus stop can fully charge up to 24 phones daily.
Ambassador Piotr Switalski, Head of the EU Delegation to Armenia, was among the first ones who used this chance and charged his cell-phone in the bus stop. "Armenia is full of sunshine, there are many solar days here within a year which enables to use this natural wealth. All Armenians want to have a cheap energy and be more independent, and we, as the European Union, believe that both are possible to ensure over the course of time", Piotr Switalski said. According to him, Armenia has the three necessary factors for development of solar energy – nature, sun, people and their capabilities which then turn into technologies. And the investments will be possible to ensure through the efforts of the international community.
The EU Ambassador informed that these solar panels will stay at bus stops for a year, and then they will be transferred to other institutions such as schools, kindergartens which will also use this chance.
Within the EU Energy Days a series of events have taken place from 3 to 7 July 2017 in Yerevan and regions of Armenia to highlight the reforms in the energy sector implemented with the support of the European Union as well as to showcase the recent developments and share perspectives in fostering renewable, alternative and sustainable energy practices in Armenia through the EU-funded projects and institutional partners.