UWC Dilijan encouraging students to challenge themselves and the conventional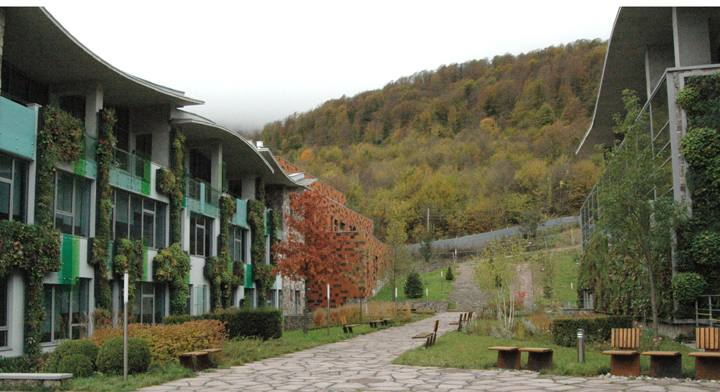 Innovations in Education: Breaking borders and boundaries in Dilijan
By Paula Der Matoian
Close your eyes. Imagine that summer camp never ended. Imagine going to school in a place nestled in rolling hills among trees, breathing in crisp fresh air. Imagine you are among students and teachers from all over the globe. Open your eyes. Welcome to UWC Dilijan.
What is this school all about? Maybe you've read a few snippets in the news, heard about some ribbon cutting ceremonies, or seen renderings of an incredibly modern and appealing campus. There are so many aspects to this school that it's impossible to fathom all the possibilities. The bottom line is that this is a game changer for Dilijan – and for Armenia.
The United World Colleges (UWC) brand was started in 1962 in South Wales with a vision "to bring together young people from areas of post-war conflict to act as champions of peace through an education based on shared learning, collaboration and understanding." Today, UWC has 17 schools and colleges across four continents; and national committees (or selection committees) in over 150 countries. Add to that over 60,000 alumni representing every country of the world, and you'll start to get just a glimpse into the broad scope of UWC. The vast international network is just part of the appeal.
The mission in 1962 is not any less relevant nowadays. In today's globalized world, learning about and understanding each other, and practicing tolerance and respect for different cultures, traditions, and viewpoints, is a peaceful way forward. UWC Dilijan brings together students from around the world to gain knowledge through experience – learning through interactions with each other, living together with representatives from different cultures, religions, viewpoints and establishing life-long friendships as alumni and students become global citizens and ambassadors sharing both their culture and that of Dilijan and Armenia's on the world stage. And the UWC teaching philosophy and methods make this more than an educational college, but a life college. Students apply in their home country, when accepted, the location of the UWC campus where they will study is determined by a national committee that nominates the student to the particular UWC College after taking into consideration the priorities of the applicants and other criteria. Currently 10% of the enrolled student body at UWC Dilijan is comprised of local students. The working language of the school is English and the students are paired with roommates who are not from their native country. Cultural diversity immersion starts from the moment they arrive on the campus.
United States, Canada, China, Swaziland, Thailand, India, Singapore, Italy, United Kingdom, the Netherlands, Bosnia and Herzegovina, Norway, Germany, Japan and Costa Rica. Dilijan, Armenia? How did that happen?
UWC Dilijan co-founder Veronika Zonabend 
UWC Dilijan was founded in August 2014, following the foresight of co-founders Ruben Vardanyan and Veronika Zonabend with the financial support from IDeA Foundation
and other founding partners as well as nearly 300 donors from around the globe. The UWC brand fits their vision of what education should offer for the future generations – creativity and diversity in culture, nationality, and socio-economic standing. Ms. Zonabend tells Horizon Weekly that it was important for Armenians to be "open to the rest of the world" and raise awareness to other countries about Armenia, its culture and traditions – the nation as a whole.
Dilijan was chosen as the location for many reasons. There were rational factors considered, says Ms. Zonabend. First, Dilijan is the mid-point between the capitals of Armenia and Georgia, Yerevan and Tbilisi. Second, the microclimate is very mild, she says; and third it's partially located within a national park. "You can't find many places in the world where there is a town in the middle of a national park," she says.
The founders felt that the grandeur of the national forest – one of the four protected national parks in Armenia – added to the experience of the students, as Armenia is an unknown place for the majority.
"But when they come and see it, they're impressed," Ms. Zonabend says. The campus sits at the base of a small hill, next to a river (Aghstev), and is surrounded by an old-growth forest. Not only are visitors impressed, but inspired by the natural beauty of the location.
The size of the town was considered as well. An important component of the UWC model is the interaction and collaboration of the students with the native population. And Dilijan, long established with an international flavor, created the setting for easier integration and quicker impact. It also afforded a small-town lifestyle and advantageous safety conditions.
Each UWC creates its own unique campus, incorporating the environment of the location. UWC Dilijan is in the Dilijan National Park in the Tavush Province, on 88 hectares of land. Open atriums around the building with built-in seating stream with natural light, and oversized reading chairs offer an island of silence in the sun-lit library. Study spaces are built into every meter of the main building. The school boasts an Olympic size pool with seating for competition events, along with a gym and exercise space. The campus itself is the first of its kind in the region. It has 7,500 square meters of green roofs filled with indigenous Armenian wild flowers, and 1,300 square meters of living walls covered with plants. During the summer the roofs are awash with the bright colors of the flowers, and in the fall, the walls are bathed in rich hues of gold and red as the leaves turn color in preparation for winter. The entire campus was built from scratch, creating job opportunities for the region during the construction phase, as well as staff positions following its opening.
Students are passionate about all aspects of the learning experience, and they refer to the UWC method of teaching as a "movement". They live on campus year-round, and the facilities and location provides students with the opportunity for an interesting array of indoor-outdoor activities, such as pottery classes or hiking. Remember, this is a school experience with no end of the day bell. Students continue to be active in various projects. After attending a summer course at the UWC Atlantic in the UK, five of the UWC Dilijan students decided to start a Leadership Training Camp, inviting local speakers as well as speakers from the US. Their plan is to conduct outdoor activities, workshops, discussion groups and lectures. With mentoring, the students organized the program, secured funding, and are implementing the camp as a student project. Their goal is to help students discover their own leadership skills and learn how to develop them.
"I hope that within five years we will see many of the students return to Armenia, enriched with their world education and experience, and ready to help this country to flourish."
VERONIKA ZONABEND
"We thought, why can't we also have ours, organized by our students," replied second-year students Eliza Vardanyan and Margarita Barsamyan.
The current student body at UWC Dilijan includes 198 students ranging from ages 16 to 19 years, and hailing from 72 countries.
"When I came to UWC I was assigned a room with an Armenian second year student," says Lilian Elizabeth Flawn, second-year student from Canada. "Even though I learned a lot about Armenian culture and history from guest speakers visiting the school as well as being immersed in Armenian society by going off campus. But my viewpoint was largely shaped by having conversations with my roommate. My friendship with her, and my experiences, facilitated by the college have now made Armenia feel like another home."
Students study under the International Baccalaureate Diploma Programme (IB DP), which is a two-year educational program that provides a certificate to the graduates, qualifying them for advanced education. The certificate is recognized and accepted by numerous universities around the globe. Creativity, Action, Service (CAS), which is part of the IB program, is the roots of all community service programs.
At UWC Dilijan, each 'higher level' subject requires 280 hours of classroom study, and each 'standard level' subject requires 160 hours of classroom study, exceeding the standard requirements in both categories. Students are not only encouraged but also fully supported to explore creative research that interests them. Classrooms are filled with student projects, and it is evident that creativity and critical thinking rank high on the curriculum outcomes. Classroom learning is supplemented by organized sports, off-campus community projects and tours of Armenia. And each student prepares a project as part of his or her final, which is in-part conducted off-campus.
Grades are given to mark progress, but more emphasis is made on personal development. The advancement of skill sets takes a holistic approach to prepare students to be adaptable for a real-world future outside of the classroom walls. Ms. Zonabend points out that in the typical educational experience, information taught to students, is already outdated by the time they graduate, due to the rapidly changing nature of the world. Here, students are taught to be open-minded, adaptable, risk-takers, and not fear making mistakes. As Ms. Zonabend says, learning from their mistakes is an important part of the students' education. It's stressed that students be able to interact with others in a foreign environment, to communicate with each other, be socially responsible, and take responsibility for their own actions.
"The future depends on us taking ownership for everything and responsibility over something we do," Zonabend says.
In addition to classroom study, students are required to submit a 4,000-word thesis on a topic of their choice. They must also complete a period of service in community activities each semester during "Project Week". In the course of the Project Week students are out of the classroom, and on the road engaged in various projects in Armenia and neighboring Georgia and beyond. Last year, the students were in Turkey. Here again, students are encouraged to push their limits and explore topics, which they're passionate about.
In 2016, a group of students from the 2017 graduating class created a community project called Re-Apaga – Armenia's first eWaste initiative, which deals with recycling of electronic waste. Taking the project from the theoretical to the actual is encouraged in all projects. In this case, students created a registered non-profit, formed a board of directors, and outlined future goals and objectives. One of the students who will be graduating plans to take a year off to remain in Armenia and spearhead the organization, before he continues his education at a university.
Although the school has only been open for two years, the impact on the community is already evident. In addition to student participation in local NGOs, such as Orran Vanadzor and Bridge of Hope Dilijan,
, students host programs in the local library, work with a local tourism group, and the Dilijan Community Center (DCC). They've also initiated their own programs, teaching swimming and lifeguarding, beekeeping and running a Community Garden. They opened a sewing club that includes knitting and crochet, to offer a place where participants can learn one another's techniques. Finally, the students hold live concerts and give educational seminars in many institutions in the community. Students are encouraged to be creative, and the school provides support to help them establish community service programs. They host a weekly briefing meeting at UWC Dilijan with the students as well as with the Dilijan community to engage local community members. The students share new projects with the community, and community members have an opportunity to offer ideas, concerns and ask questions. By having direct contact and interaction with the local population it is hoped that attitudes and outlooks of the citizens of Dilijan and beyond will entertain new perspectives.
The first group of UWC Dilijan alumni graduated in May 2016. Ninety-four students from 49 countries completed the curriculum requirements and were awarded International Baccalaureate Diplomas. Seventy-six have been accepted to 38 universities in seven different countries – Canada, US, UK, Ireland, Estonia, Russia and the Netherlands. Sixty-three of those have received scholarships. The remaining 18 have chosen to take a gap year, working on a variety of community service projects around the world. These are now the first alumni, the initial ambassadors of UWC Dilijan – and of Armenia. One graduate from the town of Dilijan is now studying in a university abroad.
"We hope that not only the Armenian students, but also some of our foreign students as well return to Dilijan. Armenia should be attractive and give chances for everybody to succeed," says Ms. Zonabend. "I hope that within five years we will see many of the students return to Armenia, enriched with their world education and experience, and ready to help this country to flourish."
"We hope that not only the Armenian students, but also some of our foreign students as well return to Dilijan. Armenia should be attractive and give chances for everybody to succeed," says Ms. Zonabend.
UWC Dilijan joins a host of other organizations, looking to revitalize Dilijan. In 2015, RVVZ Family Foundation and Adibekyan Family Foundation for Advancement launched the Dilijan Development Fund (DDF) to transform Dilijan into an internationally recognized educational, historical, cultural, tourism and recreational center in Armenia by implementing socio-economic improvements and enhancements that position Dilijan attractive for investors. Civil society projects of a new community center and women's support center have already been opened. UNESCO recently named Dilijan as a part of its Global Network of Learning Cities (GNLC), in part due to the presence of UWC Dilijan.
"The overall aim of the GNLC is to create a global network," states the UNESCO vision statement, "to mobilize cities and demonstrate how a city's resources can be used most effectively to provide learning opportunities to citizens."
Ms. Zonabend states that with the involvement of the IDeA Foundation they are targeting Dilijan to make it a regional center for education and culture as well as tourism, hoping that it will serve as a model for redevelopment of other regions – both in Armenia and beyond. IDeA is participating in several international networks that focus on redevelopment. They are closely collaborating on urban development with the Robert Bosch Foundation, a leading Germany-based philanthropy, focused on health, science, education and international relations. IDeA is hoping to bring about a change in attitudes in Dilijan and Armenia and to impart the concept "your future is in your hands."
Globalists believe that the world is advancing and changing in ways that make it challenging for nations to grow and prosper alone. The UWC movement and model offer a way for Armenia to break the restrictive barrier of geographical borders, and connect and interact with nations on a non-political level. Through their newly-learned knowledge and understanding of Armenia, by exchanging their ideas and sharing cultures, and in learning to exercise tolerance, the new UWC Dilijan students as well as alumni will serve as exceptional Armenian ambassadors, connecting Armenia beyond its borders.
California native Paula Der Matoian is a freelance writer living in Armenia.