Thousands of Protesters in Yerevan call for Prime Minister to resign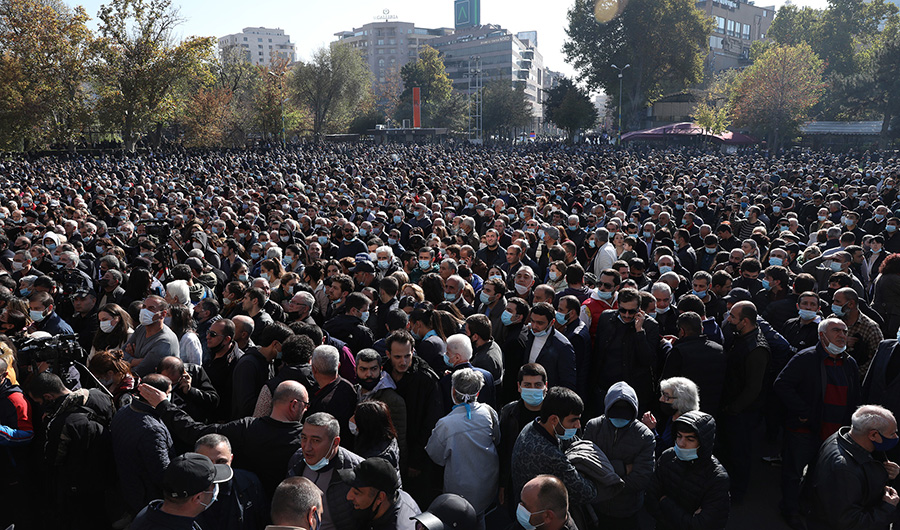 Thousands of people protested in Armenia's capital on Wednesday, demanding the prime minister's resignation after he signed an agreement with Azerbaijan to halt weeks of fighting over Nagorno-Karabakh that calls for territorial concessions in favour of Azerbaijan.
The rally organized by opposition parties in Yerevan reportedly drew up to 10,000 people. Some Demonstrators were detained. Demonstrators chanted "Nikol, go away" and "Nikol, the traitor," referring to Armenian Prime Minister Nikol Pashinian.
The unrest was triggered by a Moscow-brokered truce Armenia and Azerbaijan agreed to early Tuesday after more than six weeks of deadly clashes over Nagorno-Karabakh.
The two opposition factions of the National Assembly – Prosperous Armenia and Bright Armenia – have collected signatures to hold a special sitting to discuss the situation in the country.
The protests are triggered by the signing of a Russian-brokered statement to end the war in Nagorno Karabakh.
The joint statement envisages the handing over of three regions to Azerbaijan.
Peacekeeping troops of the Russian Federation are being deployed along the line of contact in Nagorno-Karabakh and along the Lachin corridor linking the Republic of Artsakh to Armenia.
The parties have agreed that a plan for the construction of a new route along the Lachin corridor shall be determined within the next three years, providing communication between Nagorno-Karabakh and Armenia, with the subsequent redeployment of Russian peacekeeping troops to protect this route.