ONE degree of separation between myself and Princess Diana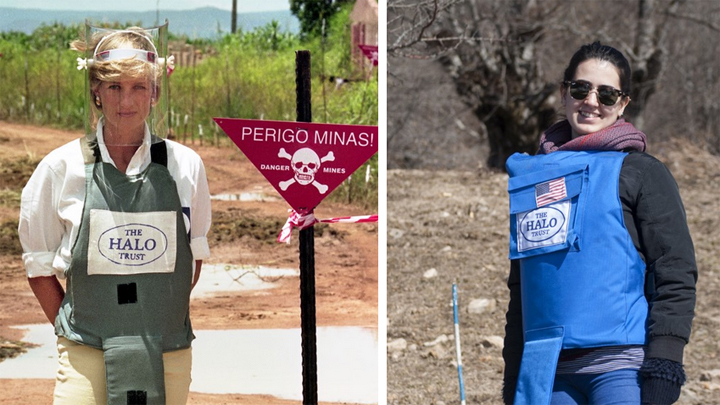 The HALO Trust is the world's largest humanitarian mine clearance organisation.
By Anahit Galstyan
One morning, when I was 8 or 9 years old, I remember being distracted from whatever I was doing to watch Princess Diana on my TV screen at home in London. She was kitted up in strange gear surrounded by danger signs. I grabbed the remote, put the volume up, sat cross legged in front of the screen and listened to what the reporter on the BBC was saying about her — he spoke about some far away country and Diana's awareness raising mission. I remember my parents talking about how brave she was to have put herself in such a situation to get people talking about an issue that no one seemed to be aware of, or even care about.
I was blown away. I thought to myself: this woman must be the most wonderful human being to walk through minefields to help people she didn't even know. I didn't know what minefields were, I just knew they looked scary and dangerous, and she looked so calm and collected, with her Mona Lisa smile.
That news report, the images in the newspaper following them and the hysteria around Princess Diana stayed with me. At some point in my life I decided that I also wanted to raise awareness of important issues which were often overlooked, and maybe one day work for non-profits doing work that would benefit others. I wasn't going to be a princess in my life, so I might as well stick to the humanitarian work that inspired me.
I didn't dream that some 20 years later I'd find myself walking through a minefield in Nagorno Karabakh (Artsakh), wearing the same safety vest she wore 20 years prior to me and feeling maybe something close to what she felt: wonder and frustration. Wonder at the resilience of the people who are working in those fields day in and day out, and frustration, because no one deserves to live their life in fear, which is how the people living in close proximity to the fields, as well as the workers, live.
I got the chance to experience this thanks to a partnership between ONEArmenia and The HALO Trust in Nagorno-Karabakh. When my mum asked why I was going to Karabakh mid-week, I didn't tell her why I was going, brushing it off with "we're doing some follow up work for ONEArmenia." She lives over 4300km away and I didn't want her to worry. I knew nothing would happen as I was in safe hands with the staff at HALO, but I did have moments of panic. Though we got full safety instructions, try managing a team of incredibly creative people who would pretty much do anything for a perfect shot, in a minefield which was not completely cleared yet. It was a trying day to say the least, though a personal highlight for me was seeing women working in the field with pride. Pride for their work, pride for their land, and pride in knowing that with every mine or explosive ordnance they find and remove, they are saving lives.
It was an emotional day for me. It had never crossed my mind that while I was watching TV from the safety of my own home in London in 1997, people in Karabakh, where I had extended family, were living in fear of the stepping on mines. It bothers me that this is still a very real issue for many people living there, and around the world. It bothers me that there is no funding available for the area we went to visit in Lachin (Kashatagh), but I am grateful to be part of an organisation like ONEArmenia which is able to, and steps in, where other organisations can't and don't.
We came back from Lachin feeling inspired by The Halo Trust's committed team and at the strength of the people living and working there, and ready to launch a campaign to raise funds to clear 31,839 square metres of land around Meghvadzor. I am so inspired by my own team at ONEArmenia who go above and beyond the call of duty to do the work they believe in.
When Diana walked through the minefield in Angola, people around the world watched in awe. Why would a princess, a woman, or anyone in their right mind put themselves in such danger? When a journalist told her that the a UK government minister had described her as a "loose cannon" for supporting the campaign, she responded with "my dear, I am only trying to highlight a problem that's going on all around the world. That's all."
Landmines were posing a threat to people living in Angola, The HALO Trust was working to remove them, but no one was paying attention. Funding was scarce. She knew that her intervention, as a public figure and role model to millions, would make a significant difference. Her walk through the minefield raised the awareness needed to ensure that this issue, and the work being done to address it, got the necessary attention. I look at the situation in Karabakh the same way. The problem is the same: landmines are putting the local population at risk. HALO has the tools, the experience and the ability to clear the land. The only thing missing is the appropriate funding, and the way to get it is by raising awareness. If it takes walking through a minefield to engage people to be involved, then I am more than willing to do that.
My trip to Lachin won't raise the same kind of awareness that Princess Diana's walk through Angola did in 1997, but I hope that my work with 1A will highlight the issue and the solution, and will reach enough people to raise funds and awareness for the people of Meghvadzor to live a life free of worry. So please step in and donate whatever you can and know that you are impacting lives. I personally can't wait to see the people in Meghvadzor, in Lachin and in Karabakh flourish — but we need your investment and support to see that happen.
Almost one year after the "Four Day War", there is still a need for support. There is still a need to ensure the security of the people of Karabakh, and the development of the region. HALO estimates that by 2020, it is possible for Nagorno-Karabakh to be 100% mine free – by donating now you can be part of making it a reality.
Make your donation here