Adrienne Alexanian went to clean the closet of her late father not too long after he died. In the process, she uncovered a new chapter – personal experiences she hadn't known about –  of the Armenian Genocide.
Her father, Yervant Alexanian, was an Armenian soldier in the Turkish army during the Armenian Genocide.
Alexanian said her father never shared this part of his life with his family. Still, he would write down the experience as a way to cope with the toll it took on him.
Unlike many soldiers who were conscripted into the Turkish army during World War I, Yervant Alexanian survived. His records range from infancy up until his transition to the United States after the genocide.
"I was going through his papers to archive them, because he was such a prolific activist in the [Armenian] community," Alexanian said. "When I got to the bottom of the box, I found all of these booklets and loose papers and documents in Ottoman Turkish and Armenian, and pictures that seemed to be very, very important."
Today, the memoirs are being published into a book entitled "Forced into Genocide" – a kind of book that which has never been published, making more crucial for Alexanian to tell the story.
Alexanian said she spent 50 hours alongside an Armenian language teacher translating her father's memoirs. She described this experience as extremely emotional.
"Both of us were very emotional. She had to leave the room on numerous occasions," Alexanian said.
She said these findings helped her to understand her father better. She had known her father would go out of his way to help any and all Armenians, regardless of whether they were friend or strangers. These memoirs added context to those actions, she said.
"I never understood why he would do that for strangers. The 'Why' is because he was unable to save 51 members of his own family," she said. "So this was his life's work – to save Armenians."
Alexanian said she believes her book gives a more emotional, and personal, perspective to the Armenian Genocide.
"It's not a history book. History books are kind of cold, they are just facts," she said. "But when you see an event as horrific as the Armenian Genocide through the eyes of someone who actually experienced it, I think it really brings it home."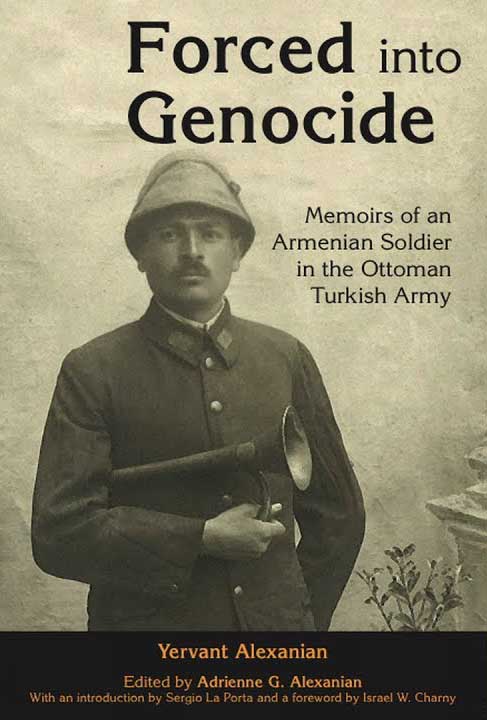 After the memoirs had all been translated, Alexanian turned to getting the book published.  Transaction Publishers quickly picked the book up for publication.
"The easiest part of this whole process was getting it published," she said. "The reality is, the first publisher that I called, Transaction, grabbed the book because they realized there were no other books in literature on this aspect of the genocide."
The book was published March 3, 2017 and today Alexanian is busy traveling around the country giving presentations about the book. She made a stop at Fresno State even, where she presented to a packed Alice Peters Auditorium on Tuesday.
Dr. Sergio La Porta, a professor of Armenian studies at Fresno State and author of the book's introduction, introduced Alexanian.
"There's so much in that work that has to do with, not just the genocide, but life before the genocide, as well as dealing with the effects after the genocide," said La Porta.
The book also contains a foreword written by Israel W. Charny, executive director of the Institute on the Holocaust and Genocide in Jerusalem. Alexanian is grateful to both men for their contributions and feels like their great additions to her father's stories.
"The introduction by Sergio La Porta, I've been told by two scholars, is one of the best, if not the best, introduction to a genocide memoir," Alexanian said. "Israel Charny wrote a very short foreword, and a very emotional one for me."
Alexanian's presentation consisted of visuals of her father followed by readings from the book. She said she did it this way so the audience would have a better understanding of what she was reading about.
She went through photographs of her father at 10 and 15 years old, her father's family – most of which he lost to the genocide – and even showed a photo of her father as a young man when he had just moved to the U.S.
She had the most fun with the latter, complimenting her father's dashing good looks.
"George Clooney has nothing on my father," she joked to a laughing audience.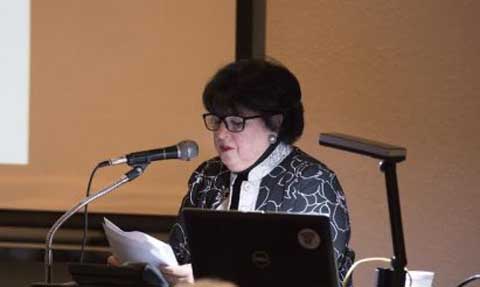 But aside from the cheerful moments, the presentation consisted of somber readings of Yervant Alexanian's experiences. The readings included the reports of watching members of the family escorted to their death, being unable to ride the deportation train and having to constrain himself from attacking Turkish officials who showed little respect for his heritage.
"[Yervant] Alexanian's memoirs contain the views of a highly observant man, who from a very young age was mentally chronicling the events around him," Alexanian read.
She showed the audience several rare documents that proved some Armenian soldiers in the Turkish army were ranked. La Porta read some writing from Yervant Alexanian as the author's presentation came to close.
He read from a letter written on May 14, 1953, Mother's Day. Yervant Alexanian had lost his mother 38 years earlier to the genocide.
"She was taking the road to forced deportation and starvation, and I had to go back to the barracks to perform my military service for the regime that was sending my mother to her forced death, with her eyes wide open," La Porta read. "O, what a contrast."
The floor was then opened up for questions and Adrienne Alexanian answered several, never revealing too much as she herself continuously said they would have to read the book to get the full answer to their questions.
"Forced Into Genocide" is out and available for purchase.
The Collegian