Filipinos in Armenia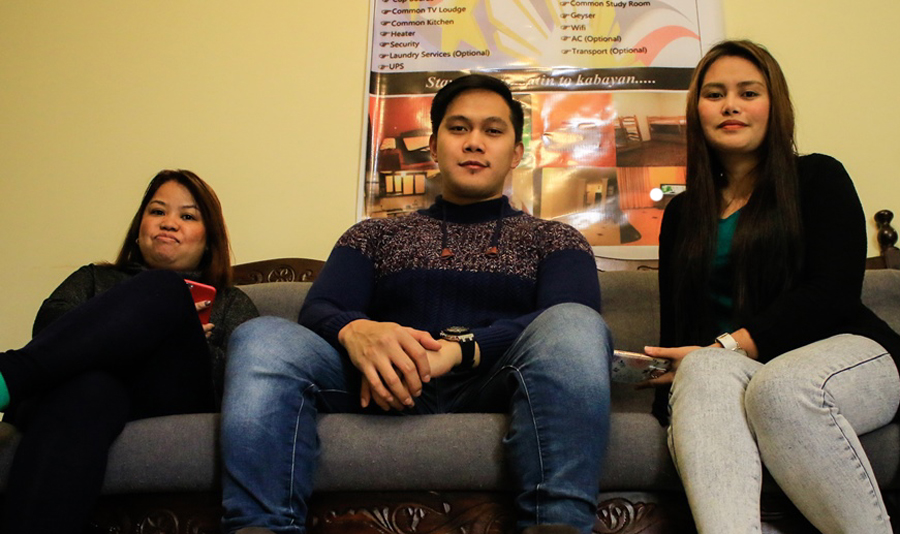 The number of Filipino visitors to Armenia increased more than 30 times in the past three years. Here's why they come to Armenia.

By Hakob Karapetyan,

Photo: Gevorg Ghazaryan

JAMnews
The Marilagner family came from the Philippines. They bought a private house in Yerevan and transformed it into a guesthouse. Although it's already March, there is still a Christmas tree in the lobby corner.
"We enjoy lengthy Christmas celebrations," said 26-year-old Renato, who runs the business, laughingly.
He first arrived in Armenia in December 2016. At the time Renato was involved in digital marketing in Dubai and was cooperating with travel agencies.
"My brother-in-law suggested that we start some business in Armenia, and I said: 'Okay, why not?' There was much snow here that year. You see, the Filipinos don't have snow in their homeland, and they find this country very fascinating," he said.
According to Renato, his guests are mainly attracted by Armenia's lifestyle and culture. The Filipino Catholics also show an interest in the spiritual monuments of the first Christian country.
He immediately revealed the secret of the Filipino boom, which turned out to be far more prosaic: the reason his compatriots travel to the Caucasus is not that they just want to see Mount Ararat and medieval churches, but far more than that.
Many of those who travel to Armenia work in the Persian Gulf, the UAE or Qatar. The Filipinos who work in those countries have to leave and then return back to those countries from time to time so as not to violate the migration laws.
It was for that very reason that they used to travel to Singapore, Sri Lanka, Nepal, or just returned home. However, it was extremely time-consuming and expensive. Some 2-3 years ago they discovered Armenia, a new destination which is a short three-hour flight away from Dubai, with a round trip ticket amounting to about USD 300.
"When we first moved here, we found it hard to communicate with the locals. Many people here, especially the elderly, don't know the English language – they speak either Armenian or Russian. So we didn't know how to communicate with them. The young people helped us a lot.
"Generally speaking, Armenians are very polite and always eager to help. Even if they don't understand your language, they still try to help somehow. For example, once we were looking for a place where we could get a bite, some fast food. Two young people whom we asked the way couldn't explain it to us, so they took us to the right place," said Renato.
He named some traits that, as he found, the Armenians and Filipinos have in common:  a particular attitude towards faith, a love of beer and of cuisine. "You have that beef soup … What do you call it? Hash! We also have one. The only difference is the way it is served. You add garlic to it, while we add grains and spices. The Filipinos prefer to eat their Bulalo beef soup in the evening, for supper, and not in the morning, like you do."
The World Tourism Organization (WTO) defines a tourist as someone who travels to a place other than that in which he/she usually resides be it for leisure, medical treatment, family matters, or for 'business, religious or other purposes', and who stays there for at least 24 hours and for not more than one consecutive year.
Most Filipino tourists stay in Armenia for no more than three days. During that period, Renato organizes sightseeing tours for them, he organises transport and provides accommodation if necessary.
"They would come and say: 'Kuya' (elder brother in Filipino), please reserve a tour for me for tomorrow morning, I would like to see Armenia.' When they travel back to Dubai, they convince others that they should visit this place as all four seasons are available here (he says, smiling). Many also take a car ride from Yerevan to Georgia, where they stay for a day. Then they return here and fly back to Dubai," he said.
A key indicator of a successful business is a desire to expand. Renato and his friends are expecting more guests this year, including from Europe, Russia and the Middle East. They have already rented out premises in downtown Yerevan, where a new branch of their hostel will be opening soon.
The majority of tourists visiting Armenia in 2017 came from Russia (39.7%). Georgia (21.8%) and Iran (15%) were also among the top source countries of tourists to Armenia in the reporting period. The Armenian government recently announced its intention to increase the number of international visitors to 3 million by 2022.