Canadian stories conference full schedule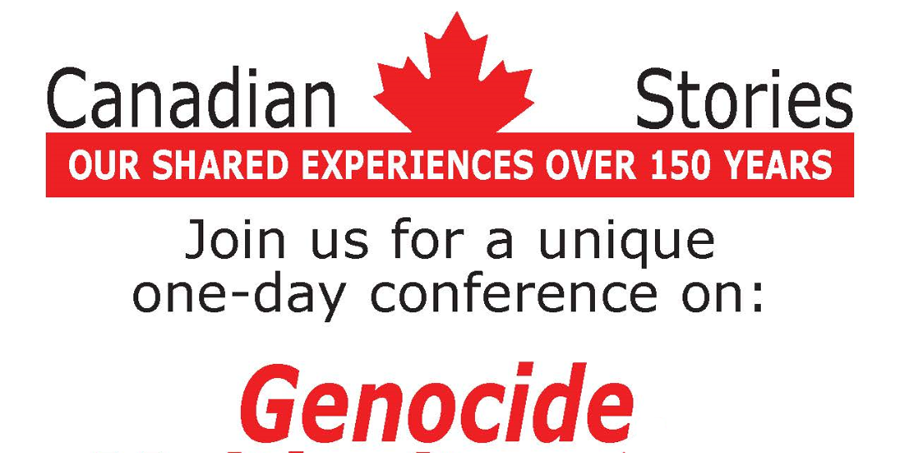 Contact: Sevag Belian (613) 235-2622
The media is invited to participate in a one day conference on Genocide, Multiculturalism and Human Rights in the context of Canada's 150th has been organized by the Armenian National Committee of Canada, the Holodomor Research and Education Consortium, with the Raoul Wallenberg Centre for Human Rights, the Centre for Israel and Jewish Affairs, the Ukrainian Canadian Congress, the Canadian Hellenic Congress and the Rwandan Humura Association. The conference will explore the history of Genocide experiences and Canada's response to them, the evolution of Canadian multiculturalism and the pivotal role Canada should play in International human rights today.
WHEN:
December 3, 2017 at ​10:30 am – 5:30 pm ​the Armenian Community Centres of Toronto, Montreal and Vancouver, simultaneously, connected to each other via live broadcast.
WHO: ​
Shahen Mirakian, National President of the Armenian National Committee of
Canada
Paul Grod, National President of the Ukrainian Canadian Congress and Vice President of the Ukrainian World Congress.
Jessica Labranche, Principal at Black Feather Law Professional Corporation
Jonathan Kay, Journalist
In Toronto – live webcast
Professor Isabel Kaprielian-Churchill
Professor Frank Sysyn Holodomor Research and Education Consortium
Garnett Genuis, MP Sherwood Park—Fort Saskatchewan
Jonathan Kay – Keynote Speaker
Dr. John Young, President and CEO – Canadian Museum for Human Rights
Arif Virani, MP Parkdale—High Park
Jagmeet Singh, Leader of the Federal NDP
In Montreal – live webcast
Hon. Irwin Cotler, P.C., O.C,Chair of the Raoul Wallenberg Centre for Human Rights
Anthony Housefather, MP Mount-Royal
Dr. Kyle Matthews Executive Director Montreal Institute for Genocide and Human Rights Studies
WHERE:
Toronto: 45 Hallcrown Place, Toronto, ON, M2J 4Y4
Montreal: 3400 Rue Nadon, Montréal, QC H4J 1P5
Vancouver: 13780 Westminster Hwy, Richmond, BC V6V1A2