Artsakh's security and status remain a priority for Armenia, acting FM says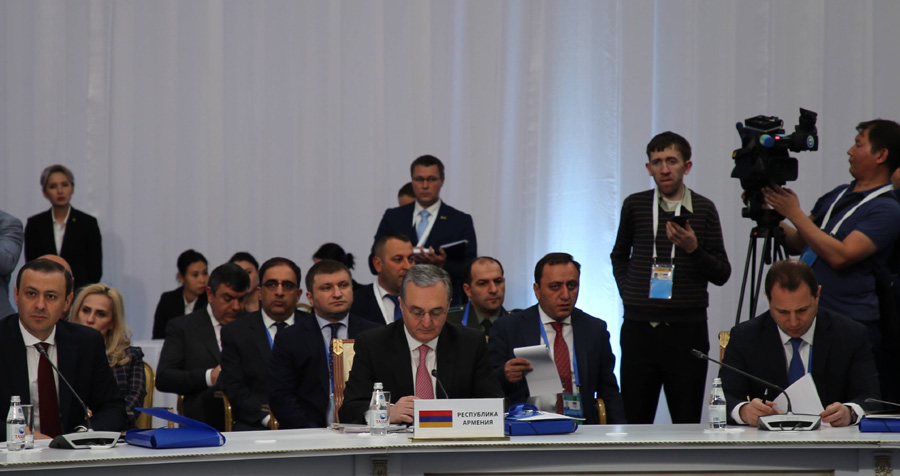 Armenia attaches great importance to joint and comprehensive efforts targeted at fighting radicalism and international terrorism, Armenia's acting Foreign Minister Zohrab Mnatsakanyan said at a joint sitting of the Foreign and Defense Ministers and National Security Secretaries of CSTO member states.
Mr. Mnatsakanyan drew particular attention to the threats of return of persons who participated in armed conflicts within the framework of international terrorist groups to their countries of origin. He noted that the issue is a serious challenge to international security and stressed that it's necessary to be prepared to take appropriate steps to respond to these risks.
The Acting Foreign Minister of Armenia also expressed concern over the situation in the Middle East, particularly in Syria, as well as on the challenges facing ethnic and religious minorities in the region as a result of activity of terrorist groups.
Turning to the Karabakh issue, Zohrab Mnatsakanyan reiterated Armenia's commitment to solving the Karabakh conflict exceptionally in a peaceful way under the auspices of the OSCE Minsk Group Co-Chairs.
He attached importance to the meeting between the leaders of Armenia and Azerbaijan during the CIS Summit in Dushanbe and the agreements reached therein. He said that if implemented the agreements will contribute to the establishment of an atmosphere conducive to the peace process.
The Acting Foreign Minister underlined that the issue of Artsakh's security and status remains a priority for Armenia and stressed the importance of Artsakh's involvement in the negotiations.
Zohrab Mnatsakanyan stressed the need to refuse from warlike rhetoric, noting that it leads to the growth of enmity and establishment of an atmosphere of distrust in the region. He noted that the arms race is worrisome and does not contribute to the settlement of the issue.