Armenia hosts festival on Krzysztof Penderecki's 85th birthday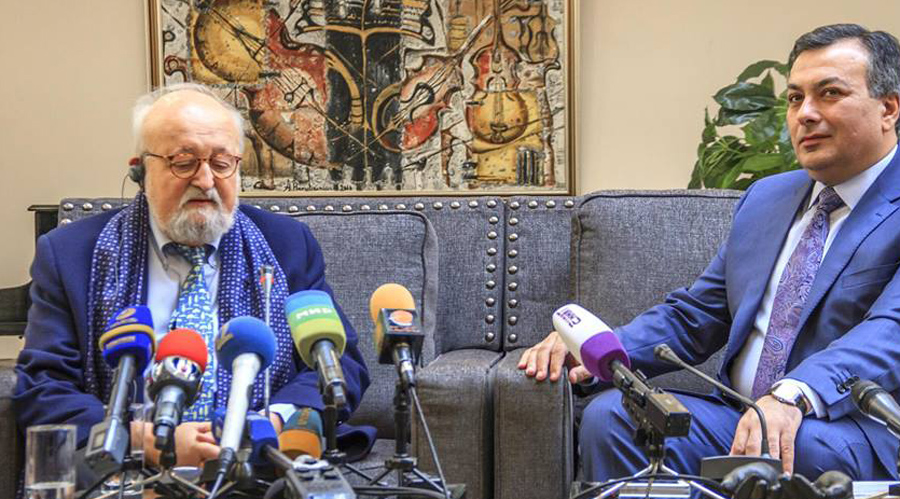 (Armradio) – Festival dedicated to the 85th birth anniversary of Polish composer and conductor Krzysztof Penderecki will be held at Aram Khachaturian Concert Hall in Yerevan.
Armenia's Minister of Culture Armen Amiryan told a press conference "it's an honor and joy for each of us to be next to one of the best musicians of our time and to host him, and especially to celebrate his 85th birthday."
"Maestro's 85th birthday will be celebrated in different countries and it is a great honor for us that the series of jubilee events starts from Yerevan, the capital of Armenia, Krzysztof Penderecki is a world famous star, a man who was able to change the world with his music, a man who has enlightened our life and future with his art," Armen Amiryan noted.
The Minister of Culture also quoted Krzysztof Penderecki as saying in an interview that two composers – Bach and Komitas had a serious impact on his creative activity.
Krzysztof Penderecki noted that it is important for him to see such a festival taking place in Armenia. "I always come to Armenia with my wife with great pleasure. Every time visiting Armenia I hear amazing music performed at a high level, and most importantly, I meet wonderful people here. I feel like I'm at home here. I'm sorry that I do not speak Armenian."
The composer reminded about his Armenian roots. His grandmother was from Isfahan. A few years ago he wrote a composition, the Third Psalm, dedicated to the 100th anniversary of the Armenian Genocide.
"Every time I hear my works performed in Armenia. You have wonderful conductors, who present my compositions and I am grateful to them for that," Maestro Penderecki noted.
The festival dedicated to Krzysztof Penderecki will be held from February 13 to 17. The festival is held under the patronage of First Lady Rita Sargsyan. The festival was organized by the Armenian State Symphony Orchestra, Armenian National Philharmonic Orchestra, Yerevan Perspectives International Music Festival, with the support of the RA Ministry of Culture.
During the four concerts of the festival, held from February 13 to 17, symphony and chamber compositions by the composer will be performed. Armenian premieres will be presented too.
The festival has brought together different Armenian collectives.Armenian State Symphony Orchestra (Artistic Director and Principal Conductor: Sergey Smbatyan), Armenian National Philharmonic Orchestra (Artistic Director and Principal Conductor: Eduard Topchjan), Hover State Chamber Choir (Choirmaster: Sona Hovhannisyan), as well as famous foreign artists will perform within the festival.