Antonino Montalto, The humanitarian and the proud Italian resident of Gyumri, Armenia – Video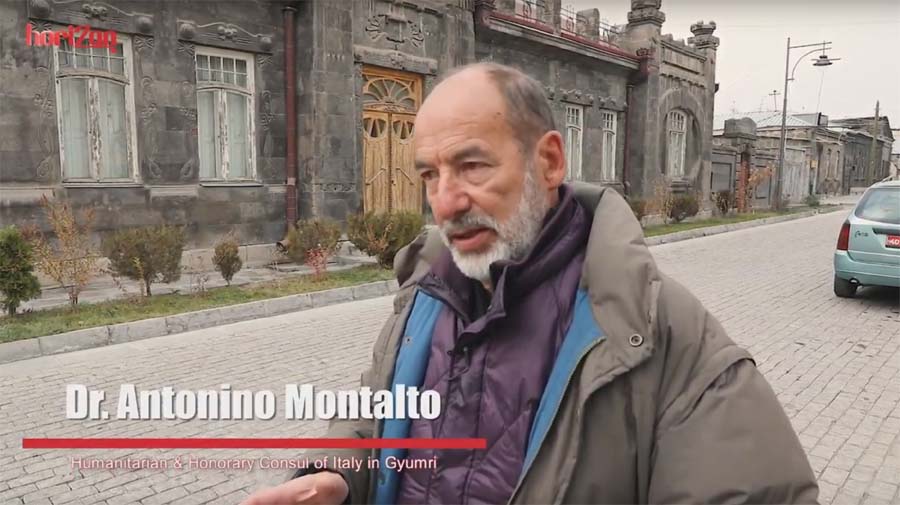 Horizon Weekly exclusive interview with Antonino Montalto, Honorary Consul for Italy in Gyumri
Dr. Antonino Montalto, a native of Palermo, Italy, came to Armenia in1989 after the devastating December 7, 1988 earthquake, to coordinate social-sanitary projects sponsored by the Republic of Italy and to lead medical-aid projects, specifically in the mother-infant sector, in Artsakh and Armenia.
Doctor in profession, a preserver of the Armenian culture, social developer and a humanitarian by nature, Montalto dedicated the last 30 years of his life to the people of Gyumri. He founded the Family Care Association for the restoration of ancient buildings at the heart of the historical center of Gyumri, established Friends of Gyumri Association with French-Armenians to promote economic and artistic prowess of Gyumri, created the Artistic Handicraft Center, to encourage employment in the field of ceramics and distribute Armenian crafts across France and Italy.
Montalto also implements tourism projects to market Armenia for Europeans through his boutique hotels in Gyumri (Villa Kars) and Yerevan (Villa Ayghedsor & Villa Delenda).
In 2001, he was officially appointed as the Honorary Consul for Italy in Gyumri.
Interview conducted by Dania Ohanian. Video directed by Hakob Papazian.