Advancing Women's Economic, Social and Cultural Rights in Armenia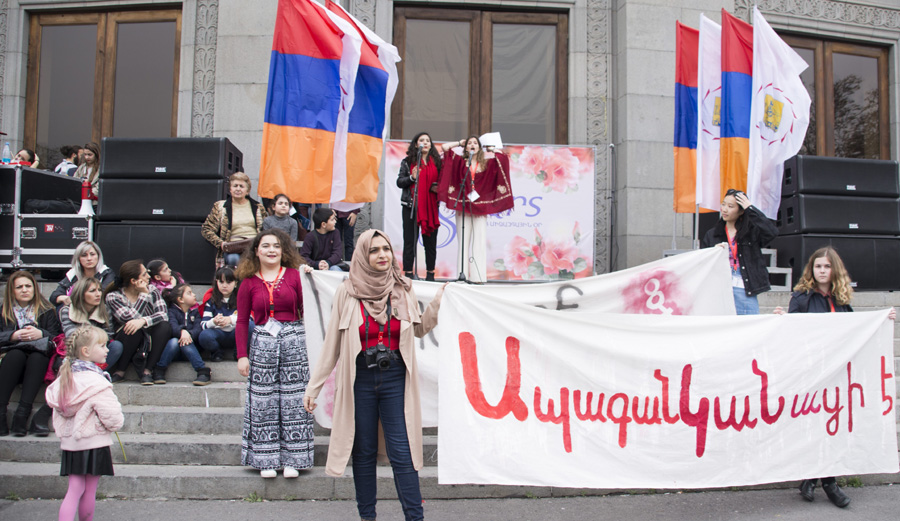 Celebrated in much of the world, International Women's Day is an incredibly important day in Armenia as a day to thank and celebrate the women in our lives.
On the occasion of International Women's Day, students from different nationalities at the United World Colleges (UWC) Dilijan in Armenia carried out an awareness campaign on women's rights, at Liberty Square in downtown Yerevan. First, the UWC Dilijan students performed a flashmob dance, and then—individual and group songs and dances. More than 500 people took part in the action. Many citizens, NGOs and tourists joined the action.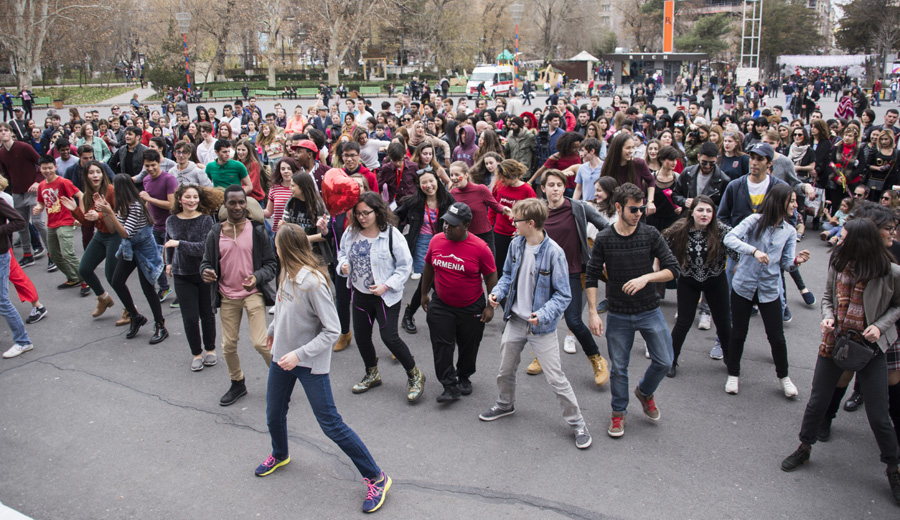 Horizon Weekly correspondent Sosy Mishoyan met with Dalia Atallah, UWC Dilijan student from Lebanon, Amal Clooney scholar and the initiative leader.
Mishoyan also interviewed Mrs. Denise Davidson, Head of UWC Dilijan College. Denise Davidson was Head of Gateways School in Leeds, Great Britain, for 12 years, Deputy Head of Mount St Mary's School near Sheffield and Senior Mistress of Oundle Public School. She has brought to UWC Dilijan nearly forty years of experience working in and inspecting schools and colleges in the UK and involvement in education at an international level.
Education is definitely vital for the improvement of the situation of women
Dalia Atallah, UWC Dilijan student from Lebanon, Amal Clooney scholar and the initiative leader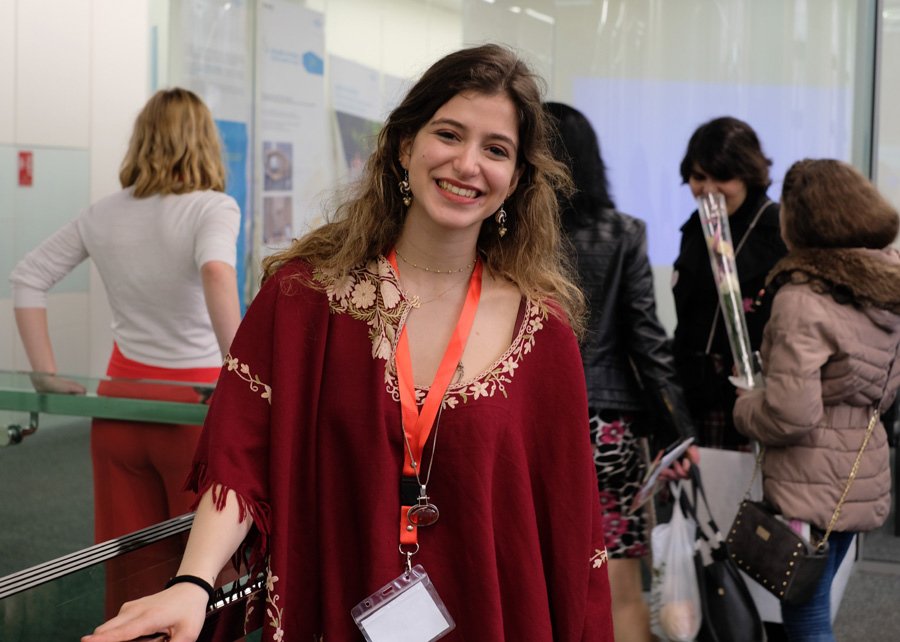 Dear Dalia, please tell us how you came up with the idea of the initiative. What were the objectives you were pursuing?
The objective of this march is to unify people all across Armenia for strengthening women's voices, defending their rights and redefining femininity. We want to empower women of Armenia through a number of workshops led by our renowned speakers. We want to raise awareness about the situation of women in Armenia, and provide insights on how to lead an independent, equal and healthy life as a woman.
We know you are the winner of Amal Clooney scholarship. How is that special for you? How is your experience of studying at UWC Dilijan?
Being the Amal Clooney scholar is an amazing opportunity for me, because I respect and appreciate her work very much. The fact that she gave me the scholarship makes me realize the importance of giving back. So I believe that now I have entered this cycle in which I have received this opportunity in order for me one day help as many people as Amal Clooney. Therefore I think that I'm in a position of responsibility and, hopefully, I would be able to do so when I grew up.
Please share your observation about the current state of women's rights in Armenia. What are the main challenges to a more equal society? Are there similarities with your home country Lebanon?
I've been here one year and a half and I believe it isn't enough to judge the state of women in Armenia. But based on my interactions with local friends and different Armenian women, I believe the challenge to a more equal society is embedded into collective mentality, especially in rural areas, far from the city. I would say the state of Armenian women in Yerevan is much better than the state of woman in mountainous villages that are much less developed. I also believe that the main challenge to a more equal society is the lack of women's representation in the government.
Do you think education is vital for improvement of the situation?  
I think education is definitely vital for the improvement of the situation of women not only in Armenia but all around the world. I believe that when women realize that through education they have the ability to become whatever they want to be in life, they also realize that they should not be looked at as inferior to the men. So within education comes awareness of one's rights and what rights they need to fight for in order to have a more equal life. I am sure that when both women and men are more educated, they realize the importance of equal rights for women, such as equal pay and equal opportunities.
 How do you define femininity in 21st century?
I believe the definition of femininity has totally changed in our times. I would define femininity as strength, resilience, intelligence, inner and outer beauty.
Your wish for Armenian young women on the occassion of Women's Day. 
My wish for Armenian women is the same as for every single woman in the world – to be free and secure from violence, and to have the opportunities to follow their ambitions and passions in order to succeed in whatever they want to do in their lives. So my message to all the women suffering around the world, is to stay resilient and strong, and to know that they empower and inspire us to never give up fighting and always push forward for a more prosper and equal life for all.
UWC Dilijan is keen on nurturing competences of the 21
st
century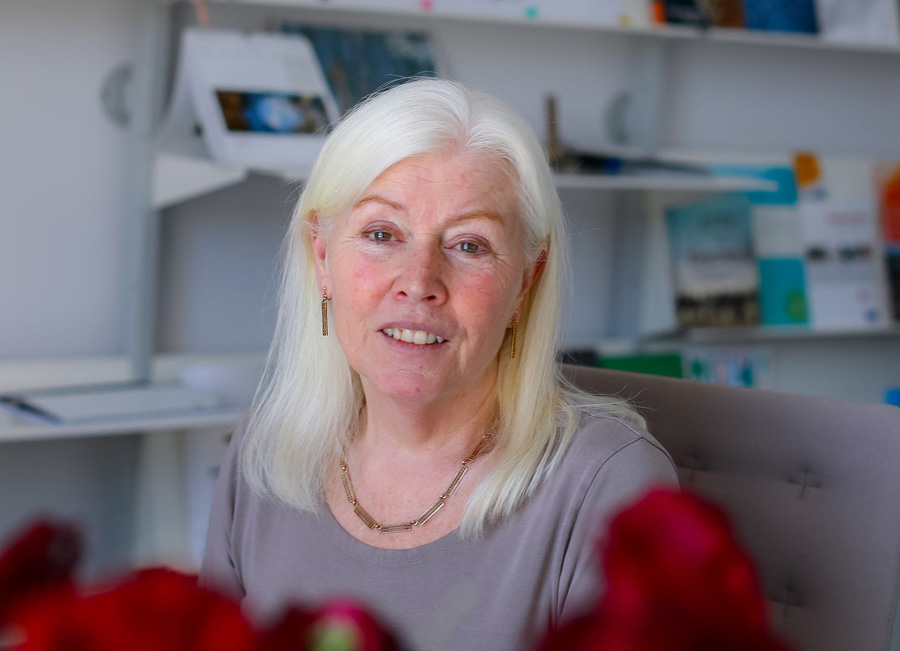 Denise Davidson, Head of UWC Dilijan
-Mrs. Davisdson, could you please tell us a bit about the UWC Dilijan and its unique approach to education?
UWC Dilijan aspires to create a happy atmosphere at college as it ensures progress in learning, health, engagement and creativity.
UWC Dilijan's academic programme is the International Baccalaureate Diploma Programme which ensures an holistic approach to education. The educational process is tailored for each of the students, fitting their needs, talents and hidden potential.
Education here is focused on experiential learning and students test themselves during a wide variety of co-curricular activities: they can learn another language, they can make projects with children from the local community, they can go to the mountains of the Dilijan National Park and make Explore Armenia trips. In addition they can experience skiing, caving, horse-riding, dancing, choir, band, theatre, ceramics, and many other activities.
UWC Dilijan is keen on nurturing competences of the 21st century: creative and critical thinking, social interaction and communication, resilience and social responsibility. Here we develop in students an entrepreneurial mindset and raise self-motivated people with a global outlook and leadership qualities.
The International Baccalaureate Diploma Programme is enhanced with UWC founder Kurt Hahn's focus on service projects. The students develop projects with the community and for the community inviting local children and adults into college activities and responding to the local initiatives. There are numerous service projects initiated by the students: they give lessons in swimming, football, basketball and other sports to local children, as well as different foreign languages lessons and dance lessons. They also coordinate with local and international NGOs and launch personal projects. They understand that the college is a catalyst to facilitate change and assist Dilijan in becoming a pioneering town in Armenia.
One of the main features of UWC Dilijan which adds to the happy atmosphere is that the students and teachers share a special relationship, all of them are on a first-name basis, the teachers are also tutors and mentors to the students. UWC Dilijan selects teachers from all over the world carefully choosing passionate and inspired experts, who have erudition, creative thinking, charisma and wisdom. The students and staff together participate in sports, watch films, develop projects and undertake outdoor adventures; and this is the best way to learn. We all become a community of about 300 people who know each other well, and who miss each other when they eventually leave the college.
-Women's March by the students was such a unique initiative for a school in Armenia. How does the College instill values of gender equality in its students?
UWC Dilijan does not have to instill values of gender equality and pay too much attention to this because the students come from more than 80 countries having different social and cultural backgrounds and they learn from each other and respect each other. The whole atmosphere at school is of openness and acceptance stimulating students to think and care about each other and about the community they live in. And the proof of that is that this march was instigated by students and all of them, boys and girls, turned up to support this event and show their support for the idea of equal opportunities for all.