Kocharyan, the candidate: objectively evaluated vs the narrative told by his political adversaries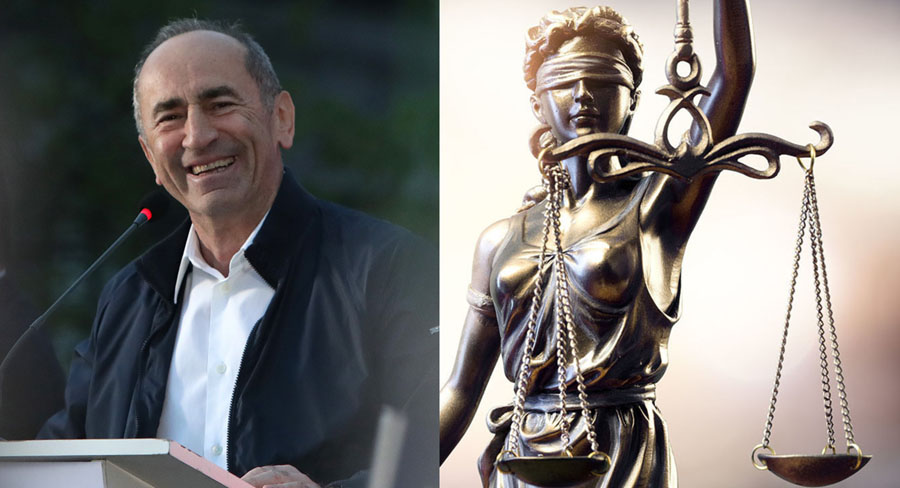 I read with great satisfaction Horizon Weekly a well-written article by attorney Haytoug Chamlian about the "case against Robert Kocharyan" during the past three years.
Mr. Chamlian's article and analysis therein are professional, scientific, and based on facts, contrary to the shallow narrative weaved by the prosecuting side and broadcasted by their naïve and uninformed followers.
The article clearly demonstrates that the charges themselves had no legal foundation in the first place and subsequent legal processes failed to reveal any chargeable offenses.
Encouraged by Mr. Chamlian's initiative to strip one of Nikol Pashinyan's principal action-plans of any legitimacy, namely prosecuting former leaders for alleged crimes, I decided to write this article to counter the false narrative Nikol Pashinyan has constructed, demonizing former leaders, especially, Robert Kocharyan, purely based on rhetoric and demagoguery, without any substantive or constructive assessment of the achievements and failures of his presidency. This false narrative was again adopted and amplified by a large segment of our nation, in Armenia and the Diaspora alike, without any scrutiny.
In order to properly assess Kocharyan's presidency, one must do a comparison between 1998, when Kocharyan became President, and 2008, when he left.
How did Armenia's infrastructure look in 1998;
Telecommunications: Mobile telephony in deplorable quality accounted for some 60,000 units only and limited to Yerevan.
Airport: Zvartnots airport resembled a bus station in a third world country.
Electricity: Electricity supply was not provided 24/7. Managed by a State owned company, it sustained losses due to corruption and mismanagement and required huge subsidies from the Government.
Water supply: Residents did not enjoy water supply 24/7. They were forced to reserve water in bathtubs. Managed by a State-owned company, it sustained losses due to corruption and mismanagement and required huge subsidies from the government.
Natural gas: supply was limited to densely populated areas of large cities only.
The State budget was not much higher than $270 Million.
The Center of the City looked like a shantytown.
Armenia's infrastructure in 2008:
Telecommunications: Mobile telephony covered over 90% of the country with the most advanced technology of the time, with over 1 million subscribers. The quality of internet services matched that of the best in the world
Airport: The best airport in the region was constructed. Commercial losses were eliminated, and State subsidy had ended.
Water supply: Water was being supplied 24/7. Managed by a French company, losses were eliminated and State subsidies from the Government had ended.
Natural gas: 90% of the country's households received natural gas supply.
The State budget multiplied to over $2.5 Billion.
The Center of the City was rebuilt and Northern Avenue was constructed.
In the political and military space, Armenia's and Artsakh's borders remained intact. The political and military deterrent Armenia possessed forced Azerbaijan to restrain its aggressive and expansionist aspirations. Kocharyan developed this deterrent by cultivating relationships with neighboring and regional countries based on mutual respect and responsible behavior. Similarly, military deterrent was developed based on the smart and well-assessed acquisition of effective defensive military hardware, considering Armenia's limited financial resources.
In contrast, no significant foreign or domestic investment has been made in Armenia since April 2018 and the existing infrastructure has depreciated, risking the quality of services in the coming years.
In further contrast, 70% of Artsakh's de facto territory was lost and Armenia's own sovereignty and territorial integrity are at risk, with almost no resistance on the part of the Armenian Government. Our nation, which had finally become victorious after 600 years, once again became a defeated one.
One can neither deny the existence of corruption and monopolies during the above period nor deny the inadequacy of the judicial system. However, the elimination of such shortcomings, especially in developing countries, is always a work-in-progress spreading over years and often decades.
Nikol Pashinyan, however, came to power with the promise of swiftly eradicating corruption and monopolies. This centerpiece of his policies soon turned out to be a smokescreen, as, monopolies, rather than being eliminated, have expanded and flourished (case in point Samvel Alexanyan; "Leffik Samo") and patronage, the engine behind corruption, became the accepted norm. Furthermore, Pashinyan has included in its list of candidates for the upcoming parliamentary elections well know oligarchs, including, arguably, the founder of the institution of oligarchy in Armenia.
Atom Janjukhasyan, Armenia's Finance Minister throughout Pashinyan's premiership, was previously the Government's treasurer for decades. He would know better than anyone else the fate of financial resources passing through the State budget or in and out of Armenia. His absolute silence while Pashinyan's Finance Minister, whilst Pashinyan and his colleagues were promising an assault on corruption, is reliable proof that the extent and size of corruption they so often announce are either untrue or overly exaggerated.
I hope between today and election day, this article will encourage readers to think hard, seek facts, avoid being impressionable, and take a stand on the right side of the political equation.
V. Hagopian