The Four-Day War was a wake-up call, reminding us of the need for an internal consensus in society: Ruben Vardanyan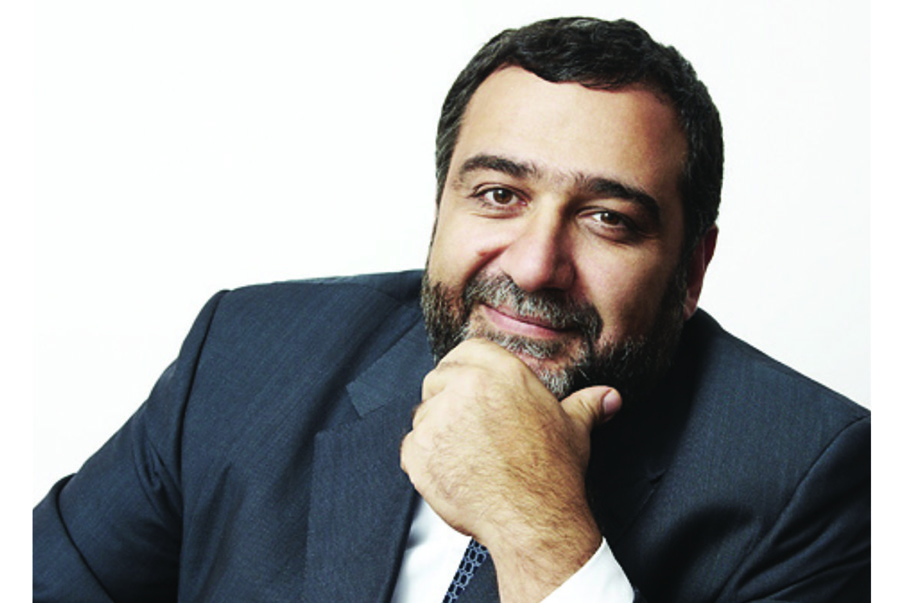 An interview with Ruben Vardanyan
By Vahakn Karakachian
Ruben Vardanyan is an impact investor and social entrepreneur. An active philanthropist in both Russia and Armenia, Mr. Vardanyan is engaged in a number of development projects and is leading several initiatives aimed at advancing Armenia. With his wife Veronika Zonabend he has founded and funded a new $135 million United World Colleges school at Dilijan. He has received numerous awards and honors and has been recognized for his leadership and reputation within the financial community. He is the co-founder of the Aurora initiative.
Horizon: What is your ancestral background?
Ruben: My grandfather, that is my father's father, Hmayak, was a survivor of the Armenian Genocide. Both his father and two brothers were killed, so, along with his mother and other family members, he fled on foot from Arjesh, Van province, Ottoman Empire, where they grew up. His mother and younger sister starved to death shortly after they arrived in Yerevan, which was then under Russian control. So he was taken in at an orphanage school in Vagharshabad, Etchmiadzin, which was run by the Near East Relief Foundation. My grandfather arrived there as a young child. Unable to remember his family name, he was asked if he could recall his grandfather's first name—Vardan—after which he became known as Vardanyan. Later, Hmayak got a job in the school teaching history. He married in 1925 and the family line continued, albeit with a new name. Hmayak's original surname was Keshishbayan, a religious name.
Horizon: Do you have ancestral roots in Karabakh?
Ruben: Yes I do— and my grandfather on my mother's side was very famous, he was from Melik-Minasian dynasty originated in Iran.
Horizon: Mr. Vardanyan, you recently initiated a new project — the Foundation for Armenian Science and Technology (FAST). Do you think Armenia has the full potential to become a technologically advanced country?
Ruben: You know, during the Soviet era, Armenia was a very industrial and technologically oriented country, and we had unique institutions and productions of special equipment. We lost much of this during the last 25 years due to the collapse of the Soviet Union when all infrastructure disappeared. But we know Armenians are very good in mathematics, physics and the sciences, and we are also relying on the Diaspora because we, for example, have 2700 Armenian professors at the world's top five universities, and we see a huge potential in Armenian scientists worldwide being linked with Armenia, working together in order to help revitalize Armenia.
Horizon: How do you envision Armenia in the next 20 years?
Ruben: I see a healthy country, not only physically but spiritually as well. A nation with very high education standards, which exhibits more creativity and innovation. The key to the success of Armenia will be education which meets the demands of the 21st century, and an environment where talented and educated people can reach their full potential in their own country. So that means we need to open to the world to be able to realize long-term projects aimed at the creation of a healthy and happy society, and become globally competitive, and likewise we need to preserve our roots and our heritage.
Another meaningful issue is the role and place of the Diaspora, and its involvement in the affairs of Armenia. The relationship between the Diaspora and the state needs to be a two-way street. The only way we can really support Armenia is if Armenia will support the Diaspora. My strong belief is that a successful Armenia will help our success here, and vice versa. This is why our assistance to Armenia needs to take the shape of both a physical and spiritual investment for our future generation. We must make Armenia a regional hub for education, healthcare, technology, finance, tourism, make the Armenian Diaspora feel proud to be Armenian.
Horizon: In 2014, the UWC Dilijan project came to life. Why establish a school for foreigners in Armenia?
Ruben: Because that's how Armenia can be successful and globally recognized. My dream for the youth from more than 80 countries studying in Dilijan is for them to complete their studies, return to their own countries and become successful. Those who remember they were educated in Armenia will let their friends, and the entire world they interact with, know about Armenia and its offerings. We are a mono-national, small country, and the only way we can bring the world to us is if we are more active on the international stage.
Horizon: Let me ask you this question in Armenian (switches to Armenian). What lessons can we draw from the Four-Day War? It was certainly a decisive moment in our history, and over the course of that war we acquired enormous, vital experiences. What lessons did we learn?
Ruben: First off, clearly we have individuals who are truly ready to sacrifice themselves for the homeland, and that is essential, because these were mostly young folks prepared to fight, until their very last breath, to protect their lands. We had the opportunity to see clearly how people were inspired and ready to lend a helping hand in any way they could in order to secure a victory.
Second, we learned that we need to be more unified than ever. We need to consider the intricate link between the nation and the army. The army's combat readiness is determined not only about the material-technical abilities and new weapons, but by the level of support the soldiers and officers receive from society. We have a long way to go to change people's attitudes towards the army. The situation where the army is perceived as a "burden" for the state budget and peaceful life need to fundamentally change. We need to create an atmosphere where officers are proud of going out in their military uniform and young men and even women aspire to serve voluntarily.
Horizon: Do you also believe that, when deciding our fate, if we want to become a developed state, we have to conduct our own diagnosis, reflect on our mistakes?
Ruben: Absolutely, that is crucial if we want to understand what works, what needs to be changed, what needs to be improved.
Horizon: Mr. Vardanyan, in your opinion, what is lacking in our present national consciousness?
Ruben: We just need to be more unified. The Four-Day War was a serious wake-up call not only for the authorities, but also for Armenian society – both within the country and the Diaspora. Profound changes are possible when there is an internal consensus in society. We need to determine a strong vision of what kind of Armenia we want and work diligently to achieve that vision. This needs to be discussed, debated, and we have to do more to reflect on our future prospects and opportunities, in a deeper and more professional way.
Horizon: Thank you very much, Mr. Vardanyan.
Ruben: My pleasure.
About the Aurora Humanitarian Initiative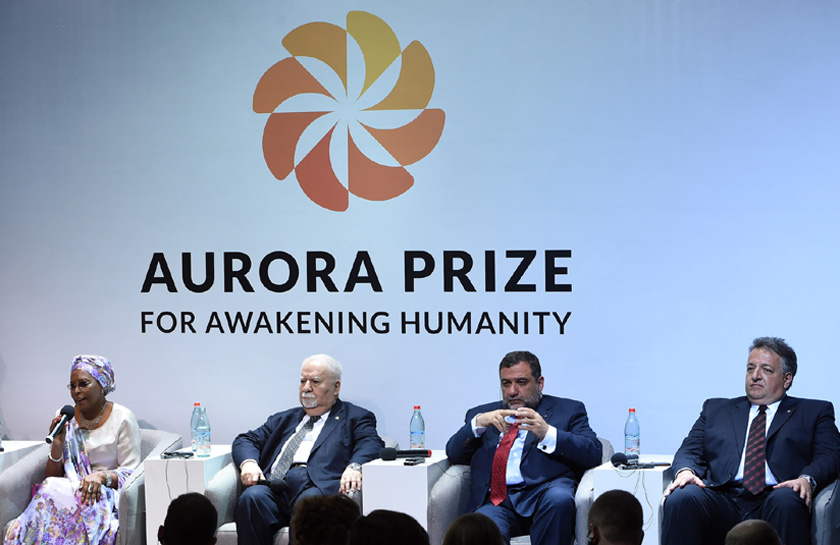 Founded on behalf of the survivors of the Armenian Genocide and in gratitude to their saviors, the Aurora Humanitarian Initiative seeks to empower modern-day saviors to offer life and hope to those in urgent need of basic humanitarian aid and thus continue the cycle of giving internationally. The Aurora Humanitarian Initiative is Gratitude in Action. It is an eight-year commitment (2015 to 2023, in remembrance of the eight years of the Armenian Genocide 1915-1923) to support people and promote projects that tackle the needs of the most helpless and destitute, and do so at great risk. This is achieved through the Initiative's various programs: The Aurora Humanitarian Initiative is the vision of philanthropists Vartan Gregorian, Noubar Afeyan and Ruben Vardanyan who have, already in the third year, been joined by several dozen new donors and partners. The Initiative welcomes all who embrace a commitment to humanity.
The first Aurora Prize was awarded to Marguerite Barankitse from Maison Shalom and REMA Hospital in Burundi for the extraordinary impact she has had in saving thousands of lives and caring for orphans and refugees during the country's years of civil war.
The 2017 Aurora Prize for Awakening Humanity was awarded to Dr. Tom Catena, a Catholic missionary from New York who has saved thousands of lives as the sole doctor permanently based in Sudan's war-ravaged Nuba Mountains.