Israeli minister pays homage to Armenian Genocide memorial in Yerevan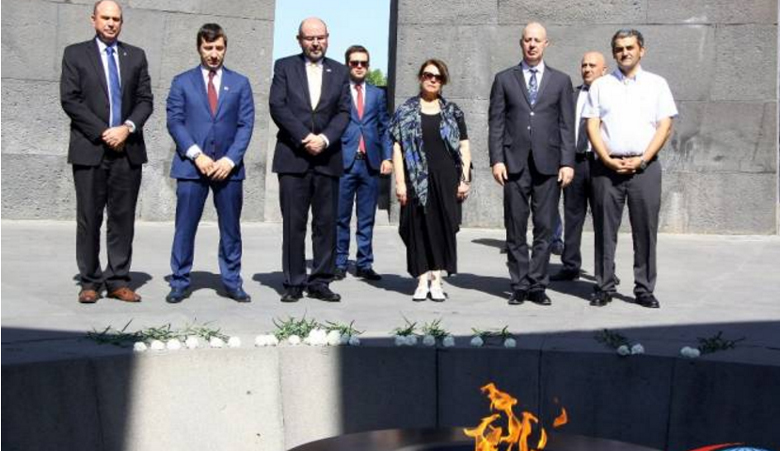 (Armenpress) – Israel's minister of regional cooperation Tzachi Hanegbi, who arrived in Armenia on an official visit on July 25, visited the Tsitsernakaberd Armenian Genocide Memorial with his delegation in Yerevan.
The Israeli high-level delegation was accompanied by Armenia's deputy foreign minister Armen Papikyan, the Honorary Consul of Israel in Armenia Ashot Shahmuradyan, Israel's Ambassador to Armenia Eliyahu Yerushalmi with his spouse, as well as the deputy director of the Armenian Genocide Institute Museum Suren Manukyan
The officials laid flowers at the Eternal Flame for the memory of the Armenian Genocide victims, and toured the MuseumInstitute. The Israeli minister mentioned that he is impressed with the Memorial, which in his words will touch everybody.
"Israel has always sympathized with the Armenian people, because both Armenians and Jews have survived this tragedy in their histories. The issue has been discussed for several times in the Israeli parliament, it has always been mentioned by the president, and we will always keep it in our hearts and spirits", the Israeli minister told reporter.
"Visiting this museum leaves every visitor with two conclusions: Never again to allow such horrific acts to happen, and never forget the tragedy , keep it always alive in the human awareness and memory forever!", the Israeli minister wrote in the guestbook.