Horizon Weekly Exclusive Interview with Minister of Foreign Affairs of Canada, François-Philippe Champagne: "We continue to pressure the international community, so we can support the people of Armenia"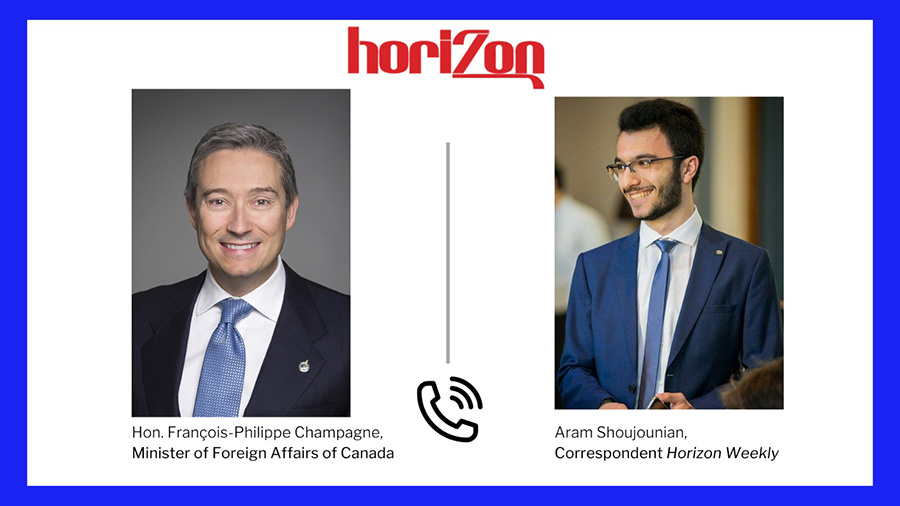 "We continue to pressure the international community, in coordination with the Government of Armenia, so we can support the people of Armenia, which are facing the greatest tragedy in the history of the country." – Minister of Foreign Affairs of Canada, François-Philippe Champagne
On October 27, Minister of Foreign Affairs of Canada, François-Philippe Champagne had an exclusive phone interview with Horizon Weekly's correspondent Aram Shoujounian on the ongoing war in Artsakh.
 A.S. On October 5th, you issued a statement suspending the relevant export permits to Turkey. There's overwhelming evidence that these drones are being used by Azerbaijan and recent confirmed reports prove that the Armenian government is now in possession of the Canadian parts, providing further irrefutable evidence. Will Canada send diplomatic representatives to verify the information to help conclude the investigation? and once the investigation is concluded, will you take the steps to close all loopholes and enforce a permanent ban on arms sales to Turkey and Azerbaijan?
FPC. The moment I saw allegations that Canadian equipment was used in the current conflict, we acted really quickly. I called for an investigation on October 1st and I suspended the permits on October 5th. My duty is to ensure that the robust system of arms export is respected. We are going to do a full investigation and we have no plan to lift the suspension.
When we did the suspension, I did speak with the Foreign Minister of Turkey demanding to stay out of the conflict and also to say that we're very concerned with respect to the allegations that some Canadian equipment would have been misused and would have been finding its way to this actual conflict. It is disturbing to me and to the community, and it is a clear violation of the rules and regulations of our export regime. I think they understood that, so that's why I have no plan to lift the current suspension.
A.S. Last Thursday, during a briefing at the Standing Committee on Foreign Affairs, Shalini Anand from Global Affair Canada was unable to answer as to why these exemptions were made in the first place. Canadians expect answers on this issue. Why was the exemption made in May and under what influence?
FPC. These permits, under the very robust export control regime, are looked on a case-by-case basis and what is really relevant for the discussion now, is that the system works, because indeed, the moment we saw allegations around the Canadian equipment being misused in the conflict, we immediately suspended the permits. And I'm pleased to see the BRP [Bombardier Recreational Products] has decided, although they are not subject to the export control regime, to suspend its exports [to Turkey]. All external parties need to stay out of this conflict and we all need to work together to have the ceasefire uphold and push for verification mechanisms to put in place [on the Line of Contact], so we can restore peace, protect civilians and make sure humanitarian assistance is being provided.
A.S. President Ilham Aliyev and President Erdogan of Turkey are constantly resorting to warmongering and using toxic rhetoric to fuel the conflict and dismiss a diplomatic solution to the ongoing war. We witnessed only yesterday, when, for a 3rd time in a single month, President Aliyev didn't respect the humanitarian ceasefire and launched military offensive on different parts of the republic Artsakh and on the Republic of Armenia. What do you have to say about that?
FPC. Canada has been one of the very first countries to recall, with a joint statement with the United Kingdom on September 28th and another one on October 6th, all external parties to stay out of that conflict and to make sure we can go back to the negotiating table, to say that this is not a conflict that's going to be resolved on the battlefield, but it's going to be resolved around a negotiation table. Since day one, I've been playing a leading role in engaging with the international community, with the OSCE, to press on them the need to take decisive actions to bring an end to this conflict and to civilian suffering, and to make sure we restore stability as quickly as possible in the region.
A.S. You recently came back from Europe, where you met with counterparts to discuss the ongoing war in Artsakh. What role do you think Canada can play within NATO and the OSCE to pressure Turkey to stay out of the conflict and bring lasting peace to Artsakh?
FPC. I think the voice of Canada is well heard around the world. The world knows that Canada takes principle position, that we will be always there to defend human rights and that Canada has been speaking, loud and clear, to call for a ceasefire, to call for protection of civilians and to call for humanitarian assistance to be provided, to call for verification mechanisms to be put in place as soon as possible. We continue to pressure the international community, in coordination with the Government of Armenia, so we can support the people of Armenia, which are facing the greatest tragedy in the history of the country.
A.S. The Canadian government recently announced $350,000 in humanitarian aid to Artsakh. Will this money be exclusively used to help civilians in Artsakh and does the government plan on announcing more funding for this grave humanitarian crisis?
 FPC. This humanitarian aid came from the aspirations of our Armenian community who has played a leading role when it comes to responds to the human tragedy that we're witnessing now with our Members of Parliament. We are open to look at what more it could be done. We're looking at the Red Cross to see when it might be a new appeal for funds, but we remain very concerned about the humanitarian suffering and we're looking closely to see how we can support the most the Armenian people who are suffering a lot in these very difficult times.