Armenia Keeps Azerbaijani Forces 'Under Control' at Nakhichevan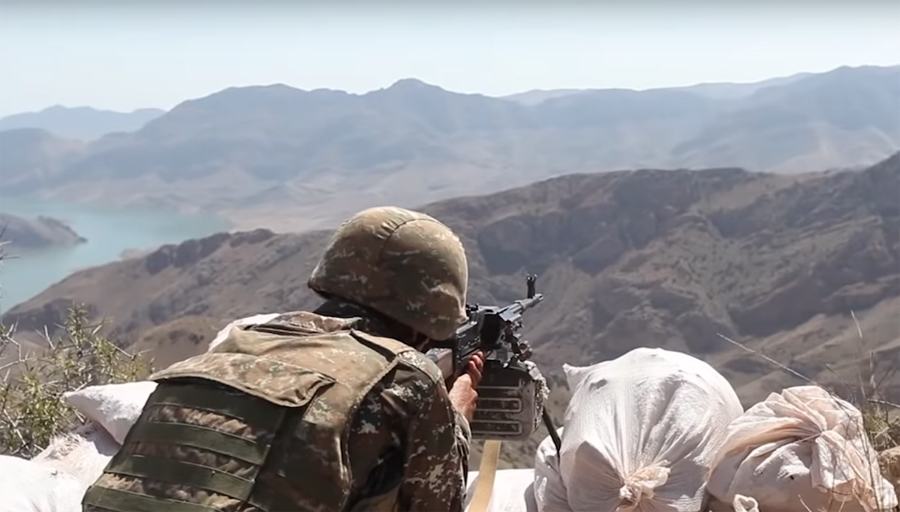 YEREVAN—Armenian border troops are keeping Azerbaijani forces under control on the Nakhichevan border, said a major in the Armenian army when he accompanied a group of journalists to the border on Wednesday to dispel Baku's recent propaganda claiming that Azerbaijani forces "liberated" a major hill on the border.
The reporters were taken to the Armenian border at Areni where they toured the border patrol detachments and met with the soldiers stationed there.
Major Andranik Tsaturyan told the reporters that indeed the Azerbaijani forces had advanced toward Armenian border, but they had not crossed the border nor had they violated the neutral zone. He explained that Armenian border troops have a strong hold on the four defensive positions, despite the Azerbaijani forces movement within its own territory.
"Azerbaijan has not created a favorable situation for itself with this advancement," Tsaturyan told reporters. "In case of any violation, the Armenian side can open fire from three directions and compel the enemy."
The soldiers stationed at the border assured reporters that the Azerbaijani military positions are at a safe distance from Armenian villages, as it is impossible to hit the settlement by using firearms from that distance.
"The rival's movements took place on its own territory or in the neutral zone. It did not gain any advantage," explained Armenian Defense Ministry spokesperson Artsrun Hovhannisyan who accompanied the reporters to the frontline.
"We should not forget that their [Azerbaijani] villages are even closer to our positions. Without new positions, they are not able to shell the road and the village [in Armenia], as they have claimed. It is impossible to do with small arms, even from a machine gun, only by rocket fire, which is another story," said Hovhannisyan.
"For 20 years the situation has been relatively calm on this direction. Now the authorities in Baku are trying to create tensions and intensify the enmity. It was the only direction where it was relatively calm. Perhaps, this is the political goal of [Azerbaijan's President Ilham] Aliyev. After all, it was after his visit [to Nakhichevan] that the situation began to change," explained Hovhannisyan.