ANCC Western Region meets BC Liberal Leader and 6 other MLAs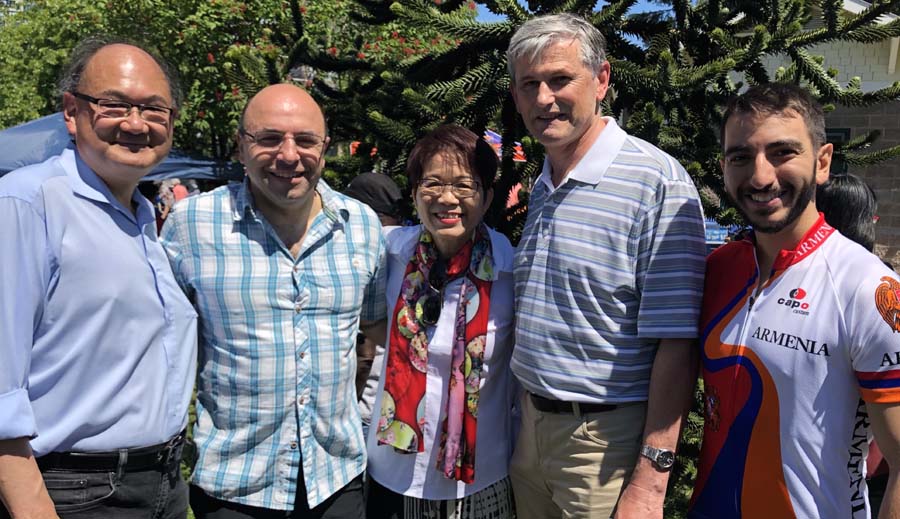 On Saturday June 16th, ANCC Western Region Chairman Hagop Deragopian and member Hagop Agopian were invited to a pre-summer community event hosted by four MLAs (Members of the Legislative Assembly) from Richmond.
The four included two close friends of the Armenian community: former British Columbia Legislature Speaker Linda Reid; and long time MLA John Yap.
New MLA Jas Johal indicated an eagerness to help St. Gregory Armenian Church and Armenian Community Centre with any needs they may have, as the facilities are within his riding.
Three other Liberal MLAs were present to show their support, including Leader of the Opposition Hon. Andrew Wilkinson.
The ANCC reps had friendly conversations with all the MLAs, and were impressed by Leader Wilkinson's knowledge of the Armenian Genocide at the hands of the Ottoman Turkish Empire.
Mr. Wilkinson declared his readiness to support a non-partisan commemoration of the 100th Anniversary of the First Republic of Armenia during the fall legislative session in Victoria.
(picture left to right) MLA John Yap, Hagop Deragopian, MLA Teresa Wat, Liberal Leader Hon. Andrew Wilkinson, Hagop Agopian)