Illuminating World War I slaughter of Armenians a vision for Kerkorian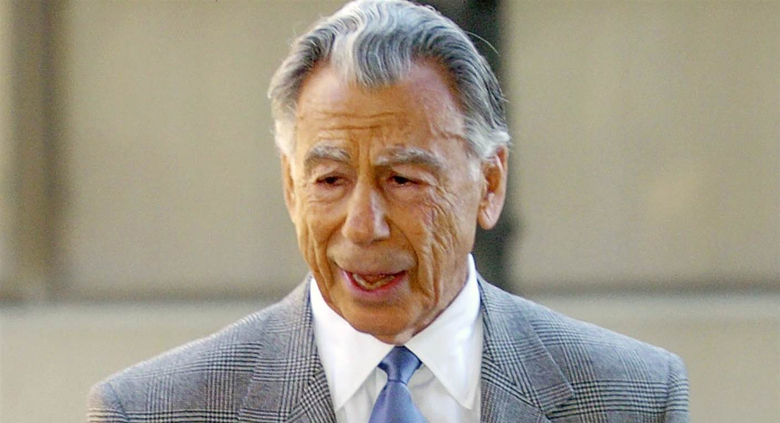 By Rob Miech
Las Vegas Sun
"We were just instruments," Eric Esrailian says. "The conductor of the orchestra was Kirk. He kept saying, 'We're not going to stop. Once we get going, we're not going to stop.' The storyboards were all out in his office. He was involved up until the end of his life. I think it gave him a lot of joy to see the steps evolving."
Kirk Kerkorian would never see the film he gave $100 million of his fortune to make. But when the 98-year-old Las Vegas casino mogul died in June 2015, his will made it clear that no expense should be spared in completing the tale of his ancestral home. Esrailian also had roots in Armenia, but he didn't dig into what befell his people in World War I until his mentor pushed him.
"Have you done some more reading?" Kerkorian asked in 2010. That was the seed of a project that would carry Esrailian, a physician and full-time faculty member at the UCLA School of Medicine, deep into the business of making a historical epic.
As the mastermind said: "You're always reading. Now it's actually time to do something."
In 2012, Kerkorian established Survival Pictures to make "The Promise," a drama based on the Armenian genocide. Esrailian and Tony Mandekic, Kerkorian's chief confidante, would steer the production company. Neither its name nor its logo — five lavender petals of a forget-me-not — were happenstance.
Kerkorian believed the chapter of inhumanity to be woefully under-represented in cinema, but he also knew 140 minutes of village sackings and desert marches would strain the audience. So he envisioned a love triangle propelling the story against the kinds of majestic panoramas that made "Lawrence of Arabia," "Doctor Zhivago" and "Gone with the Wind" such indelible masterpieces.
Director Terry George ("Hotel Rwanda," 2004) captured magnificent landscapes in Spain, Portugal and Malta during 72 days of shooting. And producer Mike Medavoy and writer Robin Swicord, with George's assistance, smartly opted for the sublime. Two powerful scenes have no dialogue.
Charlotte Le Bon, as Ana, is the worldly Armenian girlfriend of American journalist Chris Myers, played by Academy Award winner Christian Bale, during the preamble to the Great War. Mikael Pogosian, a local medical student splendidly portrayed by Golden Globe winner Oscar Isaac, enters the scene and eyes Ana where East meets West in the culture clash of Istanbul.
"This is Europe," says Mikael's uncle, pointing to the distant shore of the Bosporus. "This is Asia. The world is at your feet."
But Mikael and many other Armenians are brought to their knees as the Ottomans plot to wipe them from the earth. "Tumors in our midst" is how a Turkish military figure refers to the minority Christians.
Some have left screenings shaking their heads.
"The real truth is 100 times worse than the film," Esrailian says. "When people say, 'Wow, that's really powerful,' I'll say, 'And you know what? The truth is much worse.' "
In Turkey, the truth is suppressed. Article 301 of its penal code — which makes it a crime to "insult Turkishness," according to the BBC — prosecutes anyone daring to highlight the mass killings of Armenians. "Admitting to genocide is, by law, treason, and you go to prison," says Alex Yemenidjian, who helmed Metro-Goldwyn-Mayer studios for Kerkorian from 1990 through 1995, and ran what is now MGM Resorts International for Kerkorian for 10 years.
MGM Studios had, in the 1930s, set Clark Gable to star in "The Forty Days of Musa Dagh," an adaptation of Franz Werfel's 824-page novel, published in 1933 to warn Germany about Hitler. Turkish threats forced the studio to abandon the project, and it shelved another attempt in 1969. Sylvester Stallone ditched his own interpretation in 2006. "Forty Days of Musa Dagh," screenwriter Alex Hakobian's 1982 abridged version of Werfel's opus, did not land in theaters.
In 2002, Armenian filmmaker Atom Egoyan brought "Ararat," the depiction of a Hollywood director's attempts to make a film about the genocide, to the big screen. Waves of negative emails crashed Disney Studio's website. Playing at a peak of 42 theaters in the U.S., it grossed just $1.5 million.
"A beautiful, smaller-scale movie. … It was great to kind of stand on the shoulders of giants, and learn," says Esrailian, who met with Egoyan. The filmmaker predicted "a tough ride" for "The Promise," telling Variety, "The (Turkish) 'denialist' lobby is very well-organized."
That campaign began well before the film's April 21 release was even firm. On IMDb, "The Promise" has more than 97,000 reviews, with an overall rating of 4.2 stars out of 10. It's a curiously high number of pre-release respondents, but Esrailian knows why. In the weeks after its relatively small September screening at the Toronto International Film Festival, more than 57,000 1-star votes were cast.
"A barrage of denial," is how director Terry George framed it for IMDb. "The vast majority of historical study has determined that this was a planned attempt to wipe out the Armenian nation. We need to get beyond that diversionary discussion … how do we reconcile these two nations again? Let's bring the discussion out in the open."
Turkish Muslims and Armenian Christians had peacefully coexisted, for about 1,000 years, until the end of the 19th century, documented Andrew Mango in his "Atatürk: The Biography of the Founder of Modern Turkey." Violence resulted in the deaths of about 5,000 Muslims and, depending on the source, tens of thousands of Armenians.
Sultan Abdul Hamid, in author Ben Kiernan's "Blood and Soil: A World History of Genocide and Extermination from Sparta to Darfur," declared in 1897 that "the Armenian question" was now "closed."
But in February 1915, at the outbreak of the Great War, the Young Turks of the Committee of Union and Progress escalated the horrors.
"Tubercular microbes," is what physician-politicians Mehmed Nazim and Behaeddin Shakir called Armenians. "It was them or us," said Dr. Mehmet Resit, the governor of Diyarbakir who would commit suicide after being charged with war crimes.
Deportations, ostensibly to safe havens, were a deception for mass murder. "The Promise" depicts an Ottoman official delighting in the prospect of the government collecting on insurance policies of Armenians who would not have heirs. Infants were tossed into the Black Sea. Two-month desert death marches commenced.
Armenian priest Grigoris Balakian, who escaped such a march, recalled the horror in Eugene Rogan's "The Fall of the Ottomans." A bribe of 1,500 gold pieces only spared the priest and his small group for seven months. When they were ordered to march, Balakian befriended the Ottoman gendarmes. A Capt. Shukri would admit to having overseen the killing of 42,000 Armenians. Then they reached a corpse-embanked river in Maden, "this deep grave of tens of thousands of Armenians," Balakian said. He vowed to escape and did, as a witness bearer. In his memoirs, printed in 1922, the survivor called the atrocities "the Armenian Golgotha."
After one screening of "The Promise," a woman told Esrailian the film was beautiful but that she had not learned, in her native Turkey, about such brutality. "I know that every country has its own side of the story," she said. Not true, he said. One country has its own version, "and the rest of the world has another version."
"She knew," he says. "She was ashamed." Others disbelieved what they had watched. What's sad, Esrailian told them, is that it's happening right now in Sudan and Syria.
History is clear that an estimated 1.5 million people were killed. Deniers acknowledge about half that figure, due to "wartime measures" often referred to as collateral damage.
"Imagine somebody entering your house," Esrailian says, "killing your father, raping your mother, throwing your younger brother into the river, then telling you, 'It was collateral damage.' Well, not really … chilling, nothing less than chilling."
Michael M. Gunter, a professor of political science at Tennessee Tech and former Fulbright lecturer at the Middle East Technical University in Turkey, has studied both sides of the debate. He believes a lack of "premeditation" and "unilateral" activity make it "reasonable" to question de facto genocide.
Rubbish, says the 61-year-old Yemenidjian. "Absurd! Of course it was premeditated and unilateral! I think you would be doing a big disservice by even dignifying such a statement. Would you have the guts to print that the Holocaust was neither premeditated nor unilateral?"
France, Italy, Germany and Russia are among fewer than 30 countries that formally recognize the slaughter of Armenians by Ottoman Turks as genocide. Pope Francis supported the designation in 2015, and the European Parliament and the United Nations Sub-Commission on Prevention of Discrimination and Protection of Minorities agree, but Israel, the U.K. and the U.S. use other terminology. President Barack Obama in 2015 avoided the term and referred to the atrocities as "what occurred in 1915."
If the definition of what occurred is a matter of personal preference, late author Christopher Hitchens struck a nerve. He borrowed the term "race murder" from Henry Morgenthau, then the U.S. ambassador to Turkey. Hitchens wrote, "The dead of Armenia will never cease to cry out. Nor, on their behalf, should we cease to do so."
That was a Kerkorian tenet, along with, "Do some more reading."
As a complement to the feature film that sprang from Kerkorian's vision, Esrailian and Mandekic green-lighted Joe Berlinger's genocide documentary, "Intent to Destroy," to premiere at the Tribeca Film Festival in New York this month.
Befitting Kerkorian's abundant philanthropy — he gave away more than $1 billion in his lifetime — proceeds from "The Promise" will benefit nonprofit organizations, including Sir Elton John's AIDS Foundation. Kerkorian visited Armenia only twice, late in his life, but was instrumental in repairing a highway hit by an earthquake.
Esrailian said that shepherding "The Promise" has humbled him.
"Kirk was incredibly generous, to all of Las Vegas and Los Angeles. He gave in such a selfless manner," he said. "This is an opportunity for people to give back to Kirk, by rallying their friends and family and neighbors, Armenian and non-Armenian, to go out in full force and see the film, because he never asked for anything."