Armenian defense minister receives director of Armenian Wounded Heroes Fund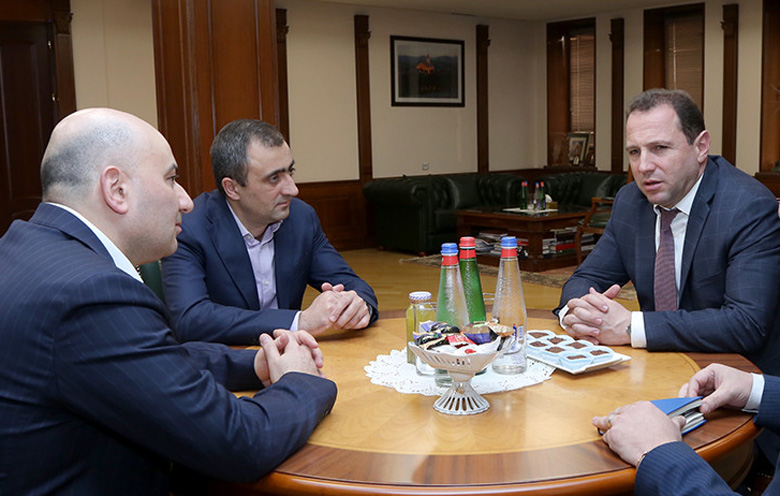 On November 25, Minister of Defense of Armenia Davit Tonoyan received Director of the Armenian Wounded Heroes Fund (AWHF ) Razmik Arzumanyan, as reported the news service of the Ministry of Defense of Armenia.
The course of implementation of the Fund's charity programs for the Armed Forces of Armenia was discussed during the meeting.
Arzumanyan particularly presented the programs for providing first aid kits for protecting the lives of servicemen and improving the sanitary-hygiene conditions of the personnel and informed that 3,000 first aid kits and 5,000 medical kits have already been transported to Armenia during the final stage of the charity program and 6 field sanitary-hygiene modules will be supplied by the end of the year.
Expressing gratitude for the fruitful activities of the Armenian Wounded Heroes Fund and underscoring the fact that it is an humanitarian organization, the defense minister attached importance to the relationship between the Fund's activities and the programs that are being implemented within the scope of defensive cooperation between the US and Armenia.
Since 2016, AWHF has raised more than $1 million, allowing it to complete the deployment of kits and training to 100% of the active forces in Artsakh. Beyond the kits, AWHF continues to support injured veterans by covering medical expenses and providing access to targeted mental and physical rehabilitation. AWHF has also completed several front-line strategic infrastructure projects, including providing solar power, communications, cargo transportation and other support to the soldiers serving the line of contact.