'We say: Never again!': Cypriot Parliament's delegation visits Armenian Genocide Memorial in Yerevan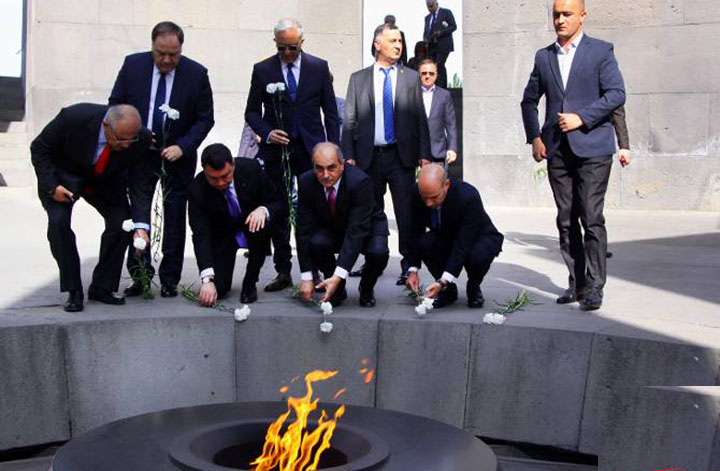 The delegation led by Demetris Syllouris, president of the Parliament (House of Representatives) of Cyprus, on May 22 visited the Tsitsernakaberd Memorial in Yerevan to pay tribute to the memory of the Armenian Genocide victims, Armenpress reports.
The delegation members were accompanied by Vice Speaker of the Parliament of Armenia Eduard Sharmazanov.
The Cyprus representatives laid a wreath at the Memorial and flowers at the Eternal Flame.
Acting director of the Armenian Genocide Museum-Institute Gevorg Vardanyan introduced the history of the construction of the Memorial and its symbolic meaning.
Demetris Syllouris said the recognition of the Armenian Genocide by Turkey and the whole world, as well as the recognition of each genocide has a historic meaning aimed at preventing similar events in the future.
"This is the fight of Armenians. We will always stand by Armenians not only as friends and brothers, but also as a state. It's a duty not only towards Armenians, but towards the whole humanity so that genocides will never repeat", Demetris Syllouris said.
The Cypriot delegation toured the Genocide Museum and got acquainted with the materials on the Genocide.
At the end of the tour a note was left in the Museum's Honorary Guest Book on behalf of the Cypriot delegation: "We saw yet again, in the humility of a pilgrim, the sufferings of the Armenian people in the hands of barbarity and hatred. We say: Never again!"
Cyprus is among the first states that recognized and condemned the Armenian Genocide. It also has adopted a law criminalizing the denial of the Armenian Genocide on April 2, 2015.