UN High Commissioner for Human Rights report exposes torture in Turkey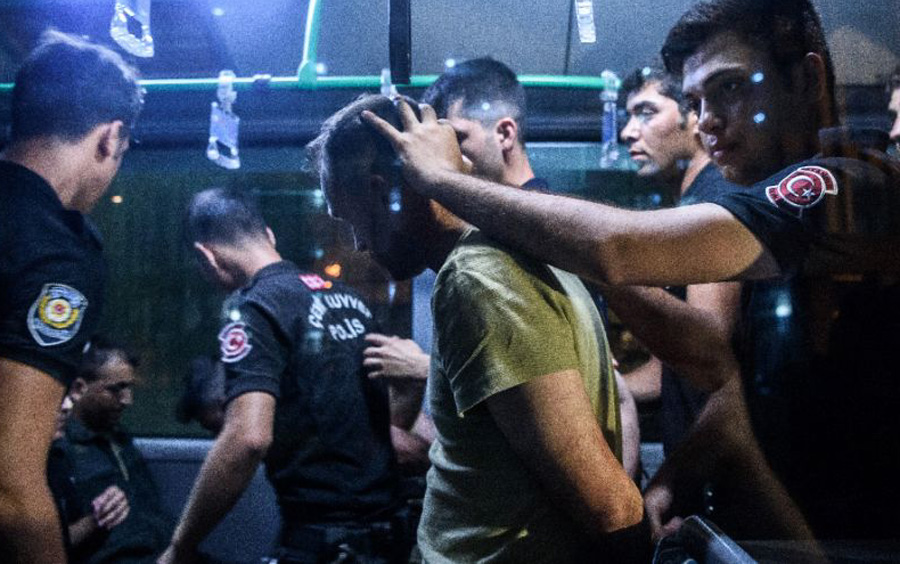 The Office of the United Nations High Commissioner for Human Rights (OHCHR) on Tuesday exposed details of torture cases in Turkey last year and called on the Turkish government to enforce its proclaimed policy of zero tolerance for torture.
In a 28-page report issued on Tuesday, the OHCHR quoted the wife of a man suspected of being part of the Gülen movement: "They took me to the police station, terrorism unit … They called the prosecutor and told him on the phone, 'we have got the wife of a terrorist'. … Then the police officer started threatening to take off my clothes and that they would show me to the detained men soldiers. He put his hands under my t-shirt and started to take it off. … I was numb, silent."
Under the title "Torture and ill-treatment," the OHCHR listed the following findings:
"OHCHR documented the use of different forms of torture and ill-treatment in custody, including severe beatings, threats of sexual assault and actual sexual assault, electric shocks and waterboarding. Based on accounts collected by OHCHR, the acts of torture and ill-treatment generally appeared to aim at extracting confessions or forcing detainees to denounce other individuals. It was also reported that many of the detainees retracted forced confessions during subsequent court appearances.
"On the basis of numerous interviews and reports, OHCHR documented the emergence of a pattern of detaining women just before, during or immediately after giving birth. In almost all cases, the women were arrested as associates of their husbands, who were the Government's primary suspects for connection to terrorist organizations, without separate evidence supporting charges against them.
"OHCHR found that perpetrators of ill-treatment and torture included members of the police, gendarmerie, military police and security forces.
"Thousands of uncensored images of torture of alleged coup suspects in degrading circumstances were circulated widely in Turkish media and social networks after the coup, along with statements inciting violence against opponents of the Government. OHCHR received reports of individuals detained and ill-treated without charge by anti-terrorism police units and security forces in unconventional places of detention such as sports centres and hospitals.
"The United Nations Special Rapporteur on torture and other cruel, inhuman or degrading treatment or punishment visited Turkey in November 2016 and found that torture was widespread following the failed coup, particularly at the time of arrest and subsequent detention. He further found that the number of investigations reportedly carried out into allegations of torture was 'grossly disproportionate to the alleged frequency of violations.'
"According to the Ministry of Interior, by the end of December 2017, 159,506 individuals had been taken into custody; out of those, some 55,000 were eventually arrested. 70 Human Rights Watch estimates that between October 2016 and October 2017, "over 150,000 people passed through police custody accused of terrorist offences, membership of armed groups, or involvement in the attempted coup of July 2016."
"OHCHR also notes with concern the adverse effects of the emergency measures on fundamental safeguards against torture and ill-treatment:
"a) Timely and unrestricted access to a lawyer of one's choice is crucial in the context of the prohibition of torture and the right to liberty. Decree 667 significantly erodes detainees' right to confidential legal advice. It provides that oral consultations between the detainees and their lawyers may be recorded for security reasons, and that the documents they exchange may be seized; the timing of such consultations may be regulated, and the lawyer may be replaced, at the request of the prosecution. Furthermore, Decree 676 introduced amendments to the Criminal Procedure Code to allow the detention of individuals accused of crimes within the scope of the Anti-Terror Law without access to a lawyer for 24 hours. Under Article 6 of Decree 676, meetings between lawyers and clients may be recorded, observed and/or interrupted by a public official where there is a threat to national security and the client has been convicted for a terror crime. Access to a lawyer may also be restricted for six months by a magistrates' court. In addition, Article 1 of Decree 676 states that individuals accused of terrorism may not have more than three lawyers representing them during court hearings.
"b) The right to be brought before a magistrate or judge within a reasonable period of time. Decree 667 – the first to be issued following the attempted coup – increased the amount of time a detainee could be held without charge from four to 30 days. The maximum period in custody without bringing the suspect before a judge was then reduced from 30 to seven days with a possible extension to 14 days (Decree 684 article 10). Detention of an individual for 14 days without judicial oversight would constitute a violation of Turkey's human rights obligations.
"c) Access to a doctor and medical examination. OHCHR received credible reports that medical checks conducted by the designated doctors on detainees held in police custody were often done in the presence of police officers, violating the confidentiality of patients and impeding adequate documentation of possible torture or ill-treatment.
"d) Right to visits and notifying a family member or third party. Access of family members to detainees was restricted by Decree 667 which provides that detainees may only be visited by their closest relatives, and are only permitted to use a telephone for 10 minutes every 15 days. These limitations may violate the right to private and family life. Other practices involve unnecessary placement in high-security prisons far from the detainee' s place of residence, with the right to only one family visit per month.
"e) Independent oversight. OHCHR was informed that all prison monitoring boards which were operating at the provincial level were closed down by emergency decree (Decree 673 article 5), and it is not clear whether they were reopened. OHCHR notes that independent monitoring of places of detention constitutes an international obligation voluntary accepted by Turkey upon its ratification of the Committee against Torture (CAT) and the Optional Protocol to the Convention against Torture (OPCAT). Independent visits have a crucial impact on the prevention of torture and ill-treatment of persons deprived of their liberty.
"f) Excessive use of pre-trial detention. OHCHR is concerned about the prolonged and frequent use of pre-trial detention, which violates the principle of presumption of innocence and puts additional strain on the already vastly overcrowded penitentiary system. OHCHR recalls that pre-trial detention should be imposed only in exceptional situations, where the existence of security risks is convincingly demonstrated, for a very limited lapse of time. Moreover, it should be subject to periodic and independent judicial supervision.
"OHCHR welcomes the statement of the Minister of Justice of Turkey indicating that "Turkey's policy of zero tolerance for torture continues all the same under the state of emergency … Each and every one of the allegations concerning torture and ill-treatment are, beyond any doubt, investigated by independent and impartial authorities of the judiciary." OHCHR would appreciate receiving detailed information on the number of allegations of torture received, investigations carried out into these allegations, and their outcome."