Three Books Not to Be Overlooked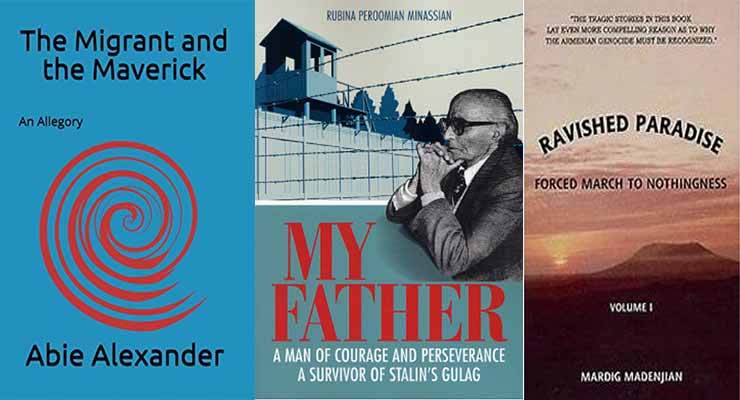 By Lucine Kasbarian
These recently released titles were produced outside of mainstream publishing mechanisms. They remind us that Armenians can and should avail themselves of alternatives in order to achieve publication, avoid censorship and tell their stories as they wish for them to be told.
The MIGRANT AND THE MAVERICK: AN ALLEGORY
By Abie Alexander; Publisher: AA Books; abiealexander.com
On the surface, this is a straightforward tale about Ken, a Rhode Island Red rooster whose life is forever altered by the arrival of migrant Canadian geese, and goose Helen with whom he develops a fond relationship.
Helen teaches Ken about migratory (and worldly) ways and not a moment too soon. Ken's keepers are readying to slaughter him, spurring him to prepare for flight.
Upon closer reading, we discover the tale's moral and political underpinnings — particularly as they relate to trials undergone by refugees and immigrants who reinvent their lives on foreign soil, and to whom this book is dedicated.
Ken and Helen deliberate about how social attitudes around the world can differ depending on circumstances, culture and environment. They also express opinions on a range of issues dominating today's headlines, such as global hegemony, climate change, nationalism, immigration, reproductive rights, gun control and political correctness, giving readers much to weigh and consider. Sometimes didactic, often touching and almost always thought-provoking, the Migrant and the Maverick is the product of a diplomatic, perceptive and sensitive soul. A financier by profession, Mr. Alexander became acquainted with Armenia through his work there with Christian relief organizations such as World Vision and the Fuller Center for Housing. Though himself not ethnically Armenian, Alexander mentions the Armenians in every one of his six published books and is considered an honorary Armenian by Choice by his peers.
MY FATHER: A MAN OF COURAGE AND PERSEVERANCE – A SURVIVOR OF STALIN'S GULAG
by Rubina Peroomian; Publisher: Rubina Peroomian Minassian; abrilbooks.com/my-father.html
During WWII and overlapping with the Stalinist Purges, the Soviet Union extended its long arm of influence to harass the citizens of Iran. Hunting down free-thinkers, the NKVD (Soviet secret police) sought to quash opposition, instill fear in the people and break the will of anyone who posed a potential threat to Stalin's leadership. These brutal repressions adversely affected millions who were either incarcerated or put to death – and by extension, blighted entire families and communities. Baghdik Minassian — a Tabriz-based scientist, teacher, writer, editor and political activist of Armenian descent — was one such victim.
Minassian's daughter, UCLA lecturer, scholar and author Dr. Rubina Peroomian, deftly pieces together a never-completed memoir written by her father who was forced into a life of depredation in one of the most inhospitable climates of the world: a Soviet hard labor camp in Norilsk, Siberia.
Why an unfinished memoir? Dr. Minassian, who miraculously survived his 10 years in captivity, was only able to bring himself to write about the experience many years after his release and did not live long enough to complete his account. Upon liberation, he endeavored to make up for lost time with his family, teaching and activism, all while operating in a weakened state caused by his internment.
Minassian's experience mirrors that which was described in Alexander Solzhenitsyn's A Day in the Life of Ivan Denisovich only in this case, Minassian survived the ordeal and resumed his productive and exemplary life, even if deeply scarred.
Dr. Peroomian, who has written many books about the Armenian genocidal experience, has finally focused her literary lens on her own family's journeys around injustice, loss, trauma and achievement in spite of tremendous odds. This long overdue tribute to the fortitude of Minassian and his family is worthy of our attention, recognition and praise. It also adds another dimension to existing first-hand, non-fiction accounts of the horrors suffered in Siberian gulags.
RAVISHED PARADISE: FORCED MARCH TO NOTHINGNESS
By Mardig Madenjian; Publisher: Mardiros Madenjian; mardigmadenjian.com
Following years of research, travel, interviews and investigations into family history, Mardig Madenjian produced this unique work that is really two books in one. Filled with meticulous detail, conviction and righteous indignation, Ravished Paradise recalls the Madenjian clan's activities in their native region of Chepni, located between Sepastia and Kayseri in Western Armenia. We learn about their history through anecdotes, folklore, genealogical connections, and family dynamics of conflict, coincidences and redemption. At the same time, Mr. Madenjian presents a parallel and condensed narration of the Armenian Genocide brimming with facts and figures in historical context.
Though the book has a few spelling, grammatical and factual errors, it is a formidable achievement in that it makes learning about the Armenian Genocide — especially for students — an engrossing (but not always comfortable) experience. Readers can, for one thing, apply faces, names, personalities and vignettes to an otherwise daunting topic.
Among many precious details, we are reminded that all Armenians were targeted during the Turkish extermination, not just the so-called radicals; that statesman-author Krikor Zohrab had his head smashed to pieces so that his Turkish tormentors "could see what the brains of a genius looked like"; that the victorious French during WWI who ultimately betrayed Cilician Armenia put slippers over their horseshoes to conceal that they were abandoning the Armenians to the predatory Turks; and that medicinal folk remedies – many now lost — were often life-saving in their properties.
In speaking of the savagery of the genocidists, Madenjian does not sugarcoat his words, nor does he abide by tenets of political correctness. Some information in Madenjian's book has never before been presented in English. The author of 16 books, Madenjian won the Hollywood Book Award twice — for this book and again for its sequel, Reclaiming Ravished Paradise.