The Talysh people expect cooperation from Armenia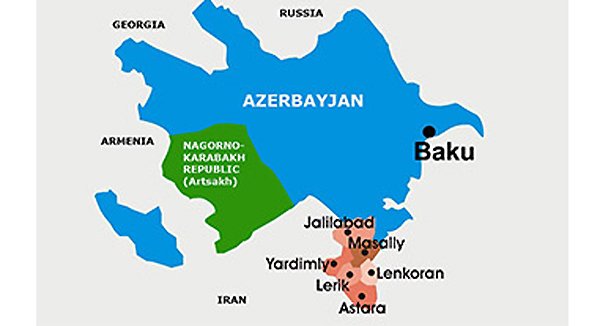 (Armradio) – It's high time for indigenous peoples of the Caucasus to take practical steps against Azerbaijan's fascist policy, says Talysh human rights defender Zahiraddin Ibrahimi. He believes such cooperation is the "imperative of the time."
Speaking to Public Radio of Armenia, the human rights defender revealed the continuous violation of the Talysh people's rights in Azerbaijan.
According to him, Baku bans giving children Talysh names, while encouraging naming children Ramil after axe murdered Ramil Safarov. In general, Baku is doing its best to eradicate the Talysh people and erase their history.
The Talysh have failed to do what Armenians did in early 1990s by liberating Artsakh.
The self-proclaimed Talysh-Mughan Autonomous Republic embracing seven administrative districts that was established in June 1993, with Lenkoran as the capital city. The republic had a two-month life. The military rebellion was swiftly suppressed and the republic ceased existing in August 1993.
Expert of Iranian studies Vardan Voskanyan says the Talysh are the most active indigenous group in Azerbaijan. Their number is estimated between 1-1.5 million, although officials put the number at 100 thousand.
"We deal with classical dictatorship. The Talysh are the true owners of those lands, an autonomous state unit," Voskanyan told Public Radio of Armenia.
Zahiraddin Ibrahimi says the Azerbaijani authorities have been deliberately sending representatives of indigenous peoples to protect the Artsakh border.  The step has even been legalized by the country's Parliament.
"They use us as food for powder and call on Talysh politicians to obey the military actions incited by Azerbaijan. This refers to April 2016 [four-day war], as well," Ibrahimi said.
The Talysh national movement has repeatedly escalated, raising complaints with the authorities, but their voice has been suppressed. Lezghis, Kurds, Avars and Tat people back the Talysh struggle against Azerbaijan.  However, they expect collaboration from Armenians, as well.
Vardan Voskanyan says Armenians have felt the Azerbaijani crimes on their skin and have therefore allowed the teaching of Talysh language at the Yerevan State University.
"The Talysh expect support from Armenians. Armenia can undertake to support the rights of indigenous, stateless peoples in the region, which will also improve Armenia's standing," the expert says.
All indigenous peoples in the region understand the importance of cooperation, but the Talysh are more active in their struggle for statehood. The Talysh activists are stubbornly fighting to regain autonomy under Azerbaijani jurisdiction with a view of gaining independence in the future.