The Armenian Prelacy of Canada proudly marks the 350th anniversary of the first printed armenian bible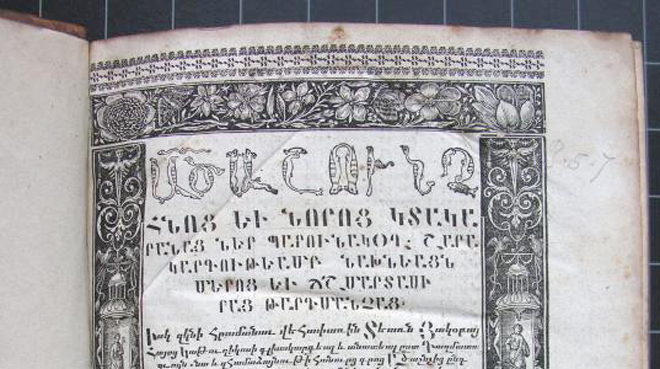 Under the auspices of His Eminence Archbishop Papken Tcharian, Prelate of Canada, the Armenian Prelacy proudly marks the 350th aanniversary of the first printed Armenian Bible, through the Canadian documentary film premiere of Voskan and a scientific conference in Montreal and Toronto.
The epic story of the first Armenian printed Bible unfolds in 17th century Europe, when the son of a deportee by Shah Abbas to the Persian city of New Julfa, Bishop Voskan Yerevantsi, is dispatched to Rome and Amsterdam to publish a Bible. The Amsterdam Bible, as it was commonly known, had a significant impact on the revival of faith and culture amongst Armenians living on all continents. It was published in 5000 copies from March 1666 to October 1668 and consisted of 1462 two-columned pages with 159 images.
The Canadian premiere of Voskan is part of a trilogy on the history of Armenian printing produced by TES Foundation in cooperation with the Mechitarist Congregation of Venice and a number of scientific institutions and experts. The storyline tracks earlier attempts to establish a printing house in Amsterdam and how it ends up in the hands of Voskan Yerevantsi. From Etchmiadzin to Rome, it shows how intricate and difficult was this endeavour. The movie's length is 42 minutes, narrated in English. "The history of Armenian printing in Europe symbolizes the very renaissance of the Armenian nation and the homeland they were deprived of," says film director Hakop Papazyan.
Conference speakers are: Dr. Adriana Barra, Executive Director, Canadian Centre for Ecumenism, and Professor of theological studies at Concordia University. Rev. Dr. Manuel Jinbashian, Scholar, Bible Society consultant, and university lecturer. Archbishop Papken Tcharian, Prelate of Canada and author of "The Great Loss of the Armenian Clergy during the Armenian Genocide". Archbishop Khajak Hagopian, Member, bible translation into  Western and Eastern Armenian Project, Catholicossate House of Cilicia.
The conference and the film premiere dedicated to the 350th anniversary of the Armenian printed Bible are sponsored by a generous donation from Mr. & Mrs. Arto and Alice Markarian.
The Montreal event will be held at the Sourp Hagop School's Pastermajian Theatre on January 13, and at the Armenian Youth Centre of Toronto on January 20. Both events are scheduled at 11:00am and are followed by conference. Church leaders, foreign dignitaries are expected to attend the events, which are open to the public at large.
For more information, please contact prelacy@armenianprelacy.ca or call 514-856-1200.