Syrian-Armenian students in Montreal shave their heads to benefit Cancer Foundation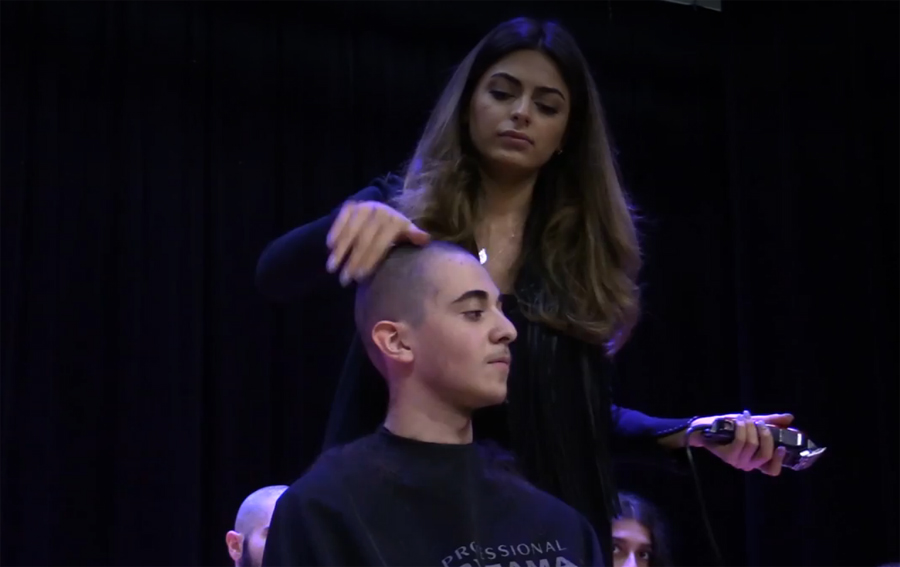 Montreal Gazette- The six students sit in a row, nervously awaiting their turns. Some hold hands, while others fidget in their chairs. Mgrdich Derderian passes his hand through his long, dark locks, one last time.
Then one by one they take centre stage in the Armenian Sourp Hagop school auditorium, and the entire student body watches and whoops as their heads are sheared to a soundtrack of Armenian pop.
All six kids — Patil, Sylvie, Alik, Taline, Arthur and Mgrdich — are cutting their hair to raise funds for the Cedars Cancer Foundation and to help make wigs for patients who lose their own hair.
The cheers are a sign of support for the sacrifice they are making, in this age of flowing hair and selfies.
But the cheering grows loudest for Mgrdich and Arthur. Maybe it's because they are boys, but more likely it's because of how far they have come themselves, from victims in war-torn Syria to volunteers today.
"Five years later, I'm here," Arthur says. "There's no culture shock — I've changed countries so many times now."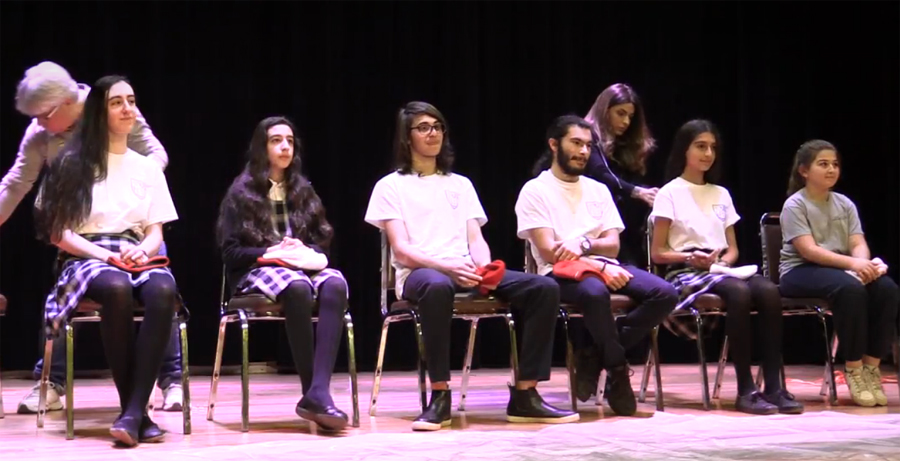 As of Sept. 30, almost 11,000 Syrian refugees with similar stories had arrived in Quebec since 2015, out of 49,000 in Canada.
In the spring, the federal auditor general issued a report on resettlement services for Syrians. On the one hand, they were able to access services sooner than other refugees.
But the auditor said the government needed to do a better job assessing access to health services, language classes and school attendance.
Both boys, who lived five minutes away from each other in Aleppo but never crossed paths until they arrived in Montreal, admit they are the lucky ones.
Others with fewer means left Syria for Turkey, then tried to get to Europe by boat. Many didn't make it. Other Syrians ended up in refugee camps in Lebanon or Jordan.
Mgrdich and Arthur were not refugees but immigrants to Lebanon, then they came to Montreal, into loving hands.
At the Sourp Hagop Armenian school, both are now out of welcome classes and blending in with the rest of the students. About 100 out of 800 students here were born in Syria. They include Sylvia, now 11, who cut her braids to make wigs, too.
They are now quadri-lingual — speaking Armenian, Arabic, English and French — although asked about his French writing, Arthur said, "Oh, boy."
But it hasn't been as easy for most Syrian kids at public French schools, where the other kids don't speak their language or share their culture.
It also hasn't been easy for their parents, either, professionals in their own land, unemployed here.
For Mgrdich and Arthur, shaving their heads may be the most obvious sign of their successful integration into their new country. They want to give back for the welcome they received and pay if forward to others, now in need.
"In Syria I couldn't help, I wasn't mature enough," said Mgrdich, adding people gave blood to help those injured in the war. "Now I have the opportunity. It's such a big thing for me."
He's also inspired by family members battling cancer, and by a particular YouTuber from Toronto, Furious Pete, who has documented his fight with testicular cancer.
Arthur, now bald but with a thick beard, his braids on his lap, says he doesn't really care where his hair goes. But he wants to use his 15 minutes of fame to warn people.
"Instead of investing money in war, invest in education and health, so all the children can go to school," he says. "Make the world a better place."
With the four girls and other student leaders, Mgrdich and Arthur have sold more than 200 T-shirts for the cause raising more than $2,000. Sourp Hagop students also provided hundreds of "get better" cards to go into the Cedars' Bell Fund comfort kits, for cancer patients undergoing chemotherapy or radiation therapy, or now in palliative care.
In return, the CCF gave them each a tuque that says "S— happens" — a bit of levity, and a middle finger to cancer. But the boys didn't want to cover their new, sleek heads.
"I feel good. I feel proud," said Mgrdich, vowing to grow it all back and cut if off again next year.
By Catherine Solyom