Richard Hovannisian in Republic of Armenia Centennial Conferences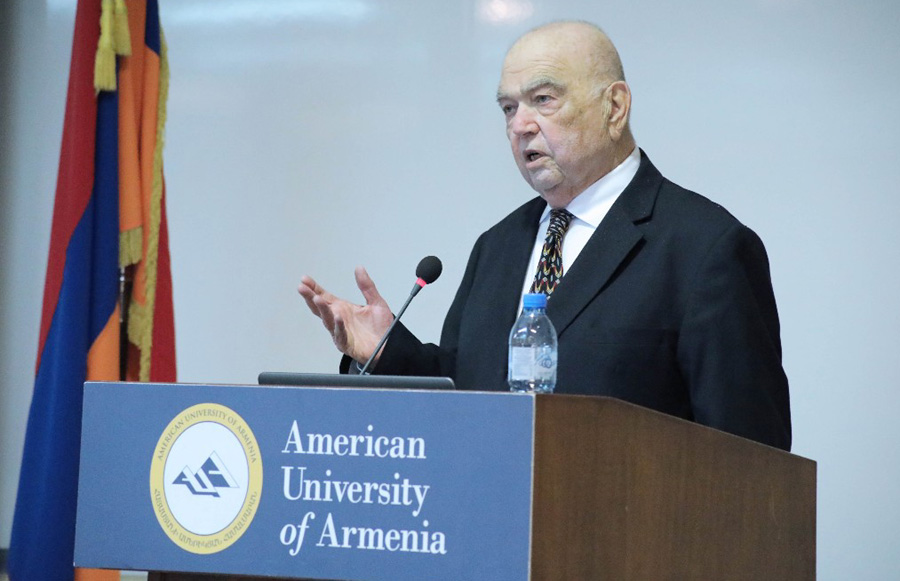 Professor Richard Hovannisian of UCLA, USC, and Chapman University has traveled extensively in 2018 to participate in conferences dedicated to the centenary of the Republic of Armenia and the neighboring republics of the South Caucasus. In March, Hovannisian, along with Drs. Rubina Peroomian and Vicken Cheterian, engaged in discussions in Canada on the theme "From Genocide to Statehood" at McGill University in Montreal, Carleton University in Ottawa, and the University of Toronto, sponsored by the Quebec and Ontario Armenian Student Associations. Hovannisian then traveled to the Catholicosate of Cilicia in Lebanon to join scholars from around the world and a delegation from Artsakh led by President Bako Sahakyan in an intense three-day Armenian-language conference on the Republic. During the concluding session, His Holiness Aram I bestowed on Hovannisian and Lebanese Armenian educator, editor, and historian Yervant Pamboukian the title and medal of "Prince of Cilicia."
In April, Richard Hovannisian was at the American University of Armenia for a three-lecture filmed series on the Republic, organized by AUA and the Armenian General Benevolent Union. The same month, he was honored, along with the Shoah Foundation, by the Los Angeles City Council (Paul Krikorian) and by the California State Legislature in Sacramento (Adrin Nazarian, Laura Friedman, Scott Wiener, Scott Wilk, Anthony Portantino, and others) for his scholarship, advocacy, and civic activities.
In early May, Hovannisian was honored during centenary conferences at California State University, Northridge, and at Columbia University in New York, under the auspices of Armenian Revolutionary Federation, National Association for Armenian Studies and Research, Armenian Review, and the host institutions. There, he reflected on his fifty years of research and study of the First Republic. Later that month, Hovannisian delivered a keynote address at the state-sponsored centennial conference held in the Armenian Academy of Sciences in Yerevan.
Richard Hovannisian also traveled to Tbilisi, Georgia in May to discuss with Professor Stephen Jones of Mount Holyoke College the centenary of the Democratic Republic of Georgia, as well as Armenian-Georgian relations, in a program sponsored by the rector of Ilia State University and organized by upcoming scholar Beka Kobakhidze. At the end of June, he returned to Tbilisi for a week-long conference and summer school on Georgia and the Caucasian republics, held at the Ivane Javakhashvili State University, Georgian National Museum, and Georgian National Archives. In each of his trips to Yerevan and Tbilisi, Hovannisian gave a number of television, radio, podcast, and newspaper interviews.
During his intervals back in Los Angeles, Hovannisian continued with his brisk schedule by making presentations on the Armenian Genocide to social studies teachers of the Glendale and La Crescenta school districts and subsequently to all principals of the Glendale Unified School District. In addition, he led a workshop of the Facing History and Ourselves Foundation and placed the Armenian Genocide in historical and ethical contexts in a program sponsored by the Friends of the Whittier Public Library, whose featured book this year was Aline Ohanesian's Orhan's Inheritance.
Richard Hovannisian is currently working with the Shoah Foundation on the integration of his large oral history collection of Armenian survivor testimonies into the Shoah archives and website.