President Sargsyan visits India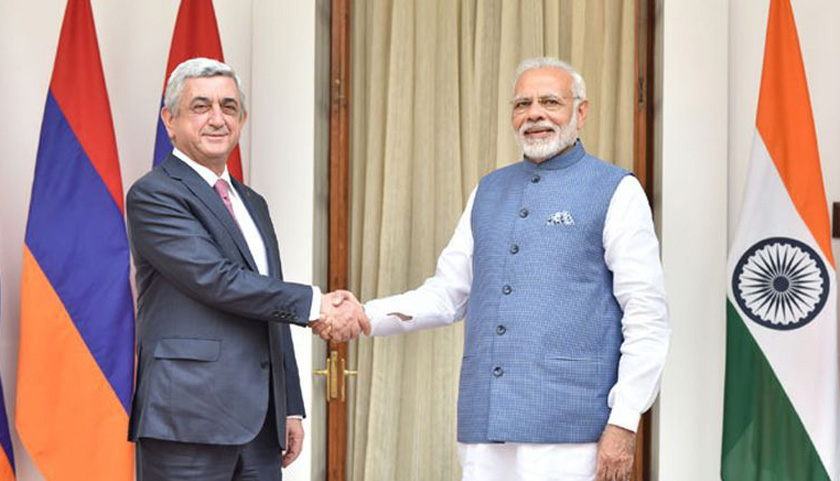 H.E. Mr. Serzh Sargsyan, President of the Republic of Armenia is visiting India from November 2 – 4, 2017. He is accompanied by a large delegation including Minister of Foreign Affairs Mr. Edward Nalbandian, Minister of Economic Development & Investments Mr. Suren Karayan, and Minister of Education & Science Mr. Levon Mkrtchyan.
President Sargsyan attended the inaugural session of World Food India along with Prime Minister Shri Narendra Modi and other dignitaries today morning. He then had a detailed bilateral meeting with Prime Minister at Hyderabad House. He met the President of India Shri Ram Nath Kovind. Vice President of India Shri Venkaiah Naidu, called on him.
The talks between the leaders were held in a warm and friendly atmosphere. Bilateral as well as regional and multilateral issues of mutual interest were discussed. The two sides reviewed present status of bilateral relations and discussed ways to further strengthen future cooperation in diverse areas including political, defence, space, trade and investment, science and technology, education, culture and people to people. Specific areas with potential to propel bilateral trade and economic relations were discussed including in the sectors of food processing, renewable energy, pharmaceuticals & healthcare, information technology, mining and jewellery. Both sides agreed that early conclusion of India-Eurasian Economic Union Free Trade Agreement (FTA) would unleash huge opportunities in increasing bilateral trade.
India and Armenia share historical and civilization linkages, commonalities in their culture, traditions, language, and values. Armenia appreciates the welcoming environment afforded by India over the centuries to the Armenian Diaspora. A large number of Indian students study medicine in Armenia and constitute a strong link between the two countries. Indian television programmes are popular in Armenia and are dubbed and shown on local channels. Indian movies are being shot in beautiful Armenian locales. All these bonds would be celebrated as part of Festival of India being planned in Armenia in 2018.
President Sargsyan will travel to Agra to visit the Taj Mahal on November 4, 2017 before departing for Yerevan.