Nikol Pashinyan promises Javakhk-Armenians to raise Armenian-Georgian relations to new level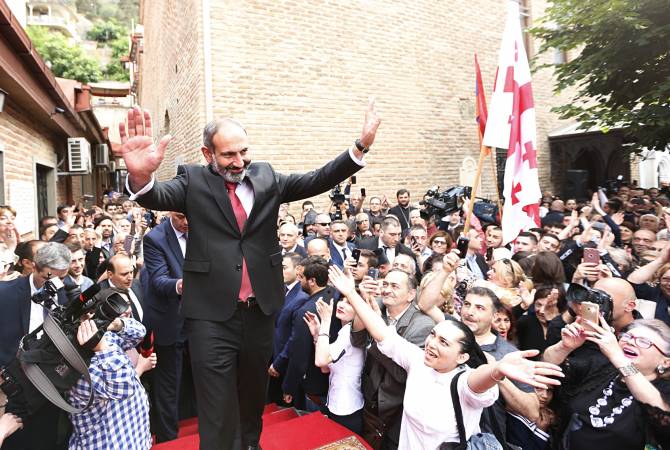 Prime Minister of Armenia Nikol Pashinyan, who is in Georgia on an official visit, held meetings with the residents of a number of Armenian-populated communities in Javakhk.
ARMENPRESS reports the Armenian PM was met with great enthusiasm in all the communities. Pashinyan gave speeches everywhere, touching upon mainly the Armenian-Georgian relations, underlining the importance of deepening them further and raising them to a new level.
"I had a very productive visit to the Georgian capital, Tbilisi and this is not by accident that I paid my first official visit to Georgia. This underlines the importance and special significance of Armenian-Georgian relations. I am confident that as a result of this visit Armenian-Georgian relations will undergo major improvements. And for achieving these changes I offer a very simple formula. Georgia and the Georgian people must be convinced that there is no conspiracy in the actions of Armenia and the Armenian people, or provocation against the Georgian people and Georgia, while the Armenian people and Armenia must be convinced that there is no conspiracy or provocations against the Armenian people and Armenia in the actions of the Georgian people. This is the ground based on which we must achieve a totally new level of Armenian-Georgian relations. And I am confident that in the context of these relations all the social-economic problems existing in the Armenian-populated areas of Georgia should be solved," Pashinyan said in the meeting with Ayazma village residents, adding that everyone should make serious efforts to reach that goal.
In the meeting with the residents of Satkhe village the Armenian PM expressed confidence that after his official visit to Georgia a new page of Armenian-Georgian relations will be opened. "I consider the most important result of my visit the fact that personal warm relations have been established between me and the Georgian PM and I am convinced that in the person of the Georgian Prime Minister the Armenian people have a very good friend who will spare no efforts to deepen Armenian-Georgian friendship".
PM Pashinyan has already reached Akhalkalaki, where he will meet with the Armenian community as well and will participate in the opening of an engineering laboratory.