Neighborhood Superheros: The Female Deminers of Artsakh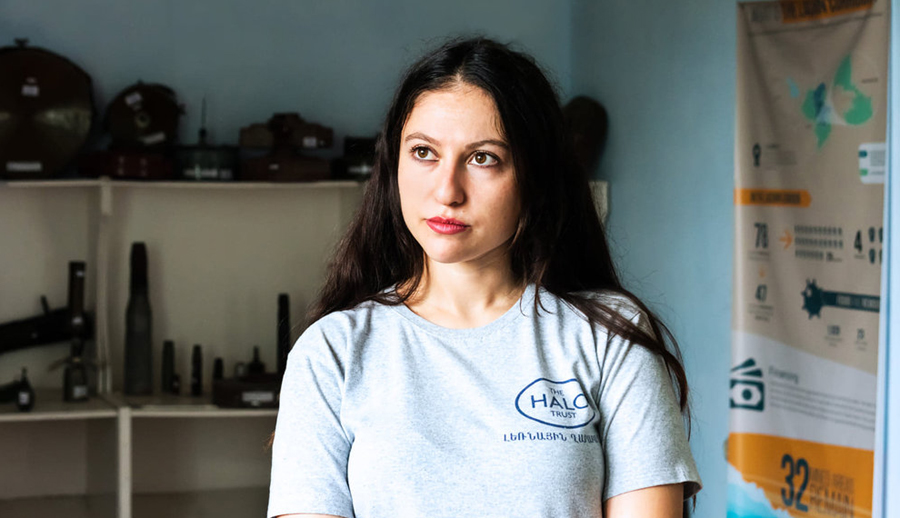 Anna Israelyan, HALO employee and trained deminer. Photo by Anahit Cass
By Anahit Cass, Araxie Cass
In Artsakh's capital of Stepanakert is where the HALO Trust office resides. The HALO Trust is the world's largest humanitarian mine clearance organization that works to protect lives and restore livelihoods for those impacted by war and conflict. HALO has been working in Artsakh since 2000, and recently began to employ female deminers. You may have heard of this project, as it is the focus of Kooyrigs merchandise collaboration with OneArmenia (link to our store).
The female deminers of Artsakh have been surrounded by controversy in Armenia and the diaspora, but continue to work alongside their male counterparts removing explosives from Artsakh's landscape. At the organization's headquarters, we met Anna Israelyan. Anna is a HALO employee and trained deminer. Intelligent and energetic, Anna told us about her passion for her work, her female colleagues, the routine and process of demining, and even showed us some of the free from explosives (FFE) remnants of war that they have collected from the field during what is called Explosive Ordnance Disposal (EOD).
Araxie: How did you come to work for The HALO Trust?
AI: My family is from Stepanakert, so I have roots here. I went to university in Beirut, and studied Political Science, with a minor in Psychology. When I came to Nagorno Karabakh in 2015, I started looking for jobs. I applied to the Ministry of Foreign Affairs and other government jobs but they had very low salaries. It seemed like I had to be relatives with someone to get a job, but I don't have any connections. However, I got lucky, and was able to get this job. I love my job a lot, and sometimes I am jealous of myself. I am getting married and moving to Beirut with my husband soon, but I would like to come back here because Nagorno Karabakh is where my heart is.
Anahit: What kind of work do you do for The HALO Trust?
AI: I am a Projects Officer but I also I underwent demining training because I was interested in working outside of the office. Demining  is very hard work, mostly working on your knees. The training consists of five weeks of demining training and one week of paramedic training. After completing the trainings, deminers have to pass the exams in order to be certified. It is very hard work, so if you are physically or mentally weak you can't do it. When you work in the minefield every day, you forget because it is your daily routine, but the people are extraordinary.
 Araxie: How does demining work?
AI: When we see a mine or get a call that there is a mine in an area, we start surveying. We have different methods, including manual clearance, LLD, and mechanical clearance, depending on which type of mine we are looking for. Anti-personnel mines are the most common. They will blow up if you step on them. They could disable an adult or kill a child. There are also tripwire mines, which use multiple fragmentation and can kill within a 25-30m radius. These are called anti-group mines and can explode in a circle or in one direction and are designed to kill more people. Finally, there are also anti-tank or anti-vehicle mines, which explode if anything over 120 kilos goes over them. This means that they can kill a cow which is major for villagers because it would be around $500 to replace and is often their only means in generating an income. There have also been accidents with tractors. We clear not only mines, but also artillery, ammunition, and everything else harmful. This is an Israeli submunition MO95 that they sold to Azerbaijan. These purposefully have colorful ribbons attached to them so that children will pick them up and they will explode.
Anahit: What does the daily routine of a deminer look like?
AI: We have teams with one leader and seven deminers.  We most often use the manual method, which is very slow because we check every centimeter, but it is the safest. They enter with the detector, and mark out the polygon of the minefield. Everything has its meaning. We use red sticks in areas where is detected, and various other colors to make where is what. The leader directs the deminers where to go. We start excavating 15cm away. The mines are usually 5cm below the surface so we must find them from below. The stick tells where 15cm is, but the soil is very hard so it takes 15-20 minutes to get 15cm deep. We operate by  International Mine Action Standards, and The HALO Trust has the same rules everywhere. For instance the international standard is to dig 13cm below the surface to take out the mine, but we go 15cm below the mine to be extra safe. Military demining is much faster, but it is not safe. We want to make the area safe, so we do humanitarian demining, which is much slower and more careful. Deminers always wear body armor and visors, because it's dangerous. If you step on a mine in a movie you might escape, but in real life it's so fast that it is already too late. Since it has been 25 years since most of these mines were put down, they are unpredictable, so we detonate them on the spot. For the smaller ones we detonate them with an electric wire, and for anti-tank mines we use an armored tractor.
Araxie: How has it been with the female deminers?
AI: In 2015, we started actively recruiting female deminers. The campaign began in Angola. The only thing that matters to us is that they work by our standards. In total, there are currently 17 female deminers in Nagorno Karabakh, though the total depends on the season because there are some areas you can only access in the summer. At the moment, (July 2018) there are 240 deminers (not including 30-35 office support staff) and in the winter there are around 130 staff members. Our policy is to hire nationals, so we only have one expat staff member. I was so glad when I heard about the female deminers. A British NGO did a survey asking what people here thought about female deminers, and they got many different opinions. Some people don't care, some said women are more attentive to detail, but men had more negative responses saying that women's place is in the kitchen. We had a deminer's husband come and say to us "Fire her or I will divorce her," and we've had the same from some of the female deminers' fathers. I think the situation is improving now as people learn more about HALO. It is still easier for men, and in Nagorno Karabakh women often get less salary and no maternity leave.
What happens after a minefield is cleared?
After the clearance of a minefield, we hold a handover ceremony where we officially give the cleared land back to the villagers. We work for our beneficiaries, so the best part is seeing how a cleared land is used, usually as an orchard or farm.
Anahit: How much of NK has The HALO Trust cleared?
AI: The HALO Trust began operations in NK in 2000 and is the only organization conducting mine clearance in NK. If a villager thinks there is a mine on their land, they can call us, and we will answer everyone. Our Explosive Ordnance Disposal teams often go to survey and discover more minefields. We have close connections with mayors and beneficiaries. I often go to identify beneficiaries, both direct ones, or people who have mines on their land, or indirect, which is when people find mines on land they just happen to use. When we get a callout we can't do everything immediately, but we always put it on our list of priorities. We work all around Nagorno Karabakh, but part of the problem with being unrecognized is that we can only get donations from government organizations, like USAID, our biggest donor, for the area of the Soviet Oblast.
 Araxie: How has the crowdfunding been?
AI: In 2016 we launched the Safe Steps for Nagorno Karabakh campaign. An anonymous donor has challenged HALO NK to raise 4 million dollars, which they will match. We started crowdfunding for Miroshen village after a man named Mikhail Merjumian lost a leg while cutting wood. After that, we crowdfunded with ONEArmenia for clearance in the Lachin corridor. We are now crowdfunding for the area around Kavak monastery, so that people can go to the church. Some people go to Kavak to carry out sacrifice ceremonies, or matagh , but you have to be very careful since the area is contaminated.
Anahit: What do you think is the future of The HALO Trust's work?
AI: HALO is one of the biggest civilian employers. Our workers in Artsakh work hard and want to do something for their country. We have made progress in other countries too, such as Mozambique, which already became safe in 2015. Our global goal is to be landmine free by 2025.
The interview ends here, but the story continues on.
Want to be apart of the solution?

Provide support for this critical initiative by shopping the Kooyrigs collaboration with OneArmenia in our store. Sixty-five percent of the proceeds will go to OneArmenia in order to fund the clearing of landmines and provide financial support for the women of Artsakh working hard to guarantee a Mine Free Artsakh.
Photos by Kristin Anahit Cass.
Anna's story is featured in The New Freedom Fighters: Women and Nonviolent Resistance:
http://kristincass.com/the-new-freedom-fighters-women-and-nonviolent-resistance