MP Armen Ashotyan responds to anti-Armenian propaganda in Baku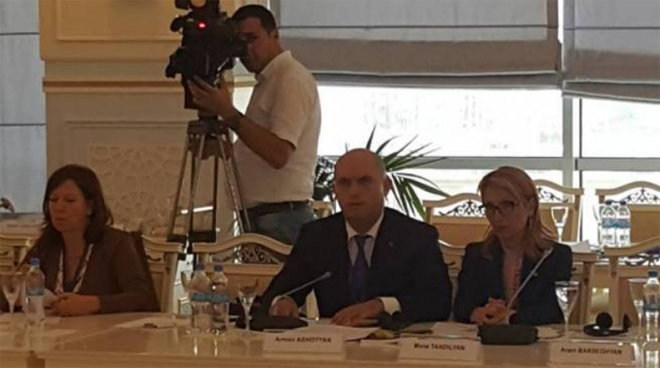 (Armradio) – Chairman of the Armenian National Assembly's Standing Committee on Foreign Affairs Armen Ashotyan delivered a speech at a conference in Baku organized by Euronest Parliamentary Assembly.
Mr. Ashotyan expressed gratitude to Euronest PA Secretariat and the Azerbaijani delegation for organization for organizing the conference and for the invitation.
He said the Armenian delegation's decision to visit Baku was first of all connected with the fact that Armenia considers itself a bearer of European values and part of the European family. Therefore, he said, Armenia could not refuse to participate in such an important conference."
During the conference Armen Ashotyan also responded to a number of attempts by Azerbaijani speakers to turn the conference into a platform of anti-Armenian propaganda and noted that "the Armenian delegation is in Baku to discuss concrete topics, not the Nagorno Karabakh conflict."
In this context Armen Ashotyan stressed that all parties suffer from the conflict; therefore, it's necessary to listen to all sides and discuss all issues within the framework of human rights and humanism irrespective of political, ethnic and religious differences. Armen Ashotyan urged the Azerbaijani side to refrain from bringing up the coming generations in the spirit of anti-Armenian hatred and xenophobia, which will have negative consequences for the whole region.
Armen Ashotyan also referred to the issue of anti-Armenian stereotypes in the Azerbaijani education system and urged to eradicate Armenophobia and xenophobia.
After the speech Mr. Ashotyan handed the "Azerbaijan: childhood in hate" book to the Deputy Minister of Education.