Heavy Metal Legends Ian Gillan and Tony Iommi visit Naregatsi Art Institute – video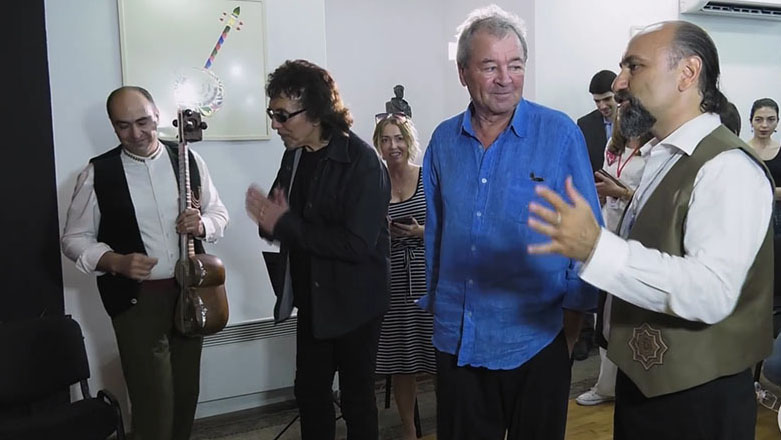 Today, Naregatsi Art Institute had the honor to host the legendary Deep Purple lead singer Ian Gillan and Black Sabbath lead guitarist Tony Iommi.
The Naregatsi Art Institute, with the participation of the Naregatsi Orchestra was delighted to welcome world-famous musicians who arrived in Armenia to mark the 30th anniversary of the Rock Aid Armenia charity project. The Naregatsi Orchestra performed Deep Purple's 'Smoke on the water'. The Orchestra also covered the Black Sabbath song "She's Gone".
Naregatsi Art Institute founder Nareg Hartounian welcomed the guests.
'We are greatly honored to have you here. We thank you for your charitable activity in Armenia. The mission of Naregatsi Art Institute is based on love and dedication, and we are glad that you are also guided by those values. Naregatsi Art Institute wants to express its gratitude to you through music', – said Nareg Hartounian.
Ien Gillan and Tony Iommi at Naregatsi Art Institute

[ENGLISH BELOW]Այսօր «Նարեկացի» արվեստի միությունը հյուրընկալեց Լեգենդար "Deep Purple"-ի վոկալիստ Իէն Գիլանին և "Black Sabbath"-ի կիթառահար Թոնի Այոմինին:«Նարեկացի» արվեստի միությունը «Նարեկացի» նվագախմբի մասնակցությամբ մեծ սիրով և ոգևորությամբ ընդունեց աշխարհահռչակ երաժիշտներին, ովքեր Հայաստան են ժամանել տոնելու Rock Aid Armenia բարեգործական ծրագրի 30-ամյակը:Հյուրերին իր խոսքն ուղղեց «Նարեկացի» արվեստի միության հիմնադիր Նարեկ Հարությունյանը: -Մեզ համար մեծ պատիվ է, որ դուք այստեղ եք: Մեր շնորհակալությունն ենք հայտնում ձեզ՝ Հայաստանում ծավալած բարեգործական գործունեության համար: «Նարեկացի» արվեստի միության առաքելության հիմքը սերն ու նվիրումն է, և մենք ուրախ ենք, որ դուք ևս այդ արժեքներով եք առաջնորդվում: «Նարեկացի» արվեստի միությունն իր երախտագիտությունն է ցանկանում հայտնել ձեզ երաժշտության միջոցով, -նշեց Նարեկ Հարությունյանը: ՆԱՄ հիմնադիր Նարեկ Հարությունյանի ելույթից հետո «Նարեկացի» նվագախումբն իր երաժշտական անակնկալը մատուցեց հյուրերին՝ կատարելով "Smoke on the Water" և "She's Gone" երգերի մեկնաբանությունը ժողովրդական նվագարաններով: Հյուրերը երաժշտական անակնկալից չափազանց տպավորված էին:Նվագախմբի համերգային կատարումների ավարտից հետո Իէն Գիլան և Թոնի Այոմինը իրենց հիացմունքը հայտնեցին երիտասարդ երաժիշտների կատարողական բարձր մակարդակի վերաբերյալ:Չնայած հյուրերի շտապողական տրամադրությանը, ներկաները կարողացան լուսանկարվել սիրելի երաժիշտների հետ՝ անմահացնելով այդ հիշարժան պահերը:2019-06-05Today, Naregatsi Art Institute had the honor to host the legendary Deep Purple lead singer Ian Gillan and Black Sabbath guitarist Tony Iommi.The Naregatsi Art Institute, with the participation of the Naregatsi Orchestra was delighted to welcome world-famous musicians who arrived in Armenia to mark the 30th anniversary of the Rock Aid Armenia charity project.Naregatsi Art Institute founder Nareg Hartounian welcomed the guests.-We are greatly honored to have you here. We thank you for your charitable activity in Armenia. The mission of Naregatsi Art Institute is based on love and dedication, and we are glad that you are also guided by those values. Naregatsi Art Institute wants to express its gratitude to you through music, – said Nareg Hartounian.2019-06-05

Posted by Նարեկացի Արվեստի Միություն Naregatsi Art Institute on Wednesday, June 5, 2019