Getting personal with Canadian-Armenian Boxing champion David Lemieux : "You can't forget your roots"
By: Diana Skaya
Horizon Weekly
On march 28, I had the pleasure of attending a press conference lunch organized by Eye of the Tiger Management, where David Lemieux was present to talk about his upcoming 10-round middleweight battle against Marco Reyes on the 6th of may in Las Vegas. Lemieux held the IBF Middleweight World Champion title in 2015, currently aiming to get back on world title track.
Evidently, his upcoming match was the main interest of all the journalists seated at the table. But as a Canadian-Armenian myself, who had not known about David's Armenian roots, what mattered to me was to find out exactly that .
As I walked into the restaurant making my way towards the media lunch table, the first thing I heard was "Լիլի հոս կ'ուզե՞ս նստիլ"-( Lily, would you like to sit here?)
Pleasantly surprised to hear the athlete speaking Armenian to his daughter, I went up to him and introduced myself in Armenian. "Բարեւ Դաւիթ, Ես Տիանան եմ, կը ներկայացնեմ Գանատայի «Հորիզոն»ը։ Կը փափաքիմ հայերէնով հարցազրոյց կատարել ձեր հետ" – " Hi David, I'm Diana from Horizon Weekly. I hope to get an interview with you in Armenian?. I wasn't sure whether he would be comfortable to do so, but the charming smile and surprised look on his face reassured me that in that rush media setting, I would, in fact, get my interview.
To my luck, it happened to be a one-on-one delightful conversation-in Armenian.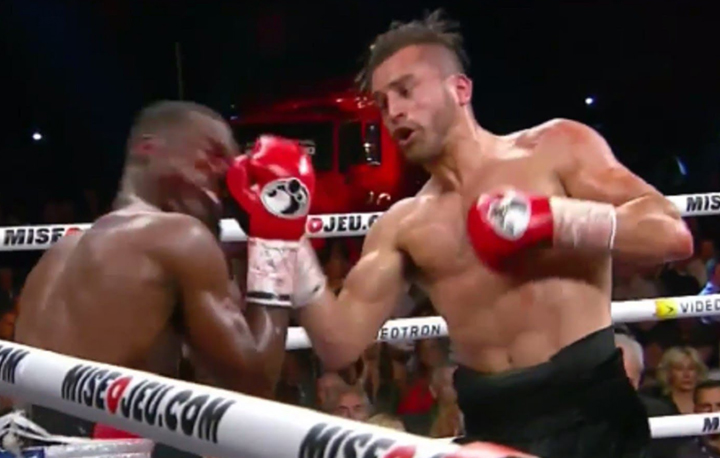 1) David, you're only 28 years old, yet you have built an impressive record of 36 wins with 32 knockouts in your young boxing career, and the IBF middleweight title in 2015. How did you begin?
David: -I was born in Montreal. As a child, I was quite a troublemaker, constantly fighting in the streets. My older brother and I spent a descent amount of time with my grandmother while my mother was in school, so a lot of that time was spent outside looking for trouble. I was even brought home by police once. When I was 9 years old, my Lebanese neighbour came up to me and suggested that since I loved fighting so much, that I should go try it out professionally at the neighborhood gym. I took his advice, and decided to try out boxing for the first time. Unfortunately, I was expelled from the gym a couple of times because of my troublemsome behavior, but as I kept going back and training, I realised that it was slowly becoming my passion. And so, over the years, boxing taught me self-discipline and I stopped looking for trouble outside. The last thing I wanted was for my coach to expel me for good. The rest is history.
2)When I first walked into the restaurant, I heard you speaking Armenian to your daughter. This might come as a surprise to many in the community who do not know you, due to the fact that your surname isn't Armenian. You must be proud of your heritage?
David: -Ofcourse! You cannot forget the roots of where you came from. Both French-Canadian and Armenian blood run in my veins. I did meet my father just didn't grow up with him, I am Quebecois- his name says it-Lemieux- and I am Armenian. I respect both cultures, and identify with both. My mother is Armenian. My grandmother is Armenian. Growing up, the Armenian culture was imposed at home, and I take great pride in it. It is impossible to deny your roots. My daughter speaks Armenian fluently, and I try to teach her to be a good person with good values. That makes me a proud father.
3) You grew up in a multi-cultural environment but you mentioned that the Armenian culture was imposed at home. Please elaborate.
David:- Yes. My mother tongue is Armenian. My father left before I was even born. My mother remarried shortly after to an Armenian, Garo Melekian, so that is the language we spoke at home, all while following many Armenian traditions. I then learned English and French, followed by Arabic since many of my friends were of Lebanese background.
4) April 24 is a few weeks away. This year will be the 102nd commemoration of the Armenian Genocide. Armenians around the globe have their personal family stories of what their ancestors enjured during war. What is your family's story?
David: – My maternal grandmother and great-grandparents were born in Armenia. During the genocide, they were deported to Syria and shortly after they fled to Lebanon. My mother was born in Beirut and grew up in the middle of the Lebanese civil war. In the 80s, she was kidnapped there by an extremist group who were going to execute her, but she was released because one of the men knew her. My mom managed to escape Lebanon and moved to Canada along with her mother and sister.
5) – Have you had a chance to meet and fight other Armenian boxers?
David: – I fought against David Ayrapetyan, but I would rather not fight with Armenians. Actually, I much rather support them. I love meeting talented and known Armenians; I was thrilled to have met Charles Aznavour. As I mentioned earlier, I am proud of both my ethnic backgrounds, and I try to have both flags that represent my heritage with me when I go on the boxing ring. That pride comes from deep within me and showing the world where I come from is a gratification.
6) -Have you visited Armenia?
David (with a disapointed tone,) – Unfortunately I have not been able to visit Armenia yet- but it is one of the first places that I absolutely want to see in the near future. I would love to go there with my daughter.
To yet another pleasant surprise, David turned to his daughter, and with that same charming smile he kept throughout the entire press conference, asked her "Լիլիանա, Հայաստան պիտի երթա՞նք միասին." (" Liliana, will we go to Armenia together?")
Raise those flags high David- we are proud of you!
*On behalf of Horizon, a special thank you to Ariane Fortin and Eye of the Tiger Management for making this interview possible.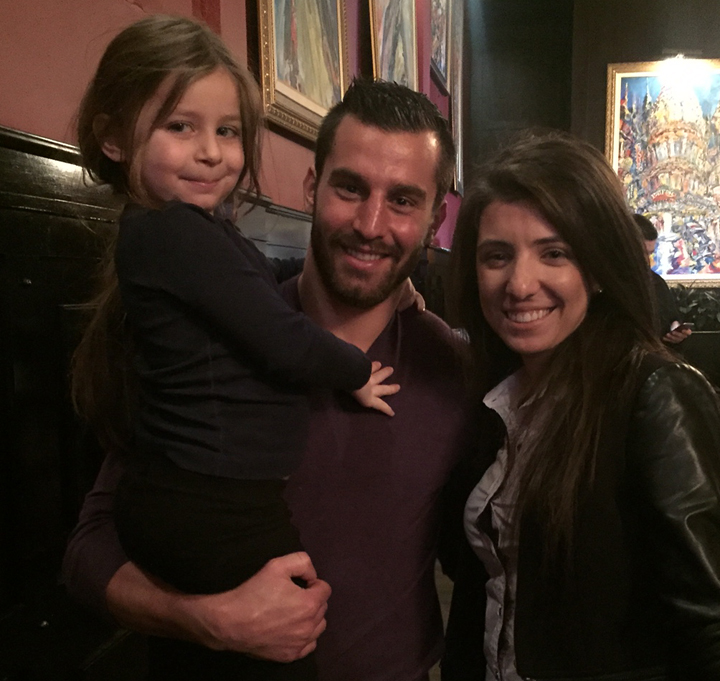 Horizon Weekly Montreal correspondent D. Skaya with David Lemieux and his daughter Liliana
Read also:
Canadian Armenian David Lemieux Wins IBF Middleweight Boxing Title –