From amateur boxer to billionaire: Kirk Kerkorian would be 100 today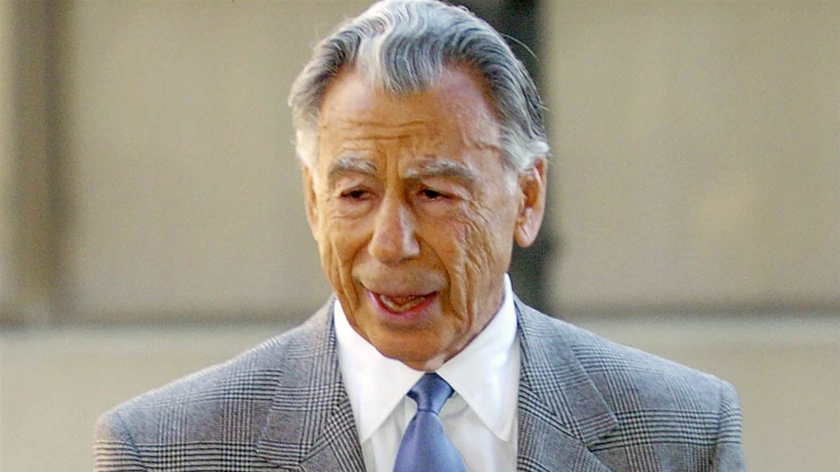 (Armradio) – He was born Kerkor Kerkorian, one 100 years ago today, on June 6, 1917 in Fresno, California. His parents were poor Armenian migrants from Turkey. They grew fruit but were never well off. Kerkorian had to go to work at age eight to help support his family. But he was also always striving to better himself.
Armenian was his first language and he "didn't learn the English language until he 'hit the streets.' He sold newspapers and hustled odd jobs. Kerkorian once told the  Las Vegas Review Journal:
When you're a self-made man you start very early in lifeIn my case it was at 9 years old when I started bringing income into the family. You get a drive that's a little different, maybe a little stronger, than somebody who inherited.
His family moved to Los Angeles following the depression of 1920–21. Dropping out of school in eighth grade, Kerkorian became a fairly skilled amateur boxer under the tutelage of his older brother Nish Kerkorian, fighting under the name "Rifle Right Kerkorian" to win the Pacific amateur welterweight championship. Kirk Kerkorian also had a younger sister, Rose Kerkorian.
In the '30s Kerkorian decided he wanted to join the military. His lack of education would have limited his prospects, so rather than end up in the infantry he hit upon his scheme of getting flying lessons in exchange for doing work on Barnes's ranch, earning his pilot's license.
When the war began in Europe in 1939 he heard of an opportunity for qualified pilots working for the RAF flying de Havilland Mosquitos from Canada to Scotland at US$1000 per plane. It was dangerous work, given German planes prowled the skies and Mosquito's fuel tanks were only large enough to make it half way. Kerkorian learned of a route that allowed pilots to ride an air stream that pushed the aircraft along fast enough to make it on one tank of fuel.
He later went on to train pilots In 1942 he married Hilda Schmidt, a dentist's secretary, who he met in his old neighbourhood in Fresno. After the war he established a business selling and delivering surplus bomber aircraft.
In 1947, at the age of 30, he sank everything into Los Angeles Air Service, a small charter business that cost him $60,000. Californians were just awakening to the allure of Las Vegas, and Kirk hit it big by, shuttling celebrities, high rollers, elopers, and the occasional mobster to the 24-hour wedding chapels and casinos. He renamed the company Trans International Airlines, turning it into the first U.S. charter service with its own jet. He took it public in 1965. Armenian-Americans knew of Kerkorian and bought his stock. It rose from a low of $9.75 to a high of $32. "It brought the stock up to begin with, and then our earnings were great, too, and it kept going up until we sold to TransAmerica," says Kerkorian. In 1968 he sold out to the TransAmerica Corporation. In that 1968 deal, Kerkorian received about $85 million worth of stock in the TransAmerica conglomerate, making him its biggest shareholder.
In 1992 Kerkorian started MGM Grand Air, a super luxury airline that only flew LA-NY flights. Timing was bad as the extended recession caused the close of this airline in 1994.
In 1962 he started buying real estate in Vegas, earning a fortune renting his land to casinos. He built the International Hotel in 1967 (at the time it opened it was the world's biggest hotel), before selling his airline in 1968 and buying the strip's first major casino, The Flamingo.
Not content with just real estate, casinos and hotels, he also acquired MGM Studios in Hollywood in 1969. Then under the MGM banner he built the even bigger MGM Grand in Las Vegas, which was the world's biggest hotel when it opened in 1973.
In 1980 the MGM Grand caught fire, killing 87 people. Kerkorian had been on the verge of selling the hotel before the fire, but rebuilt it before selling it in 1986.
 He also made attempts to enter the automotive industry in the '90s, buying into Chrysler, General Motors and Ford at various times, but never becoming a major player.
Kerkorian became a national hero in Armenia both for his success and for his donations for roads, schools and other infrastructure.
Kerkorian's benevolent activities in Armenia began after a catastrophic 1988 earthquake that devastated northern regions of what was then a Soviet republic. He provided medical and other suppliers to survivors of the calamity that killed some 25,000 people.
Through his Lincy Foundation charity, Kerkorian went on to cover half of the cost of an 80-kilometer highway connecting Armenia to Karabakh. The mountainous road was completed in 1998 four years after a Russian-mediated truce stopped a bloody Armenian-Azerbaijani war for the disputed territory. It has since served as Karabakh's main transport link to the outside world.
Kerkorian visited Armenia for the first time later in 1998. Over the next decade Lincy financed more than $200 million worth of infrastructure projects in his ancestral homeland, making Kerkorian its number one Diaspora benefactor.
Kerkorian shut down Lincy and transferred its assets to the UCLA university in California in 2011. The university set up a special fund to support Armenian schools and other education programs of the Armenian-American community.
Kerkorian's last Armenian-related project was his decision to fund a film about the 1915 Armenian Genocide in Ottoman Turkey. The film titled "The Promise" hit theatres in April 2017.
Kirk Kerkorian passed away on June 16, 2015 aged 98.