First Vice President of Guatemala's Parliament Felipe Alejos Lorenzana hosted at Artsakh parliament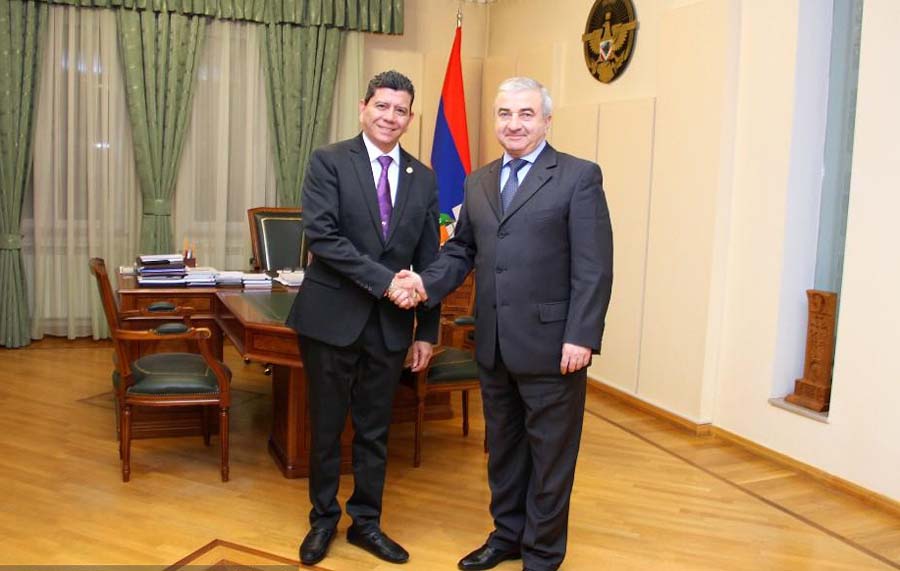 Artsakh National Assembly Speaker Ashot Ghulyan received on Sunday, December 8, First Vice President of Guatemala's Congress Felipe Alejos Lorenzana and MP Juan Ramon Lau Quan, who arrived in Stepanakert accompanied by Armenian MP Sos Avetisyan, the Artsakh parliament's press service reported.
Welcoming the guests, Ghulyan noted that the visit of Guatemala's parliamentary delegation opens up new perspectives for Artsakh in establishing inter-parliamentary ties with the countries of Central America. The Artsakh lawmaker briefed the guests on the state building of Artsakh, as well as the friendship groups and circles formed in the parliament.
Felipe Alejos Lorenzana, speaking about the visit, noted that it's a great honor for him to be in Artsakh and stressed the importance of gathering accurate information about the country through dialogue. He also informed the Artsakh parliament speaker about the business relations with the Armenian parliament, which have started with their visit, in particular, the signing of an agreement on cooperation between the two parliaments these days.
Expressing gratitude for the reception, MP Juan Ramon Lau Quan stressed the importance of spreading unbiased information about the region in Latin America and deepening cooperation between the two countries.
The officials discussed the Nagorno-Karabakh conflict, the peace process, as well as the OSCE Minsk Group mediation efforts.
The meeting was attended by the Artsakh parliament's Deputy Speaker Vahram Balayan and Chair of the Standing Committee on Foreign Affairs Arzik Mkhitaryan.