Farmers block major Armenian highway to protest against low grape prices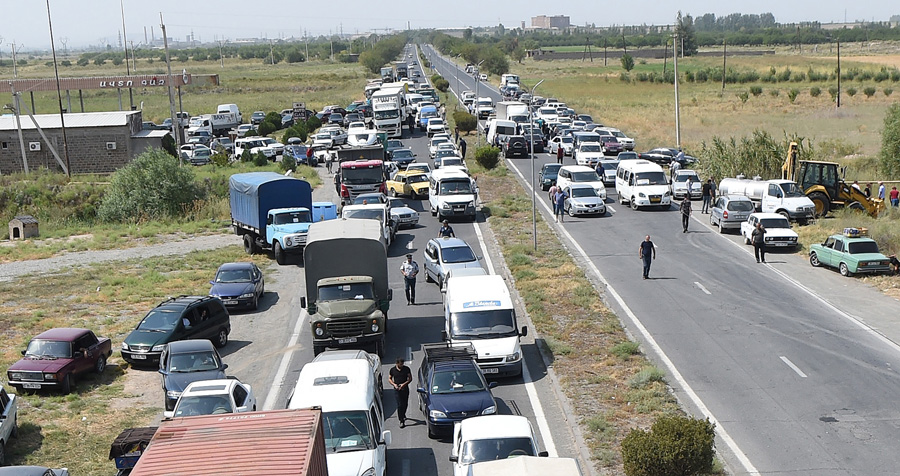 (Panorama) – Dozens of grape farmers from Sardarapat, Bambakashat, Norapet and other villages of Armenia's Armavir province blocked the major highway leading to capital Yerevan on Tuesday to protest against low grape procurement prices.
Speaking to Panorama.am, one of the protesting farmers, Karen Sisakyan said wine distilleries have purchased grapes at an average of 140 drams per kilogram for years amid an increase in prices for irrigation water, diesel fuel and pesticides.
"The cost price makes up 120 drams for a villager. Is it possible to live with 20 drams? That price does not suit us," he said, adding the grape procurement price was 120 drams last year and 140-150 drams in previous years.
The farmer says the grape harvest has shrunk this year, meanwhile prices for pesticides have risen by 30 percent, diesel fuel prices grew to 9,600-9,800 drams from the previously set 6,800 drams and irrigation water prices to 104,000 drams from the previous 62,000 drams.
"Everything is getting more expensive, while the grape prices have remained unchanged. The lowest price should be 180 drams nowadays," he said.
The contracts concluded with farmers earlier do not include procurement prices. The protesting farmers claim they will have to sit or lay in the middle of the road if their problem fails to be resolved.
To note, the problem of grape farmers remains unsettled year after year, with such protests becoming a common practise at the grape season.